Tulip, owned by Les Carr, is about to break the AERC record for highest mileage horse, ever. Last week at the Grand Canyon XP Tulip reached 18,065 miles!
(photo: Les Carr and Tulip)
Trilby Peterson's horse Lad currently holds the AERC mileage record at 18,215 recorded miles. Both Lad and Trilby have been inducted into AERC's Hall of Fame.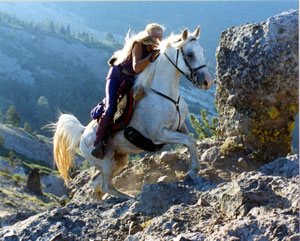 (photo: Trilby Peterson and Lad)