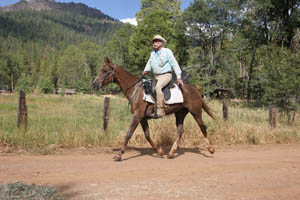 Merri Melde photo
October 30 2013
Crockett Dumas' endurance mare OT Sara Moniet will be one of the new 2014 Breyer horse models.
Winner of the 2011 awards Arabian Horses Association (AHA) Distance Horse of the Year, AERC Distance Horse of the Year, and the Institute for the Desert Arabian Horses Drinkers of the Wind Challenge Champion, OT Sara Moniet had an outstanding 2011 record of 31 starts and completions and 1675 miles, with 2 100-mile completions and 9 Best Condition Awards.
The 9-year-old mare currently has 4355 miles with 83 completions in 86 starts, with 16 overall Best Conditions.