By
Merri Melde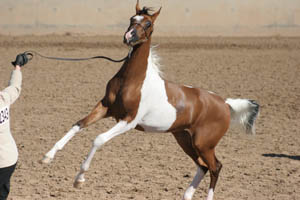 Or, HILL-RIDIN' YOKEL MEETS THE BLUE BLOODS.
Or, AN ENDURANCE HILLBILLY'S INTERPRETATION OF A CLASSY HORSE SHOW.
I've seen a few jumping and dressage shows and 3-day eventing shows on TV, but I've never been to a big horse show like the Scottsdale Arabian Show, first held in 1955, and now one of the largest Arabian shows in the country. I know I'm going to catch flak from show people, but here's my astute analysis of the show world based on my observations.
Now, seeing that I ride Arabian endurance horses, I know a little bit about Arabians. In fact, I've ridden a lot of Arabian endurance horses, many many thousands of miles, in many stages of their training, over varied terrain and in all kinds of weather, Arabians that can go 50 or 100 miles in one day, or 50 miles several days in a row, and I've ridden one or two pretty good ones. Admittedly, I have terrible form, riding with my feet way out in front of me, probably leaning too far forward and hunching over my hands, (dressage teachers cringe when they see me coming anywhere near their arena), but this keeps me in the saddle with green spooky horses, which I've ridden a lot of. So, I know a little about Arabians. Or, I thought I did.
The Whole Story