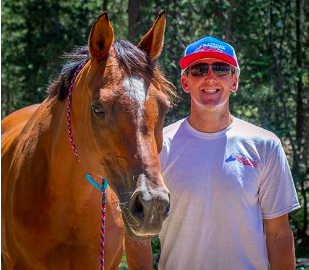 Monday July 31 2023
by Endurance.net
Jeremy Reynolds and his Arabian mare, Treasured Moments, repeated their 2021 Tevis Cup performance in winning this year's renewal. The pair finished 8 minutes ahead of last year's winners, Gabriela Blakeley and LLC Pyros Choice.
Haley Moquin and Im Hot N Bothered, aka Freaky, finished in 6th place,56 minutes behind the winner and earned the next morning's Haggin Cup.
One thousand mile buckles were earned by Lisa Schneider (riding FV Amazing Farwah) and Kassandra DiMaggio (riding WT Bezarif).
Hal Hall got his 32nd buckle! He rode Direct to for his second finish.
All four Junior riders who started the ride finished: Tierney Beloberk in 23rd place, riding Highh Treason; Vanessa Erickson in 42nd place riding Riyaaz Dezjon; Lila Reeder in 43rd place riding BES Belle Pepper; and Kinley Thunehorst in 59th place riding Danney Joe's Prime Time Lady.
Three equines earned their 5th buckle, the Robie Cup award: Count on Tessie Flyin ridden by Kristine Hartman; Ever Ready ridden by Melissa Ribley; One Sun ridden by Andy Mayo
Stay tuned for more at:
http://www.endurance.net/international/USA/2023TevisCup/