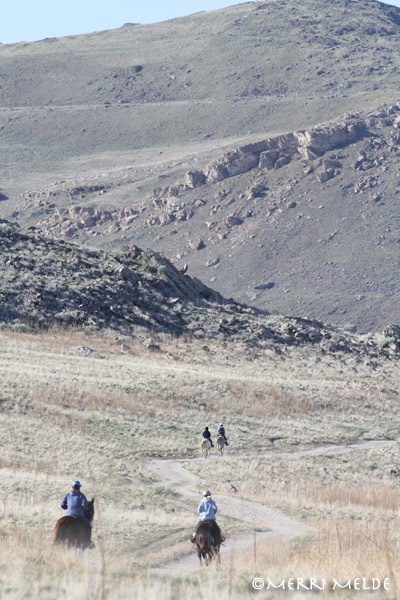 by Merri Melde-Endurance.net
April 13 2021
Situated back in its regular April perch on the AERC calendar, the Antelope Island 2-day endurance ride on Antelope Island was a good start to the Utah endurance season. If you survived the windy drive on Thursday (the wind closed I-84 in eastern Idaho for a time, causing long detours for some Montana drivers, and it also ripped the rolled-up awning off a horse trailer and sailed it and deposited it on the Interstate median), and the windy Thursday and Saturday nights, the rest was mostly smooth sailing!
Weather ran the usual gamut from cold to cool to warm, wind (from every direction), no wind, (but this year sans precipitation); it was good riding weather for many horses' first out of the year. At least one of the loops on each distance each day had a good climb, but at an altitude of 5300 feet by the (receding) lake, the whole ride is a good workout. (Over the years, the lake has been shrinking, due to an ever-growing population sucking the rivers and creeks about dry before water reaches the lake, hence salt water ten times the salt content of an ocean.)
This year's ride had a number of first-time island riders, and some first-time endurance riders. Riders sat astride spectrum of breeds from Arabians to American Saddlebreds to Mustangs to Quarter horses to Thoroughbreds and a feisty little Hackney pony who kept his companion tall, leggy Saddlebreds on their toes!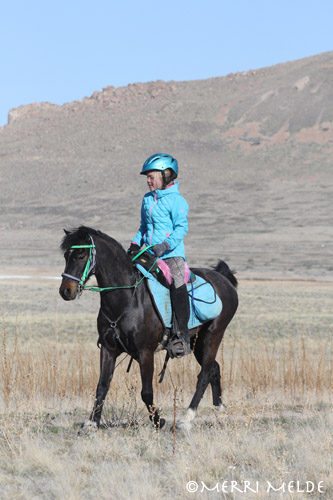 64 riders started on Saturday, 40 in the 30-miler and 24 in the 50.
The familiar face in the Winner's Circle (i.e. the awards table) was Christoph Schork aboard GE VA Blizzard of Ozz (Ozzie's 23rd win in 33 starts!) in 5:17, and he also got Best Condition (Ozzie's 20th BC!) 22 finished the 50.
Winner of the 30-miler was Lynn Oslick riding Kenlyn Psyche in 3:58. Best Condition went to first-time rider and first-time endurance horse, 9th place Randy Lander aboard his Thoroughbred Royal. 34 finished.
24 started and finished Day 2's 50-miler, with Jennifer Kaplan winning aboard Rogelio in 4:22. Second place Suzie Hayes got Best Condition with last year's Big Horn 100 winner, Sanstormm. Suzie hit the 25,000 mile mark!
Ride Manager Jeff Stuart finished Day 2's 50 on 17-year-old JV Remington (aka Gus), achieving their Decade Team.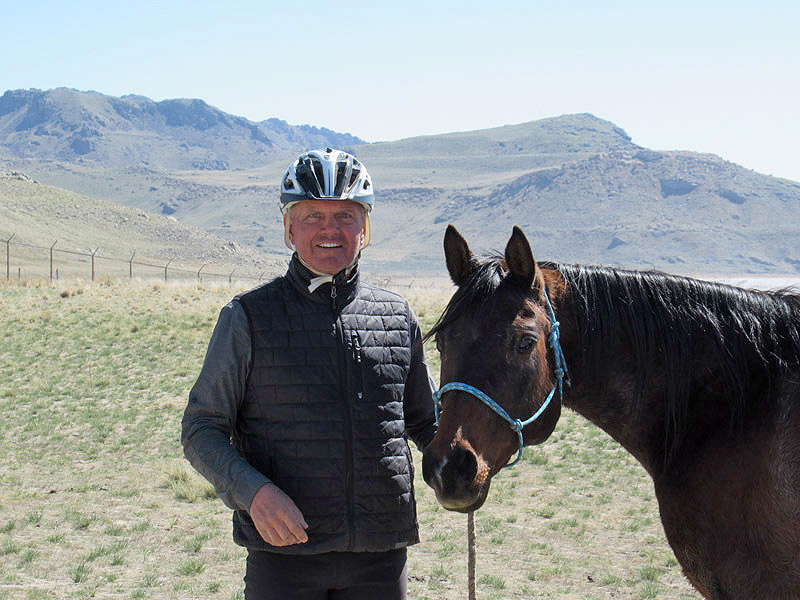 Winner of Day 2's 25-miler was Cindi West on Solvstads Ann Mai in 3:00. Fourth place Lynn Lee got Best Condition on Al-Marah Fastnfine. 18 finished out of 20 starters.
Tennessee Lane and her golden Thor were the only starters and finishers of the 2-day 100, finishing in a total ride time of 12:07.
This year we all said farewell to a long-time Northwest/Mountain region endurance rider and long time invaluable helper and fixture at the Antelope ride. Tonya (Call Me Annie) Stroud-Oakes and Gary are moving to Ohio, and Antelope Island will never be the same.