Monday, September 14, 2020
Horsesinthemorning.com - Listen
World's Toughest Race, New Horse Challenges, Non-GMO Horse Feed: Endurance Day for Sept 8, 2020
Sep 8, 2020
Karen and Jenn chat about the unique challenges that come with Thoroughbreds transitioning to endurance and the popular Sweetwater Recipe. Guests Devan Horn and Heather Russell share their excitement about the upcoming Eco Challenge World's Toughest Race. Daily Dose Equine founder Janet Geyer introduces us to their totally non-GMO feed line up.
Listen in...
https://www.horsesinthemorning.com/worlds-toughest-race-new-horse-challenges-non-gmo-horse-feed-endurance-day-for-sept-8-2020/
Posted by

Endurance.Net
at 9:19 AM
No comments:


Tuesday, September 08, 2020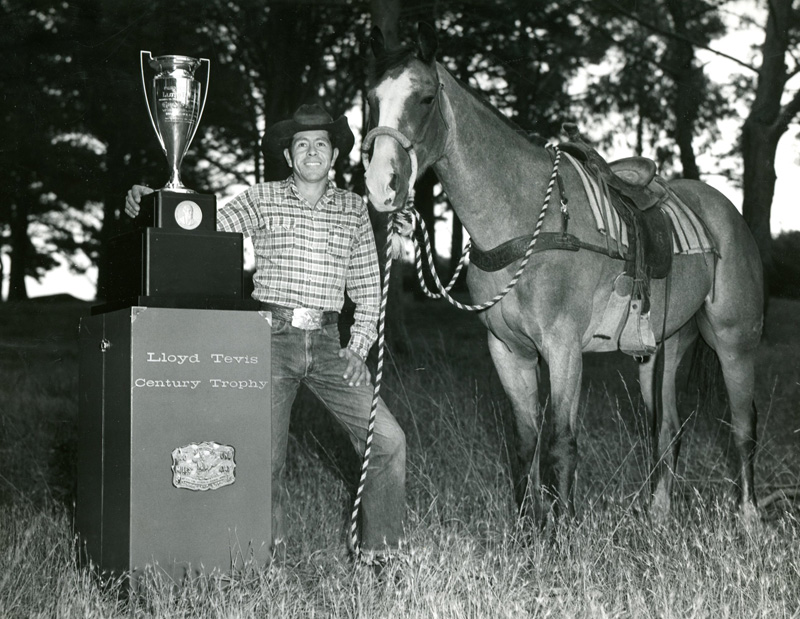 Chronofhorse.com - Full Article
By: Kieran Paulsen
Sep 3, 2020
The Tevis Cup, that infamous 100-mile endurance ride across some of the most difficult terrain California and Nevada has to offer, has gone virtual this year like so many other races thanks to COVID-19. Participants may submit 100 miles at their own pace on their own trails at some point between Aug. 1 and Nov. 9 to the Western States Trail Foundation as a fundraiser to support the foundation instead. (You can walk, run or bike too, if you don't want to ride the full distance.)
Since there won't be any breathtaking photos of climbing Cougar Rock this year, we thought we'd take you back 60 years to one of the stranger editions of the Tevis Cup, when it was won by a polo trainer aboard his Thoroughbred-mustang cross and reported on in the Oct. 28, 1960, issue of the Chronicle.
"At a dinner sponsored by the Auburn California Chamber of Commerce for some 400 contestants, their families and interested horseman, Ernie Sanchez of Woodside, California, riding Marco B was announced the 1960 winner of the Lloyd Tevis Grand Award for Horsemanship and winner of the 100 Mile One Day Endurance Ride...
Read more here:
https://www.chronofhorse.com/article/throwback-thursday-shoeless-sanchez-resourceful-1960-tevis-cup-win
Posted by

Endurance.Net
at 7:53 AM
No comments:


Wednesday, August 19, 2020

ArabianHorses.org
AHA youth members are anything but average, and we know it! In fact, AHA offers the Youth of the Year award, which honors one outstanding youth member annually. The Youth of the Year is selected for his or her achievements and contributions to the Arabian horse industry, AHA, and his or her community. In addition to previous achievements, the successful Youth of the Year candidate will show dedication to the Arabian breed and a desire to remain involved in the industry, serving as an ambassador and role model within the Arabian horse community. The winner will receive a $5,000 scholarship sponsored by the Arabian Horse Foundation. They will also be honored on the youth website, recognized at Youth Nationals, and have the opportunity to work on a special interest project to help improve the Arabian horse industry.
All applications are due September 1 of the given year. Please see the current AHA Handbook for complete rules.
If you would like to apply for Youth of the Year, application forms can be found here.
Posted by

Endurance.Net
at 9:30 AM
No comments:


Thursday, August 13, 2020
Posted by

Endurance.Net
at 9:41 AM
No comments:


Wednesday, August 12, 2020
Horsesinthemorning.com - Listen
Five Day Tevis Adventure Ride, Big Horn 100 Winner, Karen's New Horse: Endurance Day for Aug 11, 2020
Aug 11, 2020
Robin Barseleau Chriss and her grand kids tell us about their five day long adventure riding the Tevis Cup trails and Suzie Hayes talks about her big win at the Big Horn 100 mere weeks after a serious accident. Plus Karen Chaton got a new horse, Apollo, and we get the details! Listen in...
https://www.horsesinthemorning.com/five-day-tevis-adventure-ride-big-horn-100-winner-karens-new-horse-endurance-day-for-aug-11-2020/
Posted by

Endurance.Net
at 9:51 AM
No comments:


Thursday, August 06, 2020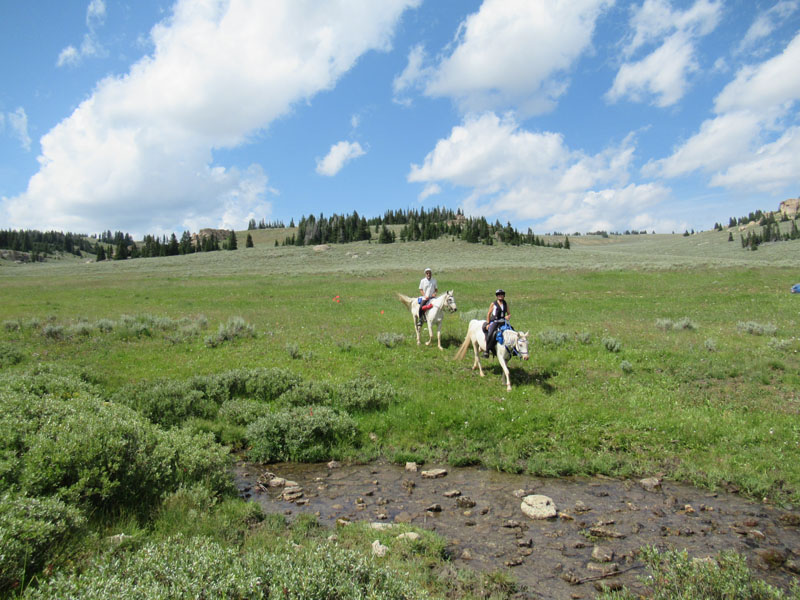 by Merri Melde-Endurance.net
August 6 2020 

As if the Big Horn 100 weren't hard enough when everything goes fairly right, this year's edition (the 50th anniversary by most counts) got the double whammy of happening during a COVID-19 year, which stopped AERC endurance rides cold from the end of March through the beginning of June, leaving many riders with little to no endurance rides in which to prep their horses. Usually, most entrants have several rides under their girths halfway through a normal season, so some had to rely on just conditioning rides at home to prepare their mounts.  

And this year, since Tevis was cancelled, many riders flocked to Shell, Wyoming, to tackle the west's other epic 100-miler in the mountains, setting a record for entries (for a non-Race of Champions Big Horn ride). 

And this is no pansy endurance ride. It's one of the "real old school" endurance rides, as finisher Jeanette Mero called it. It's one big loop, starting from hot base camp in the dark, up into the Big Horn mountains for a hundred miles, where the weather can be anything, back down to hot base camp arriving in the dark for the finish (and if you're not in the top ten, you'll be negotiating many mountain miles in the dark). The other hard 100 in the West, Tevis, has some 800 volunteers on the trail. Big Horn has less than a hundred, scattered in base camp and vet checks. If you or your horse get into trouble up there, you may be waiting a long time for help, as there's mostly zero cell service (including base camp, even if you can call out to someone there for help), and little access to trails. Come prepared, or don't come. 

You want to get your ducks in a row for this ride. You bring a fit horse, or you've already cut your finish chances by half. Bring yourself fit, also, and prepare for anything, (bad weather, nausea, bugs, etc) because you're not doing your horse any favor if you get sick up on the mountain (it happens… the altitude and the often brutal heat down below). And don't even consider starting without a 100% sound horse, because he's not going to improve miles on down this trail. It's good to also have a decent sense of direction, or to be able to pay attention well to trail markings and have common sense, because you don't want to waste time getting lost off trail. 

Some riders got hit with the usual summer Big Horn thunderstorms; a severe one dumped hail and cold rain, making the trails on the descents muddy and slick, some of that in the dark for many people. 

"Big Horn was everything its reputation was reported to be - incredibly tough, rugged, and remote trail. Climbing up to 9000 plus foot elevations. It's forest service roads, single tracks, rocks, sand and relentless, literally relentless, up and down climbing from the start all the way to the finish," Jeanette said afterwards. "…at the end we had to come down a piece they called the 'slick rock' at about 95 plus miles into the ride. It was an impressive couple miles of downhill, large sheets of white, ice skating rink, type rock. And that was after finishing the last couple hours in the dark trying to avoid all kinds of trail hazards like deep washes, cattle guards, and ruts that would swallow you and your horse whole."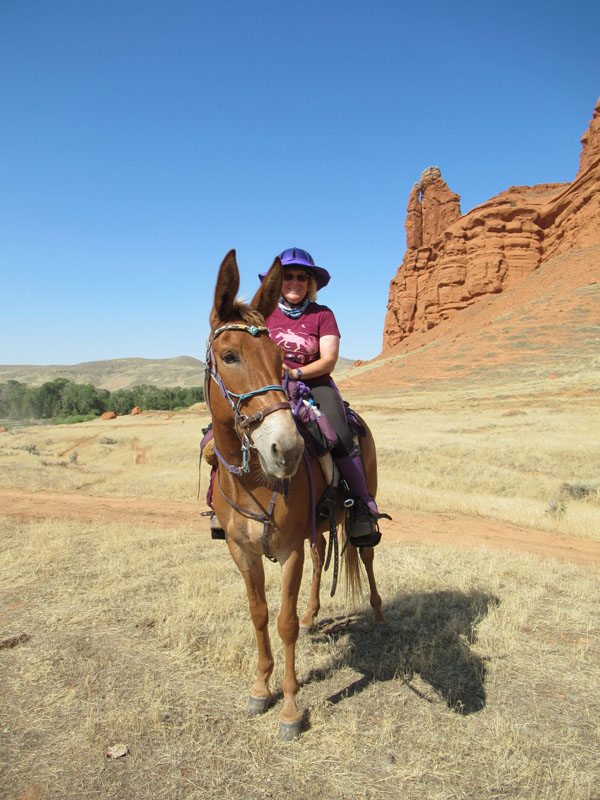 Riders came from 23 states: Texas, Utah, Colorado, Wyoming, Virginia, South Dakota, California, Minnesota, Montana, Wisconsin, Idaho, Oregon, North Dakota, New Jersey, Nevada, Florida, Washington, Alabama, Pennsylvania, Arizona, Oklahoma, Maryland, North Carolina. 

We saw some of the top riders from around the country: the Blakeleys (they've won the Tevis Cup or Haggin Cup more than once), the Reynolds (they've won the Tevis Cup or Haggin Cup many more than once), Suzie Hayes (has one horse in the AERC Hall of Fame, Kootenai Zizzero, 2011), Hannah Johnson and Kourageus Hope (the one-eyed Stuart, winner of the Big Horn 100 three times - entered in this year's 50 miler), and more.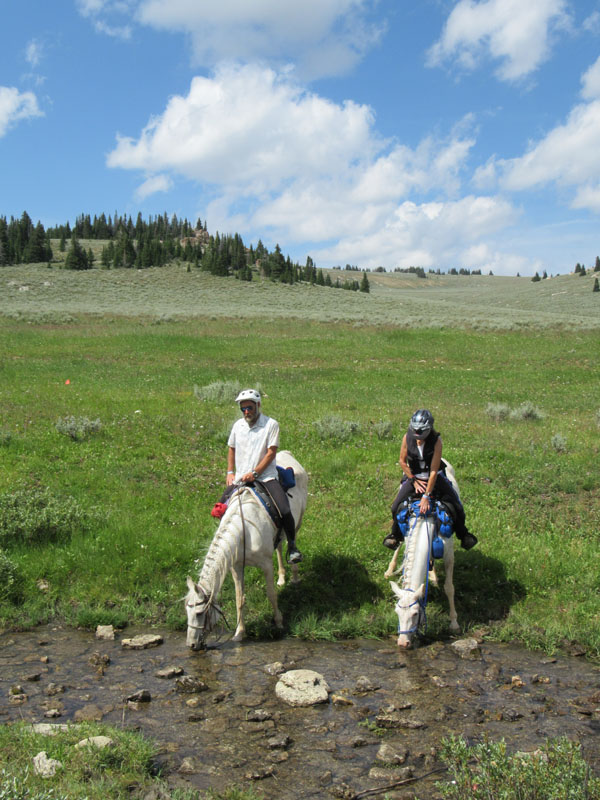 20 started the 50 miler with 15 finishing. Hannah and Stuart crossed the finish line first in a ride time of 8:00. Stuart won the Best Condition award. The 50 milers rode the first half of the 100-mile loop, finishing at the highway crossing, and getting a trailer ride (eventually) back to camp.
80 started the 100 mile ride with 42 finishing. Gabriela Blakeley and LLC Pyros Choice crossed the finish line first in the 100, just after dark, but her horse didn't pulse down in the required 30 minutes, hanging just above the criteria.  

Which left the second horse to cross the line, Sanstormm and Suzanne Hayes the winners of the 100 miler in a ride time of 15:15. Most of you know that Suzie is an amazing horsewoman and human being. Some of you may not know that just 7 weeks earlier, Suzie had a terrible horse wreck where she broke 10 ribs (some in multiple places - Suzie said, "Go and google 'flail chest'" (!!!!) ), punctured a lung, cracked a vertebra, and lacerated her liver. It was only Tuesday before the ride that her doctor approved her riding. Of course, she probably did not tell him what kind of riding she would be doing. She rode with a protective vest, a crash vest tethered to her saddle so that if she came off, the vest would inflate before she hit, and a Spot locator in case of emergency. And she looked better than I did on Sunday morning! 

Ann Hall rode Suzie's other horse Greenbriar Al Jabar (Atlas) to a third place finish, just 4 minutes behind Suzie. 

Second place went to Cameron Holzer (in 15:15.02) a top rider from Texas who's got over 11,000 AERC miles and 25 100-mile finishes, and Lily Creek Kong, who has over 1800 miles, with 9 50-mile wins, 1 75-mile win, and 4 100-mile wins over an 8-season career. 

Colorado's Sami Browneller and Annapurna finished 4th in 15:19.02. Fifth place went to Vicki Holzer - Cameron's mom - and SW Majestica in 15:19.03. They also got the Best Condition award.  

Sixth place was Sanoma Blakeley and OMR Quicksan (15:26), 7th place went to Jeanette Mero and Ozark Kaolena SWA in 17:08, 8th place was Jeanette's daughter Reyna Mero and Vaz Djets On in 17:08.01, 9th was Heather Reynolds and ASuddenGift MHF in 18:10, and 10th place was Melissa Montgomery and Masterful. Of the top ten finishers, only Suzie Hayes and Sami Browneller had ridden the Big Horn trail before.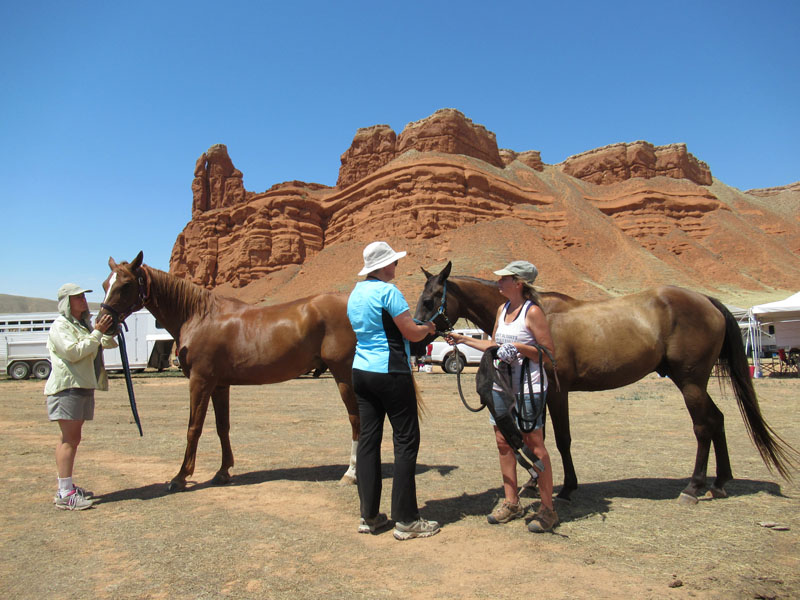 A few take-aways from this year's event:
My heroes are: 
10-year-old rider Cassidy Miller, from Colorado, was going for her third 100-mile completion (she finished the Big Horn last year, and the Vermont 100 in 2018!). Cassidy and her mom pulled at a vet check up on the mountain, "due to some mistakes I made preparing the horses (this sport is so humbling but they both are happy and doing great now)," said Cassidy's mom, Kelly Stoneburner. "Cassidy was such a trooper and good sport about being pulled and I think sometimes learning to accept a different outcome is excellent character building!"
And Suzie Hayes, the winner. She was my hero anyway, but just the fact that she rode this Big Horn, not to mention winning it after being in ICU 7 weeks earlier, made her my super hero. As Connie Holloway said, "Suzie set the bar WAY HIGH!" Unattainable, for most of us! 

At least 2 riders got their decade team status with this year's Big Horn 100: Kristen Grace and HCC Elessar (aka Monster), and Michelle Seaman and Me Encanta Dinero (this was Dinero's first ride of the season!). 

The one mule entered on Saturday finished the 100 (completion only). Jet's Danny Herlong and Nancy Sluys had never ridden the Big Horn before; Danny had never attempted a 100 before. This Arab-mule's dam is Joni Burden's mare's half sister - Joni and Jambor be Petit Jet finished the Big Horn 100 in a ride time of 20:03.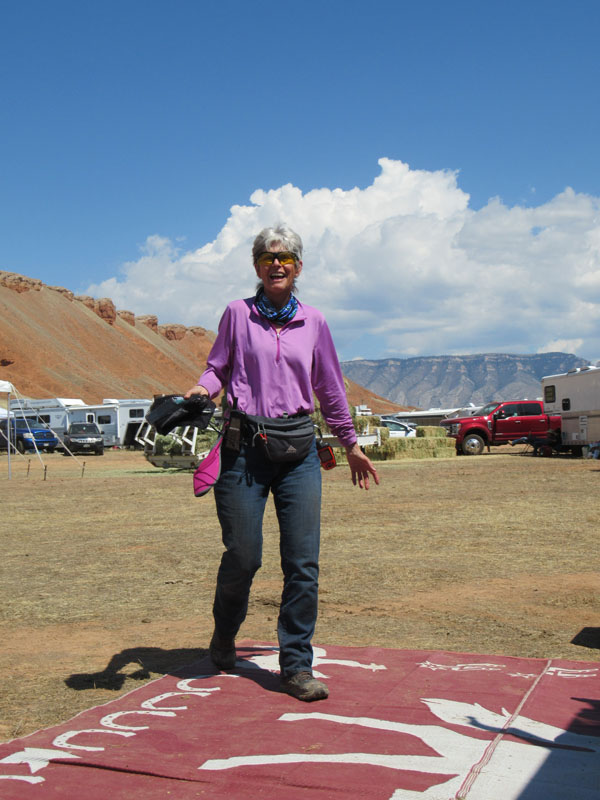 And if you think riding the Big Horn 100 is hard, putting on the ride itself is not for the faint-hearted ride manager. Any endurance ride can knock the stuffing out of a ride manager, but adding the stress of COVID, a record number of riders on a remote trail, and taking over from the previous Big Horn 100 group that put it on, makes a big-loop 100-miler the stress test of the century. And that doesn't count for the usual trail sabotage (though so many riders said the trail was excellently marked; Kristen Grace, who finished the 100, commented, "It was so well marked that parts of it were lit up like Christmas trees!"), the unpredictable weather (some riders got caught in a hail storm and were left with treacherously slick trails to contend with up on the mountain), and various other things that always come up. 

Cindy Collins did a great job of putting the whole shebang together this year, and the veterinarians and the volunteers were stellar and tireless. Days after the ride Cindy and volunteers are still pulling trail markers. 

And so ends another epic Big Horn 100 ride adventure. Jeanette Mero summed it up best: "The memories we made over the last couple days will keep us laughing and crying for years."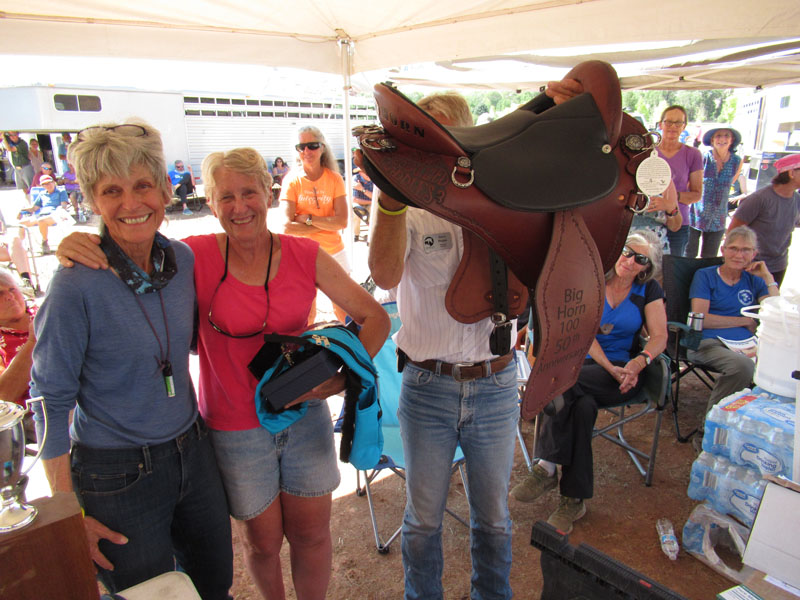 For more stories and photos from the Big Horn, see http://www.endurance.net/international/USA/2020BigHorn/
Posted by

Endurance.Net
at 12:53 PM
No comments: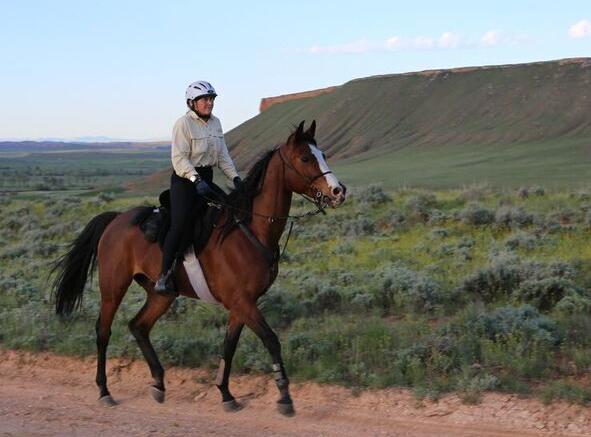 Ravallirepublic.com - Full Article
Bill Speltz Aug 5, 2020
MISSOULA — Six weeks after landing in intensive care after being thrown from a green horse, Suzanne Hayes was back in the race Saturday.
The 10 broken ribs and collapsed lung couldn't stop the 66-year-old rural Arlee resident. Neither could the fractured vertebrae or lacerated liver.
Hayes' specialty is all about endurance. Her father, the late Bob Hayes, attained legendary status in Missoula as an endurance runner. His daughter, Suzanne, favors endurance horse races.
On Saturday, Hayes won the 50th annual Big Horn 100 in Shell, Wyoming, in a time of 15 hours and 15 minutes.
"My doctors probably aren't going to be happy to hear I did this, since I was in ICU for five days and the hospital for another 10 after that," she said...
Read more here:
https://ravallirepublic.com/sports/article_81d67e73-a929-5487-99ff-1185815299b1.html
Posted by

Endurance.Net
at 12:33 PM
No comments:


Monday, August 03, 2020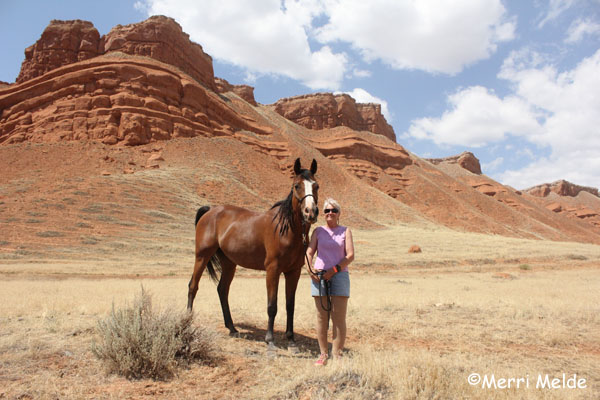 by Merri Melde-Endurance.net
August 3 2020
In a phenomenal comeback to the saddle, Montana's Suzanne Hayes, 66, won the 50th anniversary of the Big Horn 100 aboard her half-Arabian Sanstormm in a ride time of 15:15. It was less than 7 weeks ago that Suzy was bucked off a green horse and broke 10 ribs (some in multiple places), punctured a lung, fractured a vertebra, and lacerated her liver. She rode with a protective vest, a crash vest (attached to her saddle so it would inflate if she came off), and a Spot locator.
Suzie was actually second over the finish line by 10 minutes, but the first over the line, Oregon's Gabriela Blakeley and LLC Pyros Choice, didn't pulse down to 64 within 30 minutes. This was Sanstormm's first Big Horn 100 finish.
Rounding out the Top Ten were:
2nd Cameron Holzer and Kong (15:15.02)
3rd Ann Hall on Suzie Hayes' horse Greenbriar Al Jabal "Atlas" (2012 Big Horn 100 winner)(15:19)
4th Sami Browneller and Annapurna (15:19.02)
5th Vicki Holzer and SW Majestica (15:19.03) (BEST CONDITION)
6th Sanoma Blakeley and OMR Quicksan (15:26)
7th Jeanette Mero and Ozark Kaolena SWA (17:08)
8th Reyna Mero and Vaz Djets On (17:087.01)
9th Heather Reynolds and ASuddenGift MHF (18:10)
10th Melissa Montgomery and Masterful (18:35)
80 started the 100 miler, with 39 finishing.
Hannah Pruss, from South Dakota, and the phenomenal one-eyed Kourageus Hope won the 50-miler in a ride time of 8:00. "Stuart" is a Big Horn fixture, having won the 100-miler three times (2015, 2017, 2018, and Best Condition twice).
20 started the 50 miler, with 15 finishing.
More stories and photos to come at:
http://www.endurance.net/international/USA/2020BigHorn/
Posted by

Endurance.Net
at 9:18 AM
No comments:


Saturday, July 25, 2020
July 24 2020
MOSCOW, IDAHO — Scheduled to be held September 25-27 in La Pine, OR at the Lava Cast Forest Site, the Appaloosa National Championship Endurance Rides (50-mile and 100-mile) and the National Championship Competitive Trail Ride have both been canceled for 2020. The Appaloosa Horse Club has partnered with the Arabian Horse Association for several years to offer a National Championship Endurance Ride. The event has grown to include six breed association championships including the Appaloosa Championship Competitive Trail Ride, and 2020 would have been the ApHC's first-annual 100-mile championship ride. After much discussion with all breed groups, a decision was made to cancel the 2020 ride because of ongoing safety concerns due to the COVID-19 pandemic.
"Reluctantly, we agree that it has become necessary to cancel this much-anticipated and prestigious event because of ongoing COVID-19 concerns," ApHC President Ken Johnson said. "While not everyone will agree with this decision, the health, safety and well-being of all participants is our primary concern. We look forward to working with all parties involved to provide expanded opportunities in the future for our competitive trail and endurance riders."
The ApHC would like to recognize and thank our event sponsors including Tioga Territory, the Equine Distance Riding Association, Schneider's Saddlery, and the Western Washington Regional Appaloosa Club for their ongoing support of these events. We'd also like to thank those sponsors who were in the process of signing on for the 2020 event. The ApHC and our distance riding enthusiasts appreciate the support and passion of these individuals and businesses.
More information from the Arabian Horse Association can be found here:
https://www.nationalhorsemanarabian.com/news/entry/distance-horse-nationals-suspended-2020
The Appaloosa Horse Club (ApHC) was established in 1938 with a mission of preserving, promoting and enhancing the Appaloosa breed. The ApHC has since registered more than 700,000 Appaloosas, which are known for their distinctive color, intelligence and even temperament. True to their reputation as an extremely versatile breed, Appaloosas can be found in nearly every discipline including racing, endurance riding and serving as reliable family horses. The international breed registry is headquartered in Moscow, Idaho, the heart of the Palouse region—the Appaloosa breed's namesake and point of origin.
Posted by

Endurance.Net
at 12:06 PM
No comments:


Thursday, July 23, 2020
Endurance-world.com - Full Article
Info@endurance-world.com
23rd July 2020
Broxton Bridge Plantation in Ehrhardt, South Carolina, USA. Friday 10 and Saturday 11 July 2020.
This event was originally scheduled for May and postponed due to Covid 19. When the USA NF and FEI resumed the ability to hold CEI events, it was very challenging for the OC and Ride management to host the event with face coverings, social distancing, and no group meetings or meals! In addition, it was summertime and the heat index was well over 100 Fahrenheit (39 Celsius). Thus, the start times were late afternoon 17:00 -18:00 to ride through the night. The course was in great shape on one side of the Plantation, but the Bear Bay side was very wet and saturated from all of the summer rains and thunderstorms. Around 100 riders overall participated in the CEI and national distances. It was a great venue for night rides and for young novice horses. Distances offered included the 40, 80, 100, 120 and 160km events over three days.
In the 100 km, young rider Alex Shampoe, won the event along with Best Condition on her own Arabian gelding, TA Kwik Dance...
Read more here:
https://endurance-world.com/night-racing-at-ehrhardt-sc-to-handle-weather-conditions/
Posted by

Endurance.Net
at 7:47 AM
No comments:


Wednesday, July 22, 2020
TheHorse.com - Full Article
What started as a pleasant day on the trail could have turned deadly when the riverbank failed as riders watered their horses. Thankfully, the area has a team of trained responders. This is how they helped.
Posted by Tracy Gantz | Jul 20, 2020
On July 16, a group of people in Central Oregon from all walks of life coordinated to save a trail horse, proving that pulling together can save lives.
Endurance rider Kris Olin and two friends were trail riding, Kris aboard Dixie, her 24-year-old Arabian who had logged more than 2,000 miles during her endurance career. They came to the Deschutes River and looked for a likely spot where they could water the horses.
"It looked like solid ground," said Olin. "The water appeared to be shallow. We took a step or two in, and as soon as we did, we went down about three feet."
Olin was able to dismount Dixie safely, but the mare became stuck in mud and water up to her back and could not extricate herself...
Read more here:
https://thehorse.com/190663/riverside-rescue-pulling-a-mare-to-safety-on-the-deschutes/?utm_medium=Health+enews&utm_source=Newsletter
Posted by

Endurance.Net
at 8:37 AM
No comments:


Roanoke.com - Full Article
July 21 2020
by Marjorie Lewter
On July 10, Laurel Pollock of Craig County tied for first place in the AERC endurance ride at Broxton Bridge Plantation in Ehrhardt, South Carolina.
Laurel is a dean's list student studying equine science and sociology at Emory and Henry College. This summer she has been working two jobs in the agricultural field and training for her first 25-mile American Endurance Ride Conference event. She and good friend Mikayla Nunn trailered their horses to the "Moonlight Madness" competition. The riders took off at 7:30 p.m., riding through the night hours on separate courses. Laurel crossed her 25-mile finish line on her Arabian, R-Kons Able, with fellow competitor Brooks Prater at 1 a.m. It is not unusual for riders to team up on the trail and finish together, sharing the top honors. Mikayla and her racking horse, Denver, crossed the 50-mile finish line at 6 a.m...
Read more here:
https://roanoke.com/lifestyles/community-new-castle-college-student-wins-endurance-ride-in-south-carolina/article_64de57ed-87f7-5224-b3e8-b9b2eb552595.html
Posted by

Endurance.Net
at 8:35 AM
No comments:


Tuesday, July 21, 2020
July 21 2020
After careful consideration by the Arabian Horse Association and the Distance Nationals Show Commission, Distance Nationals has been suspended for the year 2020. The DHNC were to be held September 25 - 27, 2020 near La Pine, Oregon in conjunction with the Lava Cast Forest Memorial Endurance rides sanctioned by American Endurance Conference (AERC). This decision was made first and foremost with the health and safety of our competitors in mind.
Although AHA will not be involved with the ride, competitors can contact ride managers Paula and Suzy for information regarding the Lava Cast Memorial Endurance Ride.  
For questions about refunds, please contact Rebecca Hankey at 
rebecca.hankey@arabianhorses.org
. Any entries for the Arabian Horse Association, Appaloosa Horse Club, Paso Fino Horse Association, Performance Shagya Registry, Akhal-Teke Association of America, American Morgan Horse Association and American Saddlebred Registry affiliated rides will be refunded. 
Please find the press release 
here
.
Posted by

Endurance.Net
at 1:55 PM
No comments:


Friday, July 17, 2020
Horsesinthemorning.com
Endurance Day Emergency Preparedness, Melinda Guice and Diets for July 14, 2020
Jul 14, 2020
Glenn is joined by On this Endurance Riding Episode Victoria Beelik discusses the most important things to do to plan now for an emergency with your animals. Rider Melinda Guice stops by to tell us about her recent ride at the Bandit Springs Endurance ride in Oregon and Karen offers some good resources for exercise and diet programs. Listen in...
https://www.horsesinthemorning.com/endurance-day-emergency-preparedness-melinda-guice-and-diets-for-july-14-2020/
Posted by

Endurance.Net
at 3:42 PM
No comments: