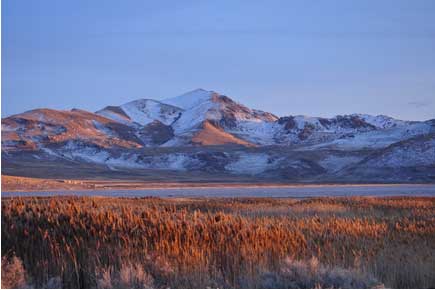 August 30 2016
by Merri Melde-Endurance.net
When you come to Antelope Island for the AERC National Championships on September 8-10, you'll be riding in "one of Utah's most extraordinary parks,"
according to Lonely Planet
.
Inside the Great Salt Lake, the island was established as a State Park in 1981. Originally used as a cattle and sheep ranch in the 1840's, the island is now home to one of the largest bison herds in the country, as well as herds of deer, pronghorn antelope (the island got its name when Kit Carson and John C Frémont hunted them in the 1800's) and bighorn sheep.
"The island is only 16 miles long, 4 miles wide," said ride manager Jeff Stuart. "The entire island is a state park. They do a great job of managing it in terms of access, wildlife, and tourism."
Ridecamp will be at the historic Fielding Garr Ranch, originally established in 1848 by Mormon pioneers and one of the oldest working ranches in the Western US. The 50 mile ride on Thursday will have 3 loops, with one out vet check and one vet check in camp. The 100 mile ride on Saturday will consist of 6 loops between 14 and 21 miles, with 4 out vet checks (at the same spot) and one vet check in camp. Finish for both rides will be in camp.
"Trails are long sections of flat/rolling with about 6 climbs up over the spine of the island," Stuart said. "Elevation goes from 4000 to 4800 feet above sea level. Footing is really good in most places, with some sections of rock that are easily traveled at a slower pace. Hoof protection is a must. Over the course of the ride, you will circumnavigate the entire island."
Scenery on and around Antelope Island State Park ranges to the spectacular, from Frary Peak - the highest point on the island at 6594 feet, to the Wasatch Range in the east, to sunsets over the Great Salt Lake in the west.
Long range forecast predicts mid to upper 70's during the days, and mid 50's at night, with no rain in the forecast.
Deadline for registration is September 5. To register, or for more information, see:
http://antelopeislandride.weebly.com/registration.html