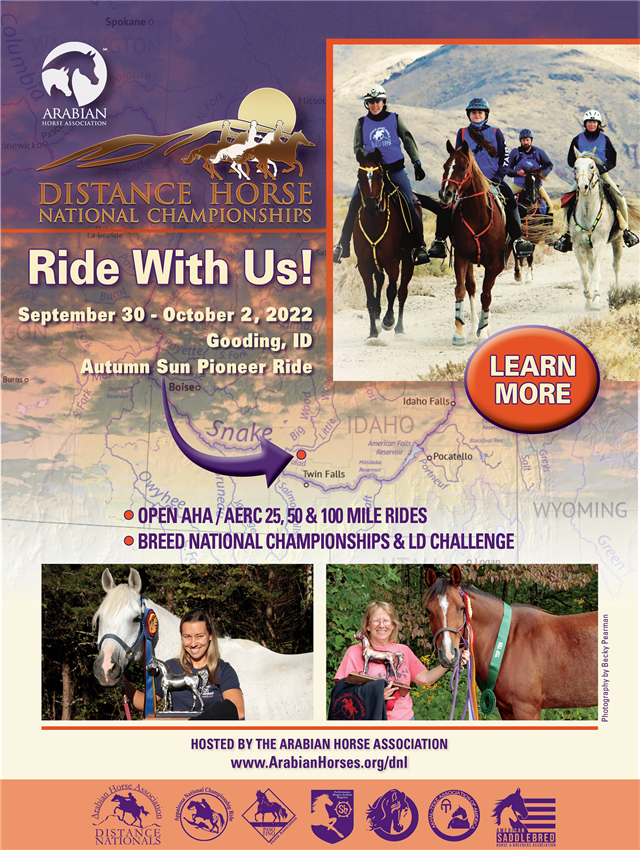 Come ride with us at the 2022 Distance Horse National Championships in Gooding, Idaho on September 30-October 2.
The Distance Horse National Championships is the overhead titled event, hosted by AHA, which includes partnered Breed National Championships along with Big South Fork Open Rides. Our partnered breeds are the Appaloosa Horse Club (ApHC), Paso Fino Horse Association (PFHA), Performance Shagya-Arabian Registry (PShR), American Morgan Horse Association (AMHA), Akhal-Teke Association of America (ATAA) and the American Saddlebred Horse & Breeders Association (ASHBA.)  
Along with the Breed National Championships we also offer an Open Autumn Sun Pioneer AHA recognized Competitive Trail Ride (CTR) and three Open Autumn Sun Pioneer Limited Distance (LD) & 50 Mile Rides along with an 100 Mile Ride. This year all endurance Open Autumn  Sun Pioneer Rides will be sanctioned by the Arabian Horse Association (AHA) and the American Endurance Ride Conference (AERC). The Distance Horse National Championships also offer an LD Challenge which is for the same horse/rider combination entered in all three Open LD Rides; rules and points schedule can be found under the Rider Information tab. All Autumn Sun Pioneer Rides are open to all equine and have not qualification or membership requirements!
Fore more information, see:
https://www.arabianhorses.org/competition/national-events/distance-nationals/?utm_source=BenchmarkEmail&utm_campaign=Dispatch_from_the_Arabian_Horse_Association!&utm_medium=email