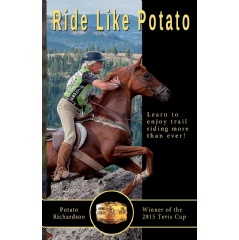 WebWire.com - Full Article
The author brings his readers back to his glory days and recounts his experiences with riding a horse.
San Diego, CA – WEBWIRE – Tuesday, June 20, 2023
Potato Richardson's "Ride Like Potato: Learn to enjoy trail riding more than ever!" was exhibited at the 2023 Los Angeles Times Festival of Books. The book festival ran from April 22 to 23, 2023, at the University of Southern California, Los Angeles, USA.
The exhibition of the book was made possible by the self-publishing and book marketing company ReadersMagnet. The company exhibited several titles, including Richardson's book, at the country's largest book fair.
"Ride Like Potato" follows the life of the author as he recalls his legacy in an equestrian sport. Robert "Potato" Richardson takes the readers back to the days when he was in his prime. He won the Tevis 100 Mile One-Day Horse Race that starts near Lake Tahoe and finishes in Auburn, California. Through the trails of the early gold and silver miners, the route travels over the Sierra Nevada...
Read more here:
https://www.webwire.com/ViewPressRel.asp?aId=306787