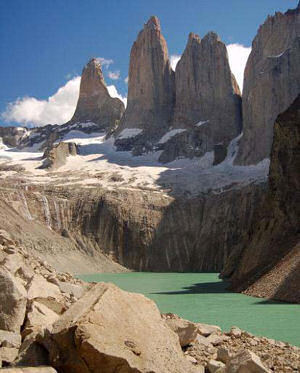 Luxurytravelmagazine.com - Full Article
September 17, 2009
There are many ways to take in the towering majesty of Patagonia and the lunar landscapes of the Atacama Desert. Led by first-rate guides and native gauchos who know the territory as well as their mounts, explora's Equine Experiences are an exquisite combination of natural beauty and adventure as only the back of a fine horse can provide.
If you've never had the pleasure of a wilderness adventure on horseback, you don't know what you are missing. Few modes of touring offer the same intimacy with the landscape or potential for excitement. From the warm, breathing mass beneath your saddle to the brush of trailside foliage on your skin to breathtaking canters up sand dunes, riding is a full-on experience – whatever your pace. Sure you'll be sore. But for a sensual take on the natural beauty of Chile, nothing beats a horse.
explora Equestrian Experiences are geared for riders novice through advanced. Guests delve deep into the Atacama Desert or Torres del Paine National Park in Patagonia on English and Chilean saddles. The latter, designed for comfort by explora founder, Pedro Ibanez, is affectionately known as "the couch."
Unlike many equine operations throughout Chile and around the world, explora maintains its own horses at Hotel de Larache in Atacama and Hotel Salto Chico in Patagonia. Guests can look forward to well-bred, well-trained horses tended by caring hands and stabled on site or nearby.
Indeed, the professionalism is part of the draw. Gaela Hourcq, a French-born equestrian with 15 years of international experience at guiding, breeding, training and stabling – including winning the first-ever Torres del Paine National Park endurance competition in 2005 – oversees stable operations at both properties. In Patagonia, she is joined by gauchos who not only live the South American cowboy lifestyle but also portray it to their guests.
More...