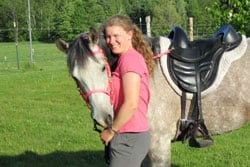 WQOW.com
November 15 2011
EAU CLAIRE (Press Release) - A University of Wisconsin-Eau Claire senior's essay that details her struggles and triumphs in equestrian endeavors was accepted for publication by a national horse magazine.
Any essay by Larissa Sprecher, a creative writing major from Cadott, was accepted for publication by the equestrian magazine Equus. The essay, "Worth the fight," is about the many struggles Sprecher has experienced with her Arabian mare, Cheeks.
"I bought and trained her in hopes that she would be my new endurance horse, but she had several severe, debilitating hoof conditions and injuries, one after another, that literally left her barely able to walk," Sprecher said.
Endurance rides are long-distance horse riding competitions, where participants can cover up to 100 miles in one day. Sprecher said she grew up riding horses and has competed in endurance riding for six years.
Through Sprecher's determination and hard work, Cheeks went from being crippled almost a year ago to logging more than 500 competition miles this past season.
"I don't mean to make it sound cheesy, but it is basically the story of a miracle," Sprecher said of her essay.