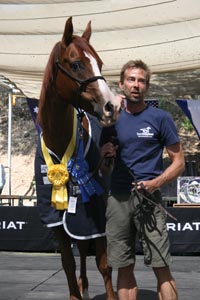 In light of the aging population in endurance riding and the need to recruit new members, enthusiastic new AERC board member Rusty Toth has launched a new blog, "Why Endurance?"
"The blog was my idea, born out of the AERC Membership Committee," says the mountain region's Toth, a national and international endurance rider, Tevis Cup and Haggin Cup winner, who first began riding endurance in 1999. "The idea is to inspire riders to either try a longer distance or possibly step up the speed in a safe way, and to encompass the big tent of endurance, showing that it is okay to be a 'hot shoe' and a 'back-of-the-packer.' The blog will include helpful information to responsibly guide the 'middle-of-the-pack' rider who may want to start riding for Top Ten completions.
"We also want to reach out to our younger audience, as AERC endurance is an aging demographic," Toth continued. "For the future of the sport we need to revitalize our youth and capture new riders in the sport at a lower age segment.
"I am reminded of a story of fellow BOD member Tom Bache, having competed in the Twenty Mule Team 100-miler this February, riding much of it with a 19-year old-lady. A 70-year-old man and a 19-year-old lady riding a 100 and finishing Top Ten together, that is our sport; everyone.
"You can be a junior or senior, fast or slow rider, and it's all endurance. It's all this glorious sport shared with our best equine friends."
Darryl Downs, 27-year-old 3000-mile endurance rider from the northeast region, is the first blog poster.
In less than 20 hours since its launch, the blog already has over 1000 hits.
Follow the blog at:
http://whyendurance.blogspot.com/