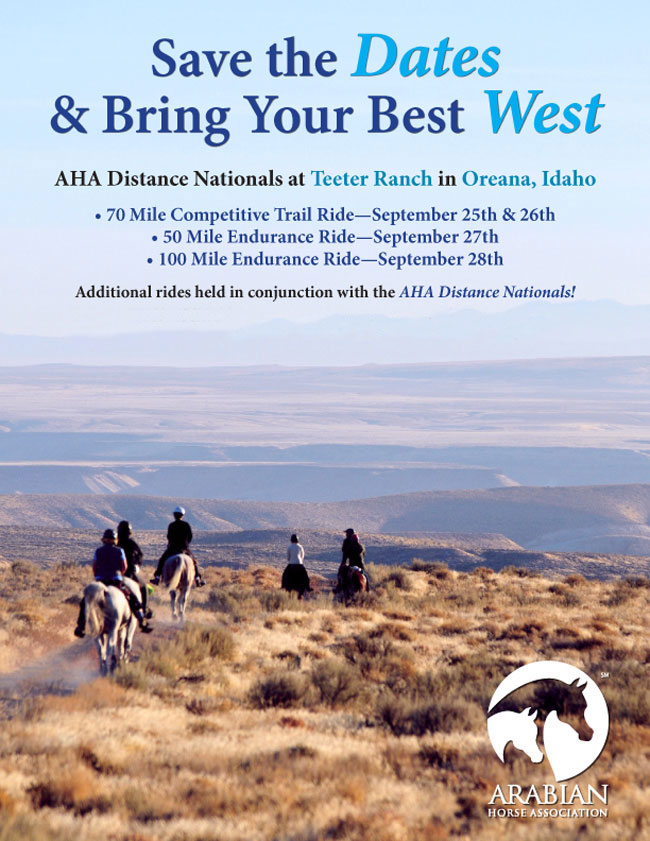 The 2014 AHA Distance National will be held on September 25-28 at the Teeter Ranch in Oreana, Idaho.
Events will include the 70-Mile National Championship CTR Ride on September 25 and 26 (35 miles each day), the 50-mile Championship Endurance ride on September 27, and the 100-mile Championship Endurance ride on September 28th. Open AERC Limited Distance rides, 50-mile rides, (the Owyhee Canyonlands Pioneer ride), and an AERC open 100-mile ride will also be held concurrently.
Ride managers are Steph Teeter and Regina Rose. Head veterinarian is Mike Foss.
For more information on the ride, see
http://www.endurance.net/international/USA/2014AHA/index.html
and
http://www.arabianhorses.org/DNL/
For questions about the Distance National Championship Rides, please contact Ride Coordinator Devin Smith at
Devin.Smith@ArabianHorses.org
.