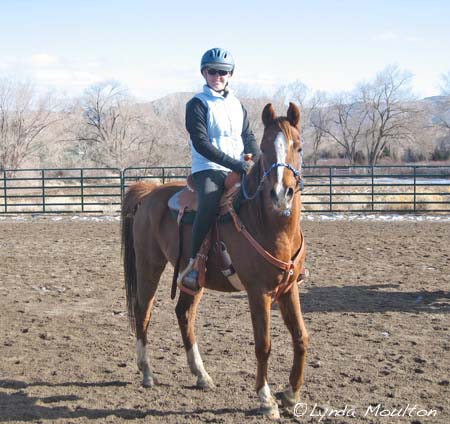 by Merri Melde-Endurance.net
February 23 2017
This is not a story of an AERC Hall of Fame horse, nor a Tevis or Haggin Cup winner, nor a high-mileage endurance horse. You wouldn't even call his an impressive endurance ride record, and he's still a ways from a thousand-mile medallion.
For a while early on, Crysta Turnage's horse Dream Makker had a bad reputation just this side of unsafe, and later he had (still has) soundness issues. A majority of endurance riders - who also don't have Hall of Fame horses or high mileage horses - will recognize some similar struggles in their own endurance journeys.
But ultimately, this story of a rider and a somewhat dubious endurance horse that takes a long, circuitous journey towards the goal of riding in the Tevis Cup is one of perseverance and patience, and of friendship and redemption.
This now-12-year-old CMK-bred gelding by Mackies Image X Falah Dream, by Sarat Thani, came from the pastures of the Van Gilders in Oregon. It was endurance rider Kevin Myers who bought "Diego" as a yearling and took him home to Arizona for a few months, before sending him to southwest Idaho to grow up and run with Steph Teeter's herd for a couple of years.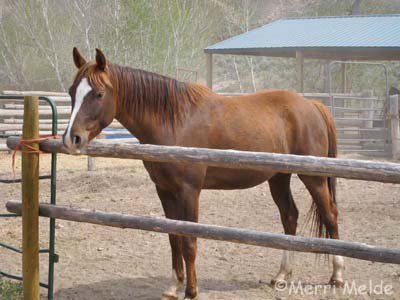 Crysta Turnage of Spanish Springs, Nevada, entered the picture when Diego was coming 4. She'd been riding her one and only endurance gelding, CT's Sinatra, for 6 years, since 2003. They'd finished Tevis together in 2007. The next year, in a devastating blow, Sinatra was diagnosed with terminal cancer.
That's when Crysta's dear and generous friend Kevin stepped in. Crysta remembered, "Kevin told me, 'I have this unstarted 4-year-old up in Idaho. If you want him, just go get him.' So my mom and I went and picked him up in October, and we brought 'Digs' back home with us."
It was a big change of venue for Diego. "He had never been to 'town' before!" Crysta said. "He'd grown up in Idaho on the ranch. Everything here was cause for alarm!
"I don't know that he'd ever seen a kid before. My son Taren was 6 at the time, and he'd go out and run around or climb on the corral panels and be loud and fast like kids are, and Digs would snort, like 'Oh my gosh, what are you?'
"Cars and trucks driving around, mail boxes, trash cans - all of that seemed very much a novel experience for him. i don't think he'd ever been exposed to that more suburban environment."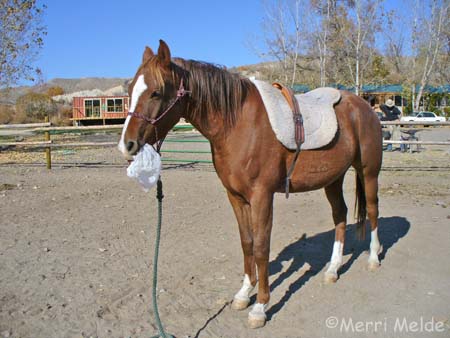 Diego had had a bit of ground work and had worn a cinch-and-saddle pad in Idaho, but it had been more for fun than serious training. Crysta didn't have an arena or round pen at her place, so she had to trailer to local arenas or go for walks around the neighborhood when she wanted to work with him. Although she had taken a colt starting class for a semester in college, ridden young/green horses, attended clinics, and worked briefly for a trainer, Digs would prove to challenge all of her growing skills.
Then came that memorable day in January 2009. "It was winter, and he hadn't been out for a couple of weeks due to all the snow, and I wasn't able to get my trailer out. So I decided to take him for a walk by hand through the neighborhood.
"Walking behind some houses, a neighbor's dog lunged at a fence, and when he hit the fence, Digs freaked out and took off running. I tried to pull him back and turn him around, but he got to the end of the lead rope, ducked his head and kicked me in the chin, and knocked my teeth in." (It also fractured her jaw.) She gives Digs the benefit of the doubt: "He kicked, and I was just in the wrong place at the wrong time, and I had given him too much lead. I should've let him go. Maybe he wouldn't have kicked if I hadn't yanked on him that one last time. Who knows."
Then right about the time she healed up from all that,
Wham.
At the beginning of April she hauled Diego to her local arena and had just climbed aboard him when a horse loading in a nearby trailer scrambled and made a terrific commotion. "Digs just freaked out," she said. "I stayed on well for the first few bucks, but when I tried to pull him into a one-rein stop, I threw myself off balance.  I remember flying through the air sideways - looking at Diego, and then hitting the ground." It broke her upper arm in multiple places and required immediate surgery.
The two incidents right on top of each other caused by a spooky, reactive young horse gave her pause. "You know, we ride horses. It's not a matter of
if
you're going to get hurt, it's a matter of
when.
And I'd been hurt before. I don't even know how many different times I've come off over 20-plus years in the saddle. But something about that just really shattered my confidence in riding in general."
Many endurance riders would have sold such a horse immediately, and rightfully and obviously so. But that's not how Crysta saw it.
"So then I was faced with this decision of, here I have this young horse, who I can see has a lot of potential and many really good moments, but when he's bad, he's REALLY BAD, who's proven to be spooky and fast. And everyone (including her mom, her husband, many friends) is telling me to sell him, to get rid of him. But I felt I needed to put enough training into him so he would actually have value to then be sold, so I could buy something else that I could endurance ride on.
"That was a really long process to come back from. I'd sit at work at my desk and have panic attacks thinking about riding Digs. I would literally get shaky and my palms would get all sweaty, and I'd have to tell myself, 'You're not in that situation right now, just stop thinking about it.'"
Before doing any more with Digs, Crysta had to start her own riding comeback after her arm healed. "I started riding other people's horses again, some really good steady, well-broke horses.
"My friend took me out for a long trail ride, and I remember we could only walk for the first hour and a half. It took me that long to get my confidence up, being able to move out again, to do anything faster than a walk. That's what I did to get back in the saddle, just started riding other people's horses slowly again."
Attending the Sacramento Horse Expo in June with her mom, and watching some horsemanship demonstrations, Crysta acknowledged that Diego was the most difficult horse she ever had to work with, and she realized that she was lacking in two very key elements: control and trust. "I knew I had to gain more control, and thus increase his trust in me."
Over the next several months, she took a big step back with Digs and really got back to basics. "We did a ton of ground work. I took him to some de-spooking clinics, and we just did stuff in hand. I just gave myself permission to not have to ride him until I was ready."
They did a lot of lunging, in different areas and over obstacles, and they worked on establishing good verbal cues. They worked on ground driving, where Digs had to learn to overcome some of his confidence issues while doing it, where Crysta was no longer the 'leader' out in front of him, and instead he had to be responsible for choosing where to go with some direction from Crysta. They also went to a bomb-proofing clinic.
It wasn't till the first of August that Crysta started getting on Digs again, but it was very slowly and carefully.
"I would climb up on the corral fence, and have him come stand next to the fence. I would swing a leg over, but be standing on the fence still and have my hand on the top rail, so that if he moved at all I could just pull myself back on the fence rather than have to stay on him. Eventually I worked up my confidence to being able to just sit on him without hanging onto the fence."
They eventually progressed to walking around a little bit while mounted, but Crysta knew they still had a long way to go to gaining mutual trust in the saddle. "The little voice in the back of my head was telling me that the spooking and bucking wasn't a 'done' issue. I would have been happy if that little voice was wrong though."
In September she hauled Diego to Bob and Dovie Pickering's ranch, where Bob, who did Parelli natural horsemanship, watched Crysta and Diego work together. The nervous elements were still there: "We were feeding our anxiety off each other," she said. "He'd get nervous, so he'd spook and jump, and I'd get more anxious, and get grabby cuz he was moving around. It was just kind of this bad spiral that we'd put ourselves into."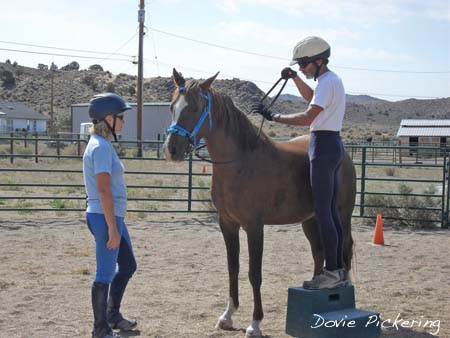 Bob got on Diego and rode him for a while that day, to help give Diego that confidence booster of a more relaxed and calm rider. Then Bob offered to keep and ride Diego for 30 days.
"Bob pretty much rode him every day, even if it was just for a 5 minute bareback ride around the yard," Crysta said. "It was just giving Digs that confidence of 'You're OK! It's OK to be ridden. There's nothing that's going to happen,' just getting him over some of that jumpiness he had." Crysta would go to the Pickerings' on weekends and ride and spend time with Diego.
At the end of the 30 days, Crysta and Digs went on a little 10-mile 4H ride accompanied by Bob and his horse. "I think I walked on foot for half of the 10 mile loop, but I did ride him. I'd just get off him again if I'd get anxious and walk for a while, then get back on again.
"That was really the strategy I used more and more as I went forward with him. I just gave myself permission to get off if I was nervous, and just lead for a while. I didn't feel like I had to ride it out.
"The other thing I taught him which was really helpful was to 'touch it.' He'd spook at something, and I'd say 'Touch it', make him go touch it with his nose. And he'd realize, oh, OK, it wasn't anything that scary. I drug home a bunch of stuff from the Goodwill, and set up little obstacles around the yard. And when he'd snort and blow, I'd make him go up and touch it. And the second he would sniff it and see it up close, he would relax about things.
"Actually, to this day I'll still use it. If he's starting to spook at something, I can tell him 'touch it,' and I can feel him actually take a deep breath, 'Oh, OK,' and relax.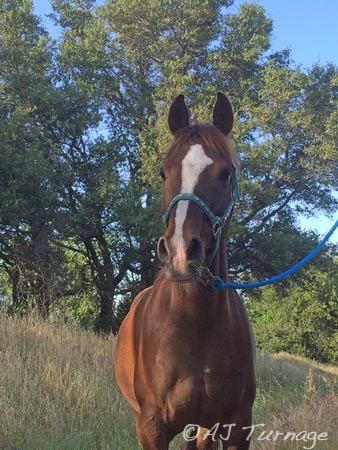 Crysta continued riding during the winter with friend Elizabeth Funderburk. "She had a horse she wanted to do endurance with, but didn't have a trailer. So I would pick her up in my trailer, and she and Dixie would help babysit me on Digs, the green horse.
"We did a lot of riding together. And by about May of 2010, I realized that I wasn't looking to sell Digs anymore. I was having fun riding him.
"Personality wise, I've always clicked with him really well. He's a really sweet horse, very friendly. He likes to get attention, loves to come over and see what you're doing. The challenge was in getting him over some of that reactiveness he had, and helping him learn that everything wasn't so scary, and that he didn't need to react or have such HUGE reactions. He learned how to spook in place and not spin a 180 and freak out. That's where a lot of those clinics and different things really came in handy."
Handy enough to mold a partnership of a confident horse and a confident rider.
Handy enough to step into Sinatra's hoof prints and start down the endurance trail.
next:
PART 2: DREAM MAKKER: A *REAL* ENDURANCE HORSE (AND MORE) IN THE MAKING