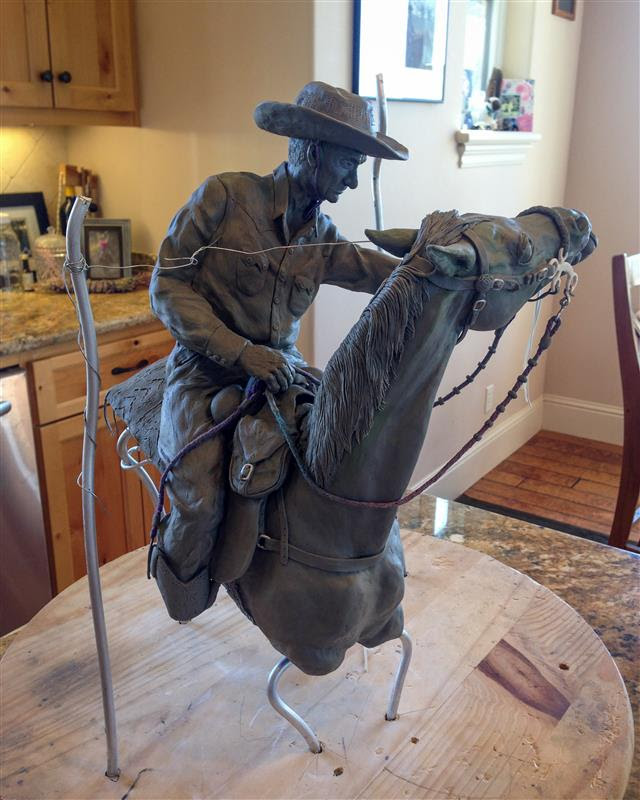 A sneak peek at the pre-foundry bronze piece, courtesy the artist Diana Hiiesalu.
The Western States Trail Foundation Board of Governors voted at their January meeting to introduce a new trophy to the awards already given. In honor of our founder, it will be called the Wendell Robie Trophy.
The Robie Trophy will be awarded to all horses that have successfully completed at least five Tevis Cup rides.
The initial presentation of the Robie Trophy will be at the 2017 Awards Banquet. All horses who have previously - in the history of the ride - completed at least five times, to include horses that finish their fifth ride this year, will be recognized at that time.
The Board of Governors felt, given the difficulty of finishing a single ride, it would be appropriate to recognize the endurance and longevity of horses that have completed five or more rides.
The trophy itself is being created by talented sculptor, Diana Hiiesalu. Diana is capturing the iconic image of Wendell Robie giving his horse a drink from his water bottle.
In addition to recognition on the trophy, award recipients will also be given a medallion reflecting the same image.
In order to compile the names of Robie Trophy horses from the past, the board requests that riders and friends of the ride please report any qualified horses to Debby Lyon at debbyly@aol.com.
Also, any riders who will be riding a horse which will be attempting a fifth completion this year, please alert Debby.