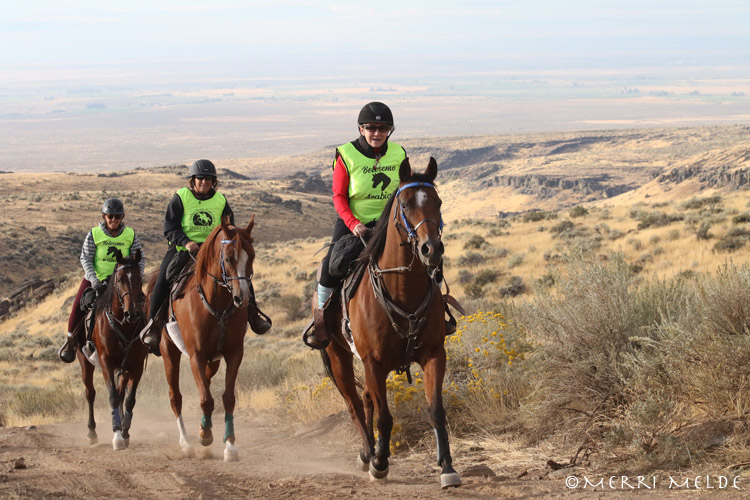 by Merri Melde
October 10 2022
The 2022 Autumn Sun Pioneer/Distance Horse National Championships, hosted by the Arabian Horse Association, took place September 30-October 2 outside of Gooding, Idaho. Partnered breed Championships, besides Arabians, included the Appaloosa, Paso Fino, Shagya-Arabian, Morgan, Akhal-Teke, and American Saddlebred.
Some of the top tier of riders came to contest the Championships, from as far away as California, Texas, and Canada.
This is by no means all, but here are just a *few* highlights from the weekend.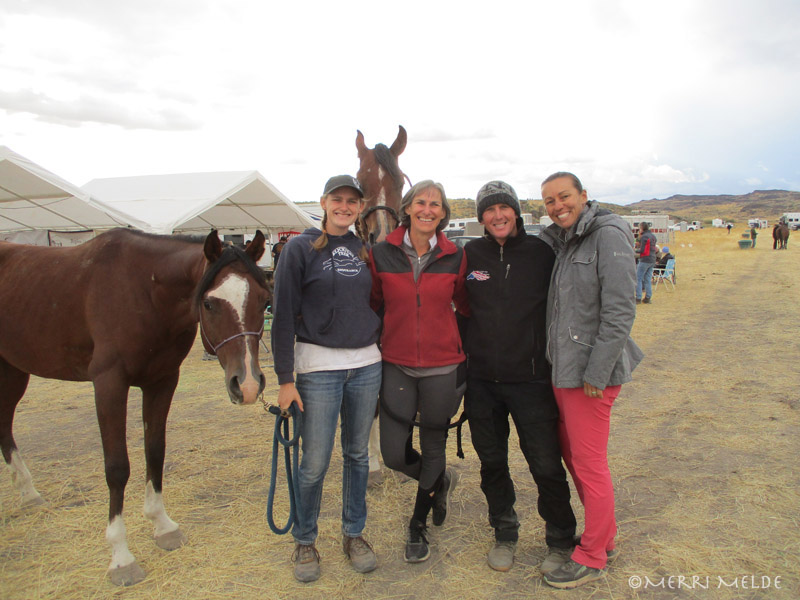 4 Tevis Cup winners graced the ride entries this year! left to right Sanoma Blakeley, mom Gabriela Blakeley, Jeremy and Heather Reynolds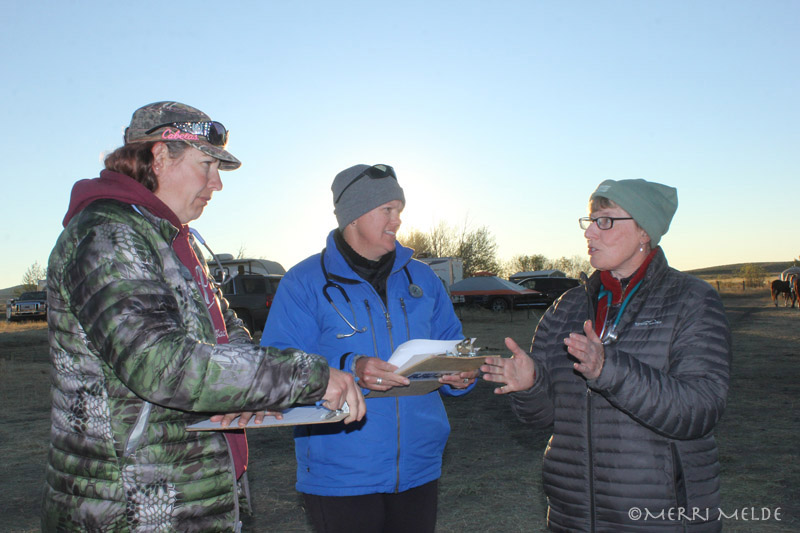 A crack team of vets headed the ride: Cassee Terry, head vet Jessica Heinrick, and Mel Swartz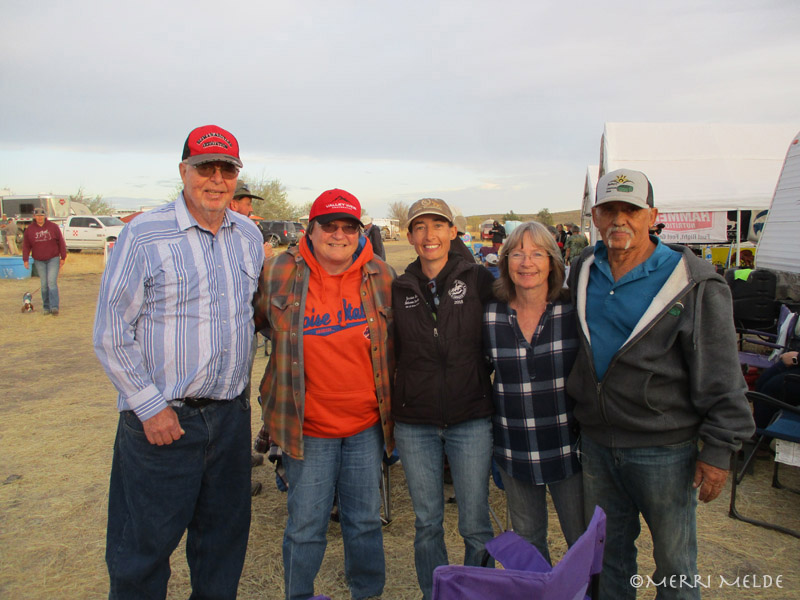 Without these guys, there would be no ride. L-R the generous owners of the land we Ridecamp on, ride manager Jessica Huber, her mom Merri and dad Wally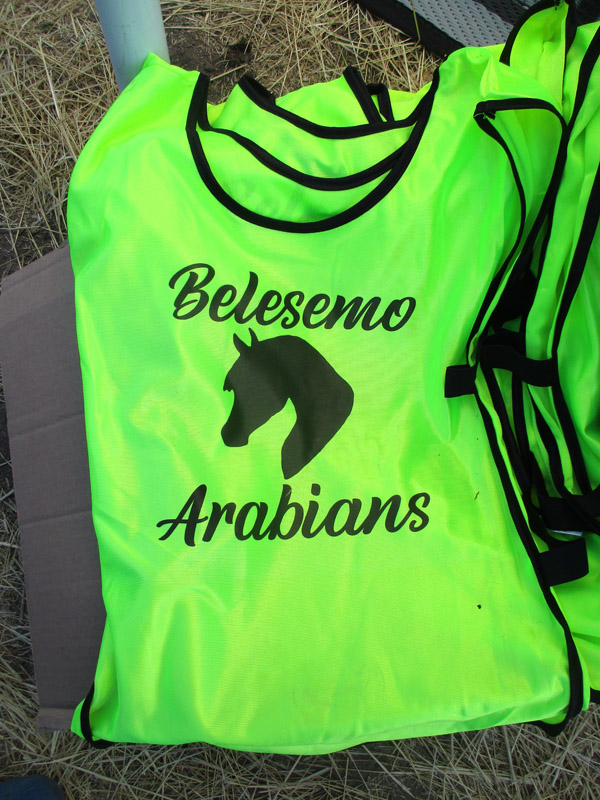 Caldwell, Idaho's Belesemo Arabians sponsored the pinnies worn by Championship competitors. Several Belesemo-bred horses participated over the weekend, including Riazara Magic, owned by Merri Bodenhofer and ridden by Kristy Butler to 8th place in Friday's open 50 and 5th in the Championship Purebred Arabian division; Belesema Ruby Jewel, owned and ridden by Junior Joselyn Terry, 26th in Friday's open 50, and 6th in the Half Arabian Championship; and Belesema Anna, owned and ridden by Chris Samson to an 8th place finish in Sunday's LD.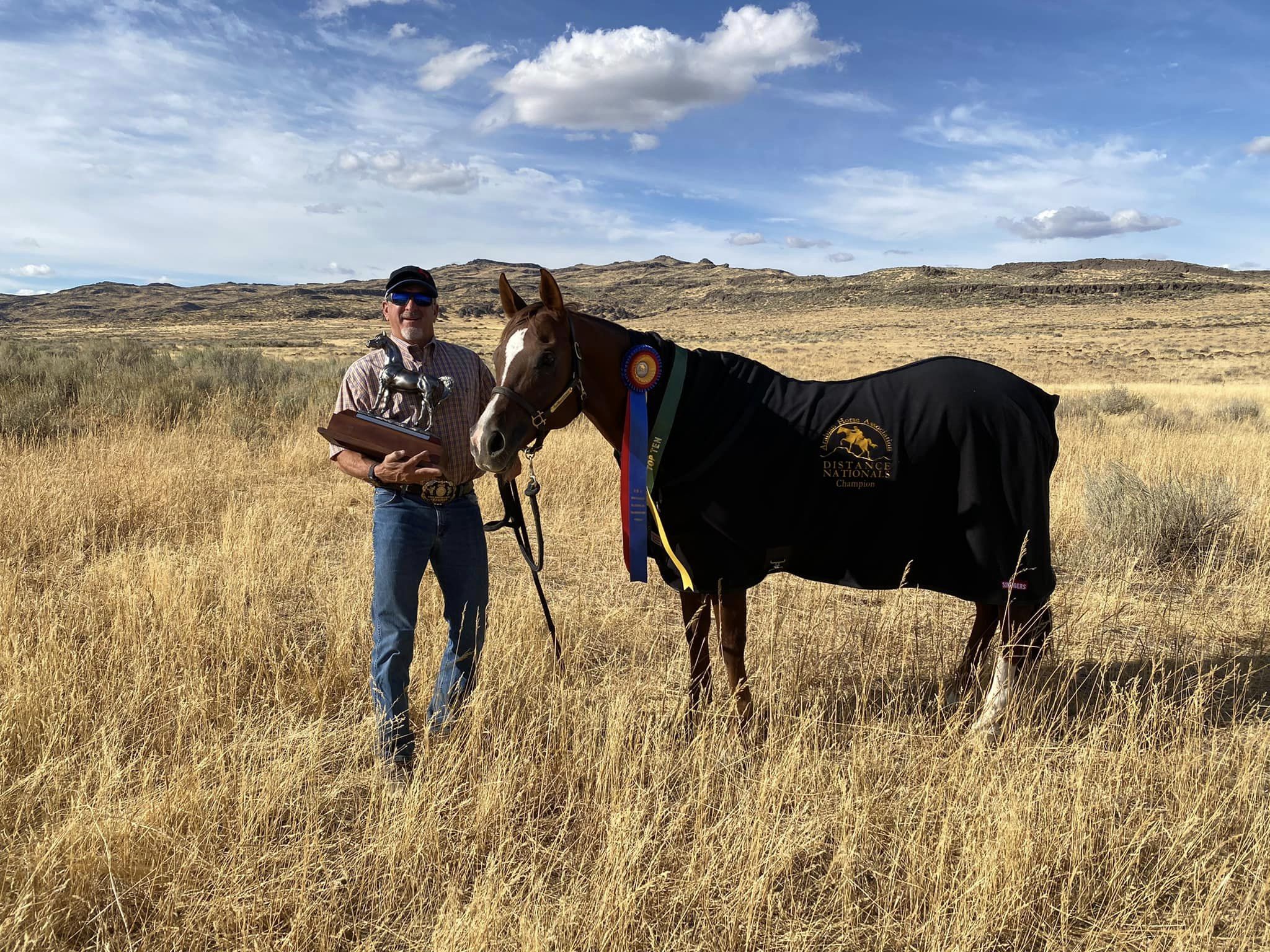 Allan Horn from California and Shez Mostly Zipped +/ (Ruby)
1st in the Half Arabian/Anglo Arabian 50 mile Championship
Allan purchased "Ruby", a Western Pleasure horse in a previous life, in 2015 as a backup Endurance horse. Over 8 now seasons they've earned 2960 AERC Endurance miles, and with their finish in the Autumn Sun Pioneer/Distance National Championship 50, Ruby earned her Legion of Excellence title.
The pair finished in 5th place in the open 50-mile ride and 1st (Champions!) in the Half Arabian/Anglo Arabian Championship.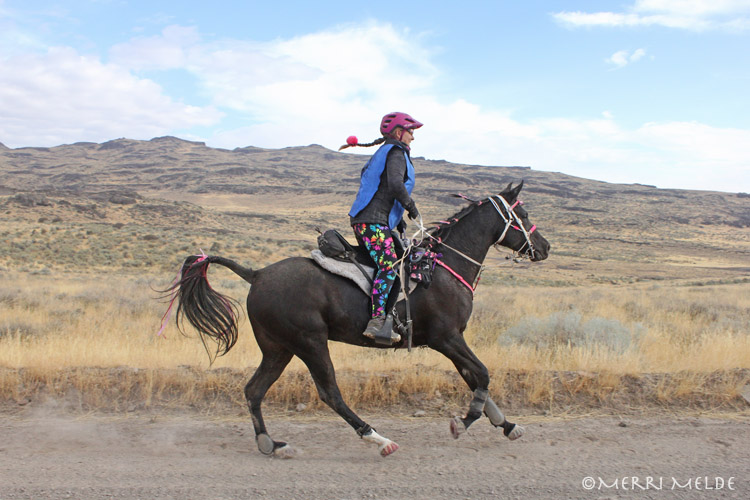 Pony tails flying, Diane Stevens from California and Darq Shazam finished 1st in Friday's open 50 and 1st in the Purebred Arabian Championship 50
This homebred mare - out of Diane's first Endurance horse KJ Jazzelation - is by Tar Pistol Pete +/ . It was her 8th completion out of 8 starts and her first win.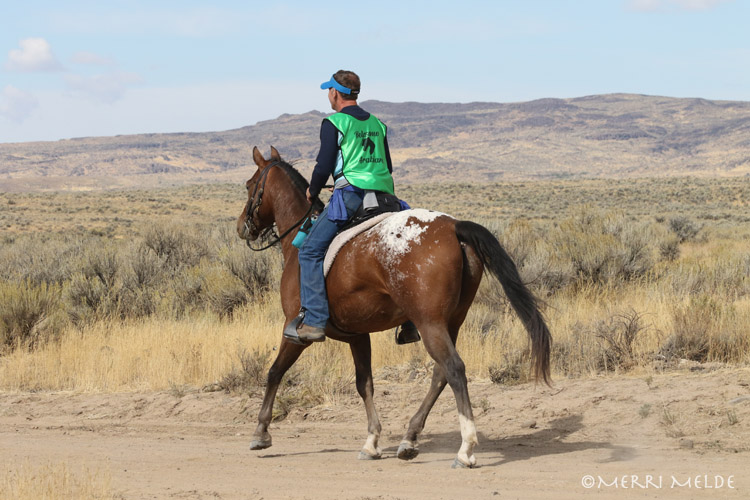 A splash of color on Saturday.
Dewayne Brown frm Oregon and RF Gulastras Shadow
5th in the open CTR, 3rd in the Half Arabian CTR Championship, and Champion in the Appaloosa division!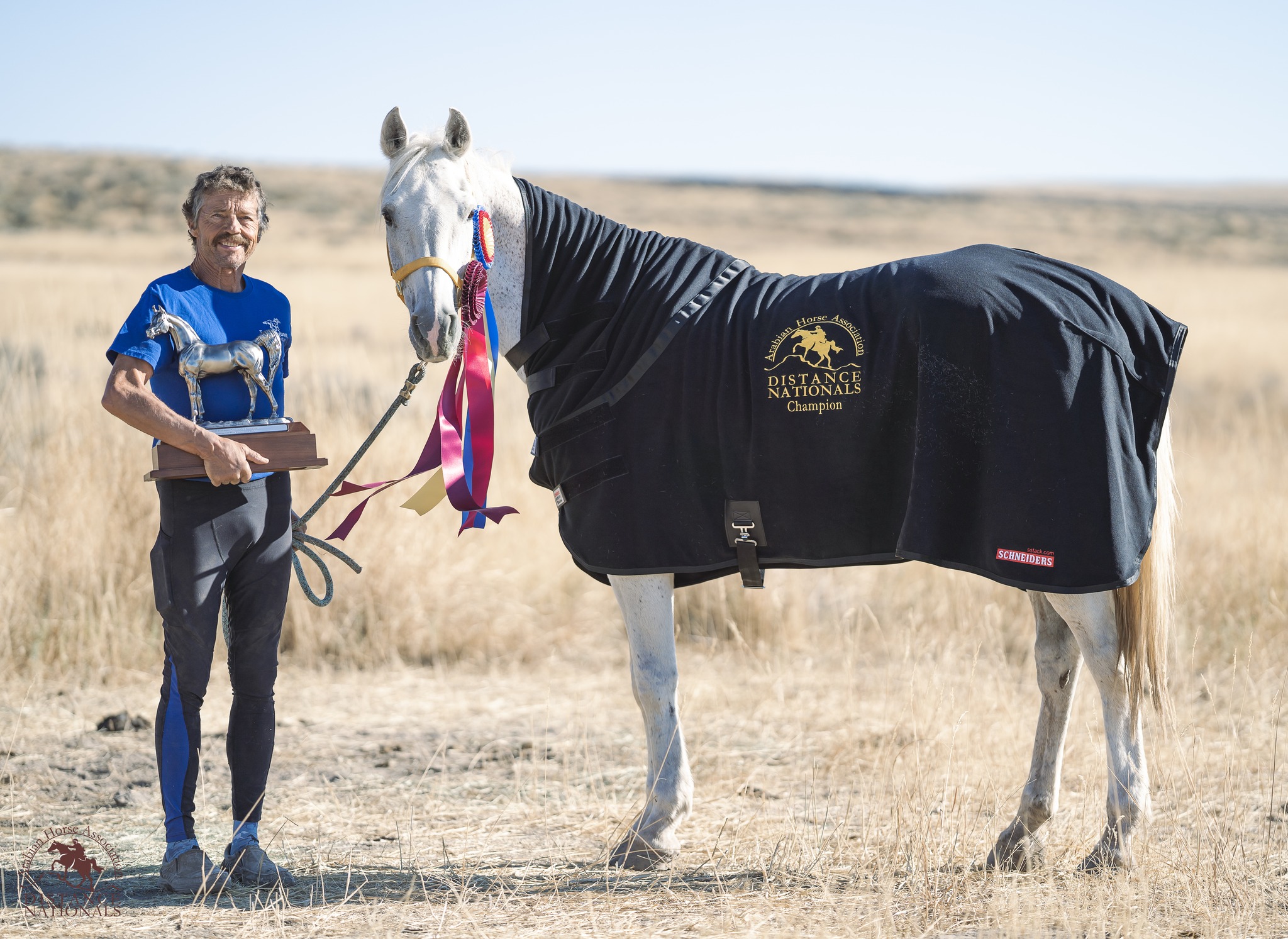 Christoph Schork from Utah and GE VA Blizzard of Oz (Ozzie)
Ozzy and Christoph do it again! Winners of Sunday's open 100 and Purebred Arabian Championship 100.
Ozzy has over 3000 Endurance miles over 6 seasons; Christoph passed 43,000 miles this weekend. It was Ozzy's 39th win and Christoph's Somewhere-way-over-400 wins.
Ozzy also won the Best Condition award, his 40th overall! (And don't forget the Haggin Cup at Tevis this year!)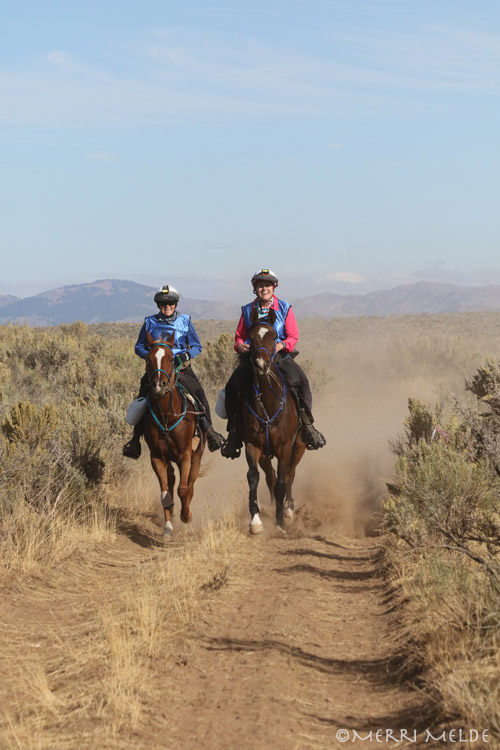 Joyce Sousa and Jennifer Niehaus
This mother-daughter team often rides together. And you can't mention this team without mentioning husband/father Dennis Sousa. When he's not helping his family, he's helping everybody else at the vet checks and in Ridecamp.
Joyce and Shahs Gold Nugget, and Jennifer and Bak Jabari ("Juda") tied for 8th in the open 100, and tied for 3rd in the Purebred Arabian division.
Joyce has over 35,000 miles and 95 100-mile completions (!). Nugget has over 2700 miles and 5 100-mile completions.
Jennifer has over 16,000 miles and Bak Jabari has over 2600 miles and 4 100-mile completions.
Dennis himself has over 21,000 miles and no telling how many rides he has crewed for his family!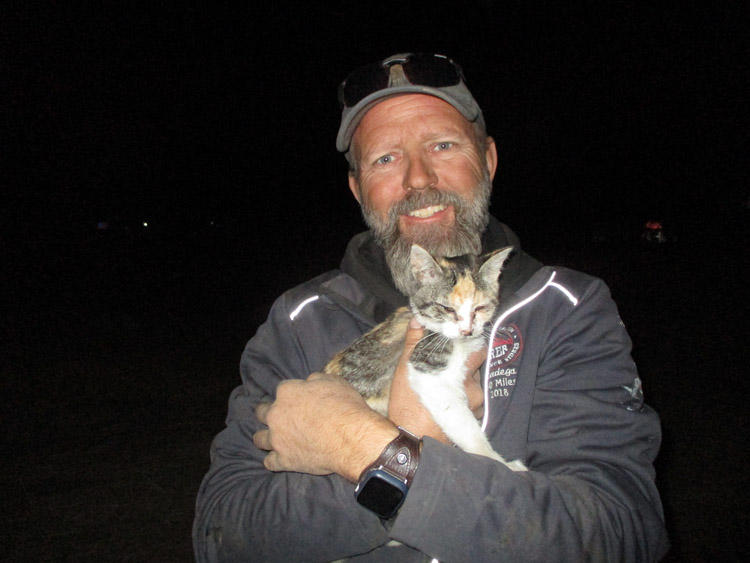 And, this kitten was the Biggest Winner of the weekend!
The Kitten Who Went To Heaven (On Earth)
You'll find plenty more stories and photos from the weekend at:
http://www.endurance.net/international/USA/2022DistanceHorseNationalChampionships/