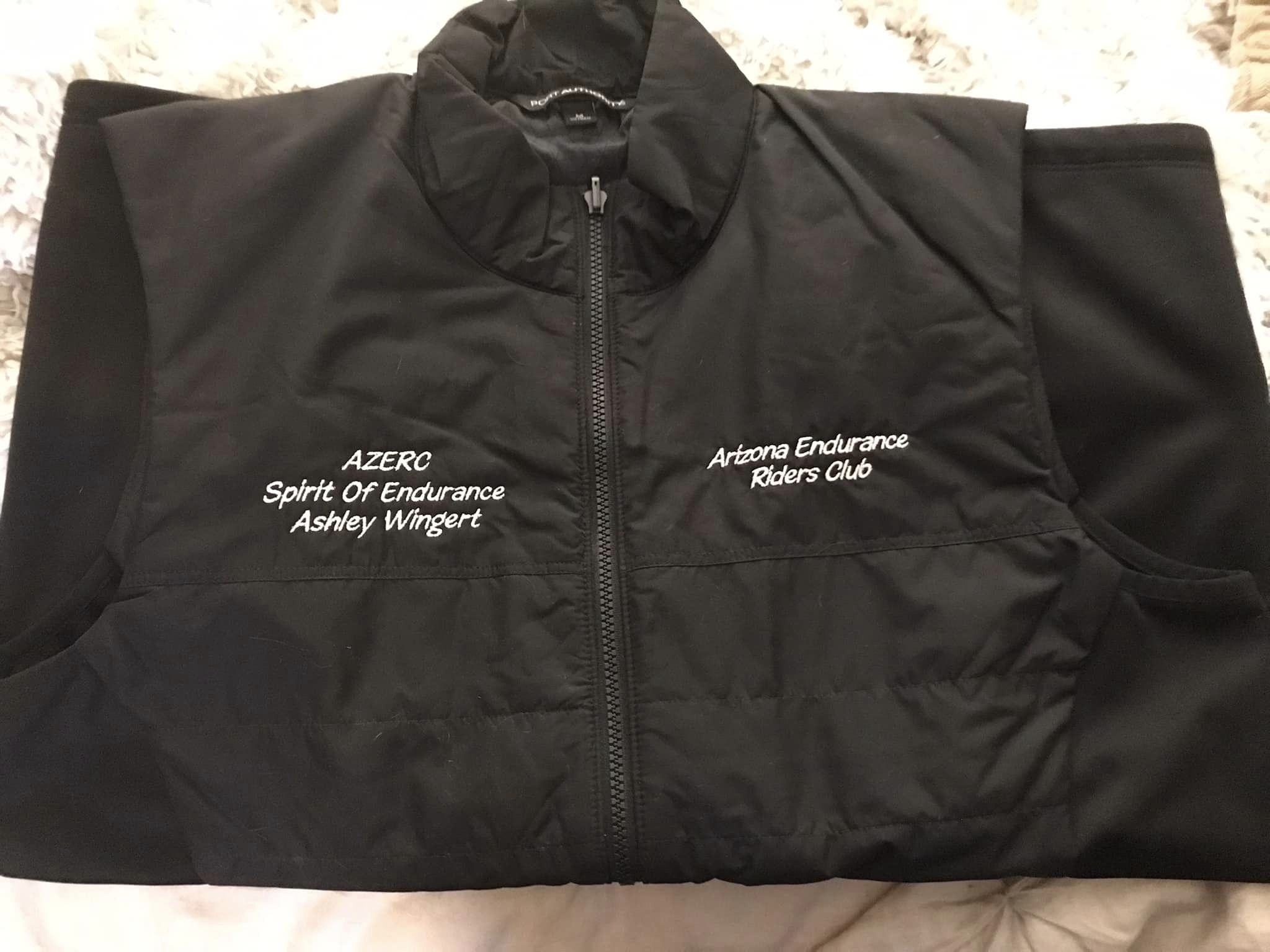 On February 11, the Arizona Endurance Riders Club recognized Ashley Wingert with the "Spirit of Endurance" award. This award was started several years ago, originally in conjunction with the Tonto Twist endurance ride, as a way to "recognize an outstanding individual within the Arizona endurance riding community who exemplifies the characters of dedication, perseverance, and an enduring spirit."
The endurance community is Ashley's "tribe," said her proud mom, Carol. "She and [her mare] Libby have worked hard and have become a great team. Ashley has communicated her passion for the sport to new riders and sponsored a junior rider this past year. She has volunteered at many of the rides and is a founding Board member of the local club."
Ashley said:
"I am honored more than I can adequately put into words.
"To be recognized this way…I'm still speechless. I don't think it's a stretch to say endurance is my life. There have been very few things in my life that I have stuck with (besides horses themselves) the way I have endurance. I am a fairly driven and results-oriented person who gets bored easily, and I will admit to starting and not sticking with quite a few different activities and ventures because I haven't been good enough or successful enough at it to keep on 'digging deep.'
"But endurance has been different. It has not been an easy road, at all. I have gone through numerous learning curves, experienced so many ups and downs, disappointments, fears, stresses, failures, and frustrations. I have wanted to quit at various times, convinced I was never going to 'get it right'. But something about it has always compelled me to keep going, to keep digging deep and finding my resolve and courage, to not quit. Because when it comes together, the successes are so rewarding. And it's more than finishing a ride. It's about the partnership that develops with a horse. When you have to put your trust in them, to rely on them to get the two of you through a tight spot. To experience how much they have and are willing to give…to hold myself accountable to being a partner worthy of that.
"Endurance has been an extraordinary journey. One that has largely been internal. I share my ride stories, my lessons learned, what went right — and what didn't. But I've rarely expressed just how deep of a passion I have for this sport, and how much it's impacted my life…mainly because it has been such a mental, internal thing that I find it hard to adequately put into words, but to call it my unwavering passion is probably one of the best descriptions I can think to apply."