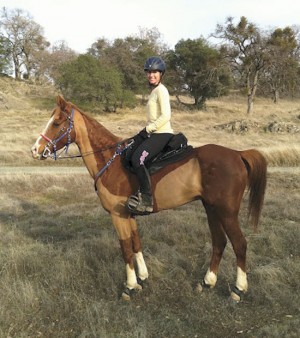 Napavalleyregister.com - Full Article
ANDY WILCOX | Posted: Saturday, February 4, 2012
Lindsay Graham is excited about her latest chance to team up with 10-year-old gelding Monk, the horse she rode for a North American-record time for 100 miles last summer.
The 2000 Vintage High graduate is one of only two Americans who have been invited to compete in the annual President of the UAE Endurance Ride in Abu Dhabi, United Arab Emirates, on Feb. 11.
Despite her record last summer, and fourth-place finish in the North American Endurance Championships in Greenville, Calif. — just north of Truckee — in September, Graham isn't planning to push Monk as hard as she can to claim a victory in the Middle East.
This is just the first race of a year she expects to be busy.
"What our goal is this year," she said of herself and Monk's owner, Chris Martin of Penn Valley, "is to make it to the World Endurance Championship in England in August, and we have trial for that, a tryout, at the end of March in Texas. So I have to be careful. If Monk has a problem over there he might be out for the tryout. So I'm going to use it as a really good conditioning ride and work on a good pace. He's still going to be working, but we're not going to be out there racing for the win. We're going to go out there and do the best we can but also enjoy the experience..."
Read more here:
http://napavalleyregister.com/sports/vintage-grad-one-of-two-americans-chosen-to-compete-in/article_1e1fca6c-4fc2-11e1-85eb-001871e3ce6c.html