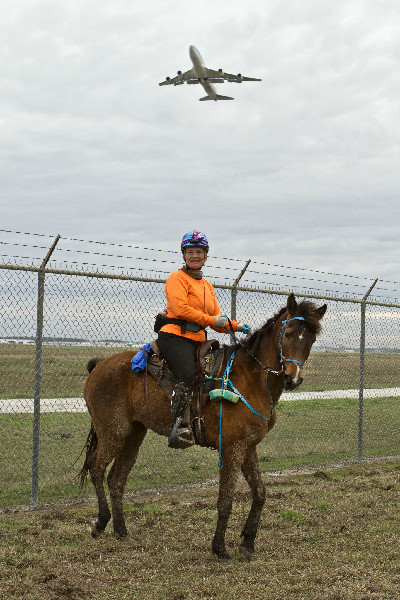 © 2012
John Nowell, Remuda Photography
Equitrekking.com - Full Article
September 10, 2012
Champion endurance racer Darolyn Butler has made an equestrian career out of her passion for marathon rides.
by Karen Braschayko
Darolyn Butler has had a long career in several aspects of the equine industry, from winning rodeo queen pageants to selling Western wear and producing instructional videos on horsemanship. Today, she has knitted her love of endurance riding into a company of teaching clinics, leasing horses and training other endurance racers. From her ranch, Cypress Trails Equestrian Center north of Houston, Texas, she runs her family business, conditioning endurance horses while leading adventure trail rides and giving riding lessons.
Butler also uses her distance riding skills to serve the community. She helped form the Airport Rangers group at George Bush Intercontinental Airport (IAH), a unique program enabling fellow equestrians to enjoy hundreds of miles of pleasure trails while patrolling the vast airport grounds.
Butler began endurance riding at 31, when a trainer told her she should hurry up if she wanted to try it. Now 62, she has competed all over the Americas and on several continents in FEI endurance races. She has earned dozens of wins, including gold and silver medals, and has over 34,000 competitive miles under her saddle.
Having survived the devastation of two major floods and a shattered pelvis, Butler works as hard as ever. She travels widely and coaches other endurance riders. Here she tells us about conquering 100-mile races and the many ways to make a living with horses...
Read more here:
http://www.equitrekking.com/articles/entry/dream_jobs_endurance_rider/