Canadian Arabian Horse Magazime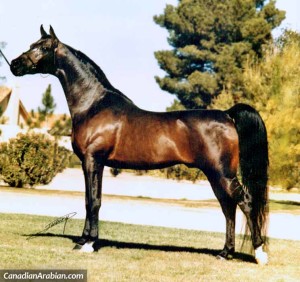 Pyatigorsk
A shortened version of this article, entitled "Sturgeon Creek Arabians' Carl Fudge Honored for Outstanding Achievements in the Sport of Endurance," appears in the August, 2014 issue of the Canadian Arabian Horse News.
The statistics…
From 1988 to 2014, Sturgeon Creek Arabians has bred 111 horses. Of those, 27 have competed in Endurance in the US and Canada, winning:
1 US National Championship;
2 selected for World Championships;
2 Tevis Cup finishes;
6 Regional Championships;
5 Reserve Regional Championships;
2 AERC Decade Team members.
Out of 596 total competitions, there have been 206 Top Ten finishes (35%), 55 wins, 38 seconds and 30 Best Condition awards. There has been a remarkable 87% completion rate, covering 25,000 miles in competition – beyond the distance around the world! Five horses have over 2,000 miles in competition and four others have between 1,400 and 2,000 miles.
These 27 Endurance horses were produced by 7 different sires and 17 different dams. It is amazing to have these consistently excellent results when there were different owners, different environments, and unique training and conditioning programs. The only common factor has been the power of the gene pools SCA has used. Other SCA-bred horses have competed in open dressage, Sport Horse competition and barrel racing, while many just became well-loved family members.
Full story...