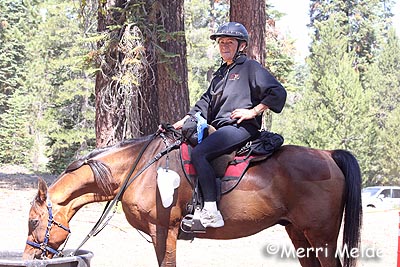 November 28 2016
by Merri Melde-Endurance.net
LV Integrity +/ , owned by Joyce and Dennis Sousa, achieved the exceptional honor of "AERC Perfect Ten Equine" over the weekend at the Gold Rush Shuffle in California by surpassing 10,000 AERC miles.
Created in 1997 and sponsored by Joe Long, past AERC president, former Southeast Region director, and member of the AERC Hall of Fame, this award is for equines that have completed 10 years, 10,000 miles, 10 first place finishes and 10 best conditions throughout their career.
LV Integrity +/ is only the 9th horse to achieve this honor since the inception of the award.
Ridden by Joyce for most of his career (he also carried Dennis, and their daughter Jennifer Niehaus), 23-year-old "Ritzy" earned his miles and Perfect Ten award over 18 seasons.
This year was arguably one of Ritzy's best. In addition to his Perfect Ten Equine accomplishment, he achieved his 2016 Hall of Fame induction and his 40th 100-mile completion. Additionally, Joyce and Ritzy escorted Joyce's granddaughter, Alex Niehaus and her gelding Airborne along 855 miles of trail, including 5 100-mile rides.
"Yes, it was a great ride season," Dennis wrote. "We have been truly blessed."
For more on Joyce and Ritzy, see:
http://tracks.endurance.net/2015/12/from-bucker-to-blessing-9000-miles-for.html