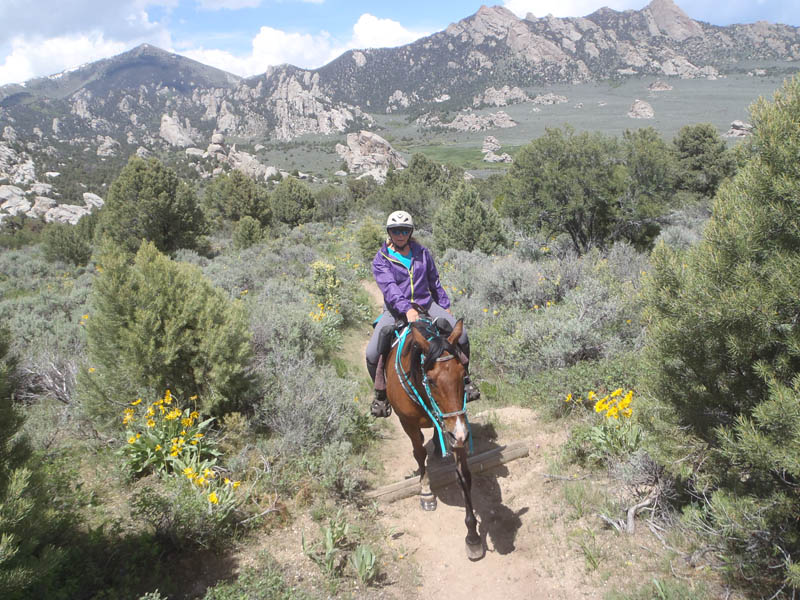 June 17 2019
by Merri Melde-Endurance.net
I felt something rip below my knee when I squatted down, 2 nights before the City of Rocks Pioneer endurance ride, and I'd been hoping to try and ride all 3 days on Hillbillie Willie.
Fortunately Naomi Preston saw me limping the next day. She offered me her
Bemer Cuff
for equines. "Bemer originated in Germany 20 years ago," Naomi said, "and delivers a patented PEMF (pulsed electro magnetic frequency) signal. It improves microcirculation and helps the body heal itself. Use it 3 times a day if you can." I did, because I really wanted to ride!
And it was either the BEMER cuff or a miracle or both, but the strain or sprain or whatever it was went away and I did not once feel it the rest of the weekend! (Naomi is a distributor of the BEMER cuff; if you want more information you can PM her.)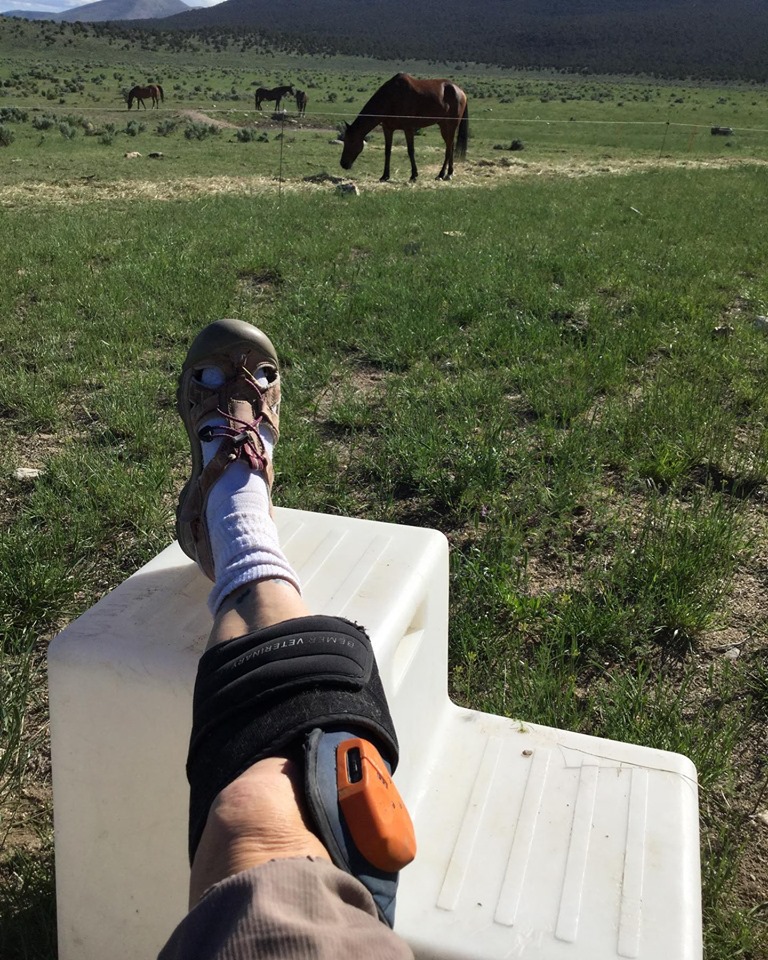 It was Hillbillie Willie's first attempt at finishing 3 days of a Pioneer ride at City of Rocks. His riding partner was Jackpot Jackson, with Debbie Grose aboard. The two geldings were moving along splendidly on Day 1, into the first vet check - when we discovered Jack had lost his right front shoe. With the vet check out of camp, no farrier was available, and when we hollered if anybody had an Easyboot to spare, there wasn't one.
However, Francis Lewis had a spare
Scoot Boot
that he offered. It happened to fit. Jack finished the ride with no problem, escorting and mentoring Hillbillie Willie through Day 1. Fellow rider Lee Pearce put a shoe and pad on Jack when we got back to camp, and Deb packed the Scoot Boot in her saddle bags for Day 2, just in case.
On Day 2's 55-miler, on the first loop we came upon 2 horses and riders on the Boise-Kelton stage trail, one of whom had lost a shoe. (Made us think of those old days where the horses and oxen lost their shoes, some of which you can still find on those old trails, if you know where to look.) Deb was able to offer Jeff and DWA Malik her new Scoot Boot - and Malik went on to finish 3rd and take Best Condition.
Wisely, at the vet check, Deb fetched the second Scoot Boot from Francis (she bought the pair), which happened to come in awful handy when, out on the second loop in one heck of a frigid wind storm blowing down off the mountain, one of Jack's hind shoes twisted. After wrangling the shoe off and the boot on (made challenging with human fingers freeing, and horses trying to keep butts to wind), Jack finished Day 2 sound and ready to continue.
Wisely, Deb packed the other spare boot in her saddle bag for Day 3. Which came in handy when, near the end of the first loop, the other of Jack's hind shoes started clinking! At the vet check, Regina got the shoe off and Deb put the second Scoot Boot on Jack's hind foot, and with the two hind Scoot Boots, he finished the third day of City of Rocks - his first 3-day pioneer ride completion.
That's one of the best parts of endurance riding - the willingness of other riders to help you get back on your horse and keep going. So, thank you Naomi Preston and BEMER, thank you Francis Lewis, thank you Scoot Boots, and thank you Lee Pearce for the shoe; all that effort got 1 rider and 3 horses through finishes at City of Rocks!