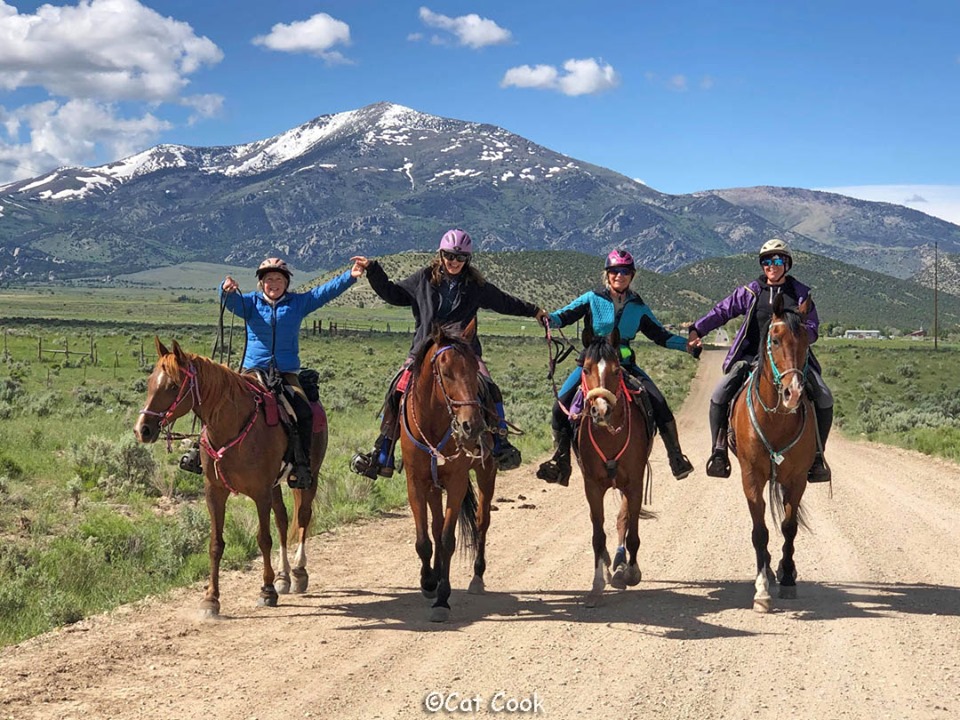 Three Pioneer Rides, Nine Days, One Amazing Challenge -- Are you made of Iron?
by Merri Melde-Endurance.net
June 15 2019
Challenging weather, beautiful scenery, tough desert and mountain trails: the first leg of the inaugural Idaho Ironhorse Challenge showcased a taste of what Idaho endurance riding has to offer at the City of Rocks Pioneer ride near Almo, Idaho on June 6-8.
Together with the July 26-28 Top O' The World Pioneer ride near Spencer, Idaho, and the Autumn Sun Pioneer ride October 10-13 near Gooding, Idaho, this 'Triple Crown' challenge idea was the brainchild of ride managers 'The Two Jessicas'.
"The idea was mine initially," said Autumn Sun ride manager Jessica Huber.  "Then [Top O' the World ride manager Jessica] Cobbley and I put it together as we marked trail across the desert!" Steph Teeter's
City of Rocks Pioneer
was the obvious choice for the first leg of the challenge.
One horse & rider, nine days, 465 miles
Following the conclusion of City of Rocks Pioneer, 27 horse and rider teams and/or riders are in contention for some version of the Idaho IronHorse crown.

The Idaho IronHorse
Four horse and rider teams completed all 3 days of 50's:
Lee Pearce & JAC Winterhawk
Merri Melde & Owyhee Shotgun Rider (owned by Steph Teeter)
Debbie Grose & Jackpot Jackson
Nance Worman & Second Chance Fance
The Idaho IronHorse LD
Fourteen horse and rider teams completed all 3 days of Limited Distance:
Joan Zachary & Chico
Carrie Johnson & Payback Daysea Duke
Catherine Cook & HMR Diamonds R Forever
Carol Delisi & DJ Restless Wind
Tonya Stroud-Oaks & Amara's Sonata
Terry Doyle & Benny
LuAnn Rod & Shakeel's Sparkle
Marlene Moss & SA Alamo
Stace Moss & Cerro Blanco
Donna Lacy-Bacon & Echcentric DPA
Katrin Levermann & Double Bey Latte
Clarissa Hale & SB Above The Law
Kaili Worth & Red
Sandy Smallwood & Ty
The Idaho IronButt
Six riders completed all 3 days on different horses, any distance:
Bill Hobbs & Segulls Jester/JV Remington
Dave Rabe & White Cloud/Rushcreek Okay/Cocamoe Joe
David Laws & Che Ole/Fancy Grace
Viginia Jenkins & TM Concealed Carrie/RA China Doll
Trinity Jackson & Ebony/Hope/Rusty
Christy Pogue & Serya Nyte Flyte/Stormy Mae

The Idaho IronTeam
Three horse and rider teams completed all 3 days of different distances:
Bobbi Walker & Dreamer
Valerie Jaques & BS Malabar Dark Demon
Shyla Williams & Bes Soumra Bint Karah
It's six weeks till the start of the second leg of the Idaho IronHorse Challenge at Top O' The World Pioneer. Stay tuned!
More info on the Idaho Ironhorse at:
https://www.facebook.com/idironhorse/