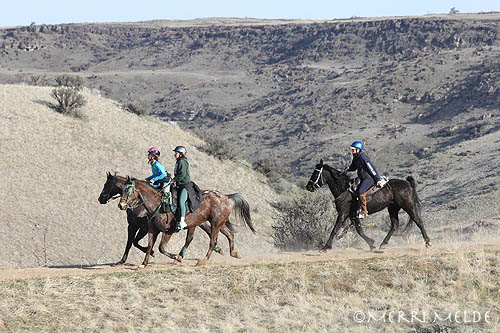 by Merri Melde-Endurance.net
April 5 2021
54 horse and rider teams turned out near Eagle, Idaho, for the first Endurance ride of the season in the Northwest region. With the Covid pandemic (maybe) in the rear view mirror, endurance riders were looking forward to the beginning of a more normal season this year.
Eagle Canyon, managed by Layne Lewis in the Eagle foothills, is no pansy ride however: those deceptively gentle rolling green hills are a valid challenge to horses and riders. The weather cooperated this year - no excessive heat and no hurricane to blow riders off their mounts.
Eagle is normally in late April, but Layne switched with Regina Rose's Tough Sucker, which is normally the first of April, so that Regina could put on an early season 100 miler in the desert. Eagle was a good solid prep for the ambitious 100-milers!
28 started the 25-miler, with 26 finishing. Carrie Loughry and Copper River won in a ride time of 3:57, with Maria Kilgo and Echo Barbanno winning Best Condition.
26 started the 50-miler, with 19 finishing. Dick Root aboard OFW Alivia tied with Roxi Welling aboard SLF Lil Bit Loco tied for first in 6:36. Roxi and Loco got Best Condition.
A jolly Easter Egg Hunt commenced the next morning, Easter Sunday, with one or two grown up big kids getting in on the festivities. It was reported that one or two gophers joined in the fun, making off with a few of the eggs down their badger holes.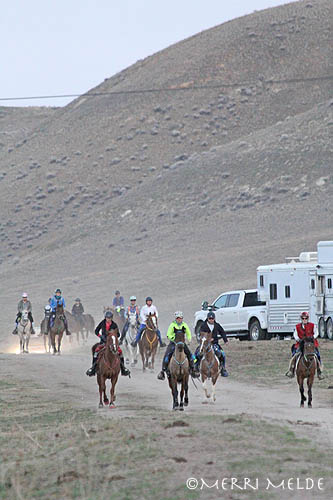 For more from the ride, see:
http://www.endurance.net/international/USA/2021EagleCanyon/