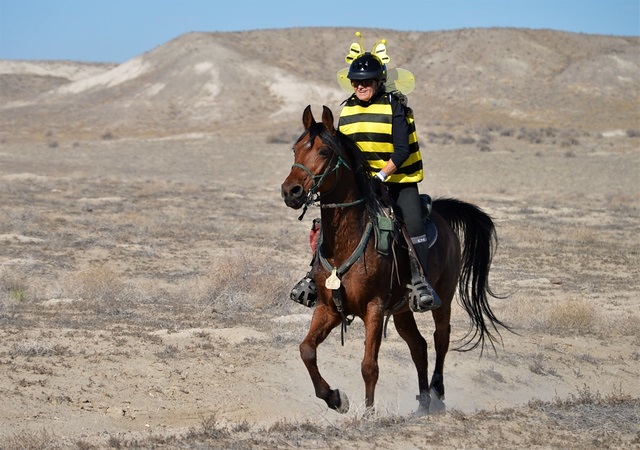 by Merri Melde-Endurance.net
November 10 2021
In finishing the final ride of the Northwest Endurance season, the Owyhee Halloween ride in southwest Idaho, Karen Steenhof, 68, crossed the 20,000 AERC mile mark aboard her gelding WMA Proclaim (Riley).
She reached 18,000 miles in the 2016 Halloween ride (also aboard Riley). Back then she hoped she'd reach the 20K mark, but wasn't sure her body would hold up. "It took me 5 years to get the last 2k. My body held up for 20,000 miles," Karen said, "and then it broke!" She rode this season's Halloween ride with a possible torn meniscus.
Karen started riding horses when she was 6 years old; she stumbled onto the sport of Endurance in 1985, with a pony cross mare named Sunday. She ultimately rode Sunday for 1910 AERC miles before she moved to Arabians.
Back in 2016 after her 18,000-mile achievement, she recalled three of her most favorite rides over the years, which exist no more: the Turkey Trot near Eagle, Idaho during her first Endurance season; the 5-day Ft Schellborne XP in Nevada; and the 50-mile Buckskin Challenge in eastern Idaho.
The Turkey Trot took place in November in the snow, and was just a memorable, fun ride on her mare Sunday.
"Ft Schellborne was peaceful. It was the hidden Nevada. You know, the Nevada you see on the highway is flat, and then you go into this beautiful country on horseback.
"The Buckskin Challenge was a really hard ride. There aren't that many rides that I can remember saying, 'Oh no, it's over already!' Usually you're like, 'Whew - finally, I'm finished!' But this one I was thinking, 'Oh, I wish we could go longer!' I was crushed when they decided not to have that ride anymore."
Karen's current mount, 14-year-old Riley, is a steady, forward, former racehorse who has proven to be calm and rate-able on trail. With Karen, Riley has 2145 miles over 6 seasons, with a 100% completion rate, and this year's Halloween ride was his 78th consecutive completion.
"I expect to do more LDs now….but it would be great if Riley and I could get a Decade Team award---that would mean doing at least one 50 the next 4 years.  We will see if my body holds up…"
But then, that's what Karen said at 18,000 miles and she made it here!
Karen's 18,000-mile mark story is
here
Above photo by Judy Theis at the Owyhee Halloween ride. Karen often wins Best Costume, and she won again this year in the 50-mile ride!