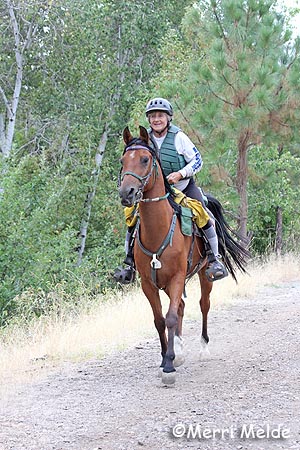 by Merri Melde-Endurance.net
December 4 2016
It's a ways back to 1985 and Karen Steenhof's first endurance riding season aboard her little pony cross mare, Sunday. But she remembers the most fun ride she's ever had like it was last week.
"That was the year we had a very early snow. It started snowing on November 2nd, and it never stopped. We did not see the ground until February. There was a Cold Turkey endurance ride on Thanksgiving weekend in Eagle, Idaho. And this was my first year, so i didn't know that much about anything. And Sunday's shoes had been pulled because of winter."
Karen ran into someone in the grocery store who asked if she was going to the ride. "I said, 'They're not really having the ride, are they?' Well of course they were! I said my mare didn't have shoes, and they said, 'So much the better! We're on a foot of snow, you don't need shoes!'
"The ride was on a Saturday and Sunday, and I drove my car out on the first day just to see, and everybody was having a great time. So I hitched up my trailer and drove out there with little Sunday - and I got the trailer stuck in the ditch on the way.
"But that ride was the most fun. It was the last ride of my rookie season. Sunday just went along on this 50 mile ride in the snow, and the great part was learning that you could do things that you never thought you could do."
31 years and some 17,655 miles later, Karen Steenhof is still having the same enjoyment riding the endurance trails aboard her current gelding, WMA Proclaim (Riley).
Born in Illinois outside of Chicago, Karen grew up in a very horsey community. "There were 14 polo fields and a fox hunt, so I started riding when I was 6. I got my first horse when I was 11. I rode English hunt seat; I was a junior member of the hunt, which was fun. Endurance riding is kind of like fox hunting without having the jumps."
Karen moved to Colorado in when she was 14, then attended Colorado State University, then the University of Missouri before moving to Idaho where she started working for BLM as a graduate student. She became an analytical wildlife biologist then ultimately retired as a research wildlife biologist for the USGS in 2008. If you're a birder, it's a real treat to ride the trails with Karen.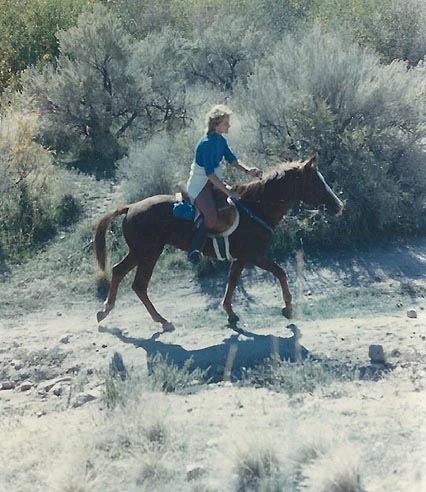 Sunday was Karen's first horse she owned as an adult, after finding her in the newspaper in 1983. "I boarded her near Eagle, and I would go out riding in the foothills every once in a while. I used to have a dog, and in his last days, just before and after he died, my grief was to kind of transfer my attention to the horse and ride farther and farther into the hills. At that point I started running into endurance riders.
"I finished my first 2 LDs (Limited Distance - 25 miles and 30 miles) on Sunday. She had amazing sickle hocks, and the veterinarian Loretta Burman told me when she completed me on the second LD, 'You're fine, but don't ever take this horse on a 50!'
"2000 miles later…" Karen laughed.
"Sunday did fine. But after 2 years in endurance, I realized I had to get an Arabian."
And so started Karen's lifetime of endurance riding aboard Arabians. She's put serious miles on almost all of them, and each one found a good home - often Karen's back yard - after their endurance careers. She's ridden mostly in 50 mile rides, though she's completed 19 out of 20 75's and 9 out of 13 100's along the way. "I always loved 75s and multi days. But I don't know if my body's up for 75s anymore."
Her seasons have ranged from 50 miles to 1290 miles completed. She snagged 25 Best Condition awards along the way (thank her previous gelding Rusty for most of those), and with 336 completions in 357 starts she has a 94% completion rate.
Two of her most favorite rides over the years - which exist no more - have been the 5-day Ft Schellborne XP in Nevada, and the 50-mile Buckskin Challenge in eastern Idaho. "Ft Schellborne was peaceful. It was the hidden Nevada. You know, the Nevada you see on the highway is flat, and then you go into this beautiful country on horseback.
"The Buckskin Challenge was a really hard ride. There aren't that many rides that I can remember saying, 'Oh no, it's over already!' Usually you're like, 'Whew - finally, I'm finished!' But this one I was thinking, 'Oh, I wish we could go longer!' I was crushed when they decided not to have that ride anymore."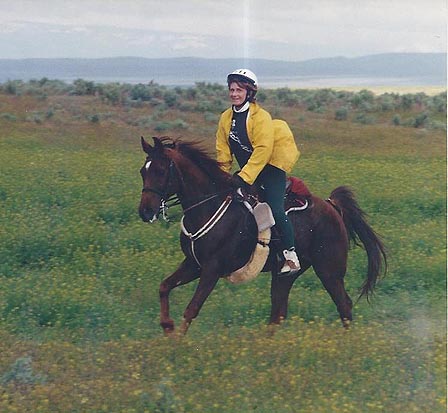 Ambers Thorn was Karen's first Arabian, and her "most special horse."
"Where I grew up was all Thoroughbreds; Arabians were these little prissy horses. So I found this ad on the outhouse door at one of the rides, about this 5-year-old chestnut gelding named Ambers Thorn (War Zarim x Amber) with chrome, 14.1 hands, and a big trot.
"I went and picked him up at my friend Andrea Day's. She jumped on him bareback and rode him around in a circle. I guess I didn't ask her that much; he just looked very broke. So I just got on him and started riding him at home.
"I'd call Andrea now and then and say, 'Oh yea, we had a great ride,' and every time she'd say, 'Wow, that's amazing, he didn't really have that much time under saddle.' Each time I'd tell her about some progress, and she finally said, 'You know, he only had a saddle on twice when I sold him to you!'" Karen laughed.
Karen and Thorn covered 7200 miles of endurance trails together, (they ranked 8th in National mileage standings in 1995), though he actually wasn't that easy to ride and he had a lot of physical issues.
"I worked through so many problems on him. He was the next best thing to going to vet school, because he had almost every kind of issue there was." The gelding was diagnosed with osteochondritis dessicans (OCD) in his shoulder, and he came back from that. He had 2 annular ligament surgeries - one in front, one behind, and he came back completely from the first one in front, though the second one in back he never completely came back from. He also had an anterior enteritis where he almost died in Calgary in the North American Championships (one of Karen's 1 3/4 FEI rides). Then he started having tying up issues, and it took a while for Karen to figure out that her cross-training in dressage was causing that.
"Thorn was also always a challenge in that he was very hard to rate. And he did spook at things, but I was elastic back then!"
Karen started looking for another endurance horse after the Calgary ride. She got Cyandarac (Cyam x Prairie Dawn, by Gallant Royal) from Andrea Day again. "'Simon' had a few more miles on him than Thorn had, but he also was very opinionated!" Karen said. "In a 5-day ride I could never get him to relax and stand at one of the out checks and eat his own food. He would always drag me around until sometimes maybe on day 5. He was a character. He still is a character!"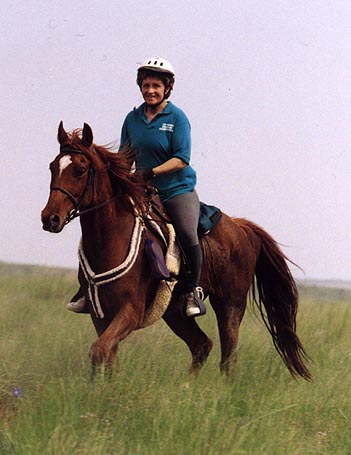 Karen's first ride on Simon was in 1994 (Thorn's last ride, at age 19, was in July of 2000). They went on to earn a little over 4000 miles together. Simon was the PNER (Pacific Northwest Endurance Riding) Champion in 2002.
"Simon is not a personable horse. He's the boss of the pasture, even though he's 28 now. He's still just always kind of cranky and opinionated."
WSR Spellbinder was Karen's next endurance horse. This gelding came from Gail Williams in Washington in 2000. "Spellbinder was a character too. I think I put 1300 miles on him. He was just a handful - he just wanted to race. So he was kind of not that fun for me to ride.
"When he came up lame in the fall of 2005, Ona Lawrence decided to trade me him for her gelding El Jay Zalal (Willow).
"What a sweet little horse he was. He came to me having done 2 endurance rides. On the second one with me, he broke my wrist when he fell down and tripped." Did she finish the ride? "Of course! it was 45 miles into a 60, and it never occurred to me not to go on. Never crossed my mind." And of course, she was still elastic back then!
"I kept riding Willow after my arm healed, but not in endurance, because he kept stumbling." Willow ended up with the life of luxury, after Karen's neighbor Tish bought and lavished love on him. "Willow hit the lottery!" Karen said.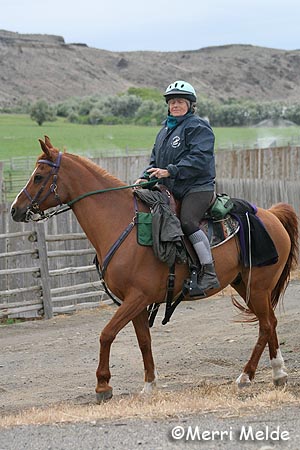 Admiral Gil (AM Gilded Gypsy x AM Bay Bridge, by AM Sea Captain) was Karen's next endurance horse. He was 5 or 6 years old when Karen found him in Oregon on the Dreamhorse website.
The pair rode 1500 miles of trail together starting in 2006, even though Gil turned out to be Karen's most insecure horse to ride. He was a stumbler and a spooker too, and she came off him many times.
Looking for an additional endurance horse, Karen tried out a mare for a couple of months. Getting off to lead her across a creek when she balked, the mare knocked her down, ran over her ankle, and broke her fibula. The incident only added to her own growing insecurities.
"By now I'd had a couple of these injuries, and I was losing my confidence. And Gil is the most insecure horse I've ever had, so I was in a slump for a while there. Because Gil wasn't giving me the confidence, and I wasn't giving him the confidence, it was kind of a bad mix."
When in the fall of 2009 Gil started having some lameness issues, Karen put out the word she was still looking for another endurance horse. Her friend Skyla send her an ad of a horse to check out. "The person who had him had no ideas how to take pictures," Karen recalled. "The horse had this giant head, and this teeny little butt. I thought he was the ugliest horse I'd ever seen! He was advertised as half Arab and half Quarter horse."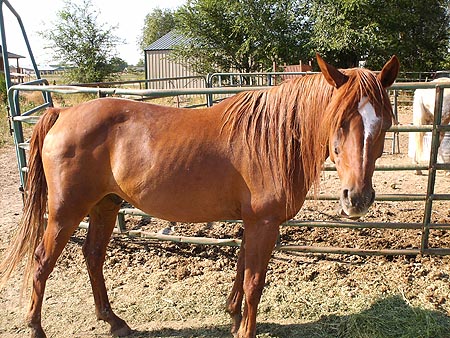 But when Karen went to look at him, the horse didn't look like that at all - he looked much better. And when she lunged the horse she really liked how he moved, and she knew she wanted him. Turned out a neighbor Regina had owned this horse several years prior and she recognized him and confirmed that HMR Redstone (Rusty) was no part Quarter, horse, but purebred Arabian (DA Athir Muharrik X Mistanny Dab, by HMR Mistabi).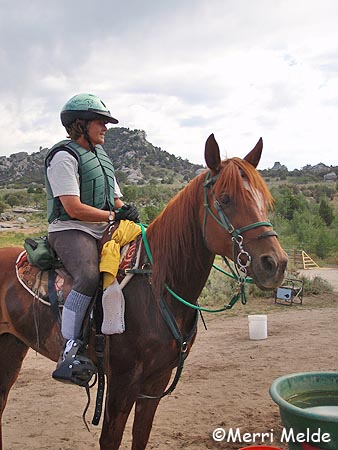 Rusty was 10 when Karen got him, and the pair started down the endurance trails in 2010. "He was such a handful. He was always competitive. You had to have him near the front so he couldn't see a bunch of horses in front of him. And that was hard."
Over 1830 miles together, Rusty was PNER champ in 2013, 7th in the National Best Condition standings in 2012, and 2nd (reserve champion) in the National Best Condition standings in 2013. 
It was ultimately bilateral lameness - caused by bad shoeing - that did Rusty in. That happened roughly around the time Karen had major family issues to take care of, so she had a forced sabbatical from endurance for almost 1 1/2 years. Because of this she wasn't in a rush to find another endurance horse, and she had time to shop around.
Last year she was turned onto a gelding in Oregon owned by Karen Standefer. Friends pointed out he had great racing bloodlines, to which Karen replied, "I don't
need
another hot horse! I don't want to race!" WMA Proclaim (Riley) actually had raced on the track, twice, and race results say he was "not a factor."
WMA Proclaim had already done a few endurance rides (several LDs and 2 50s), and he had proved to be calm and rate-able, finishing first, top ten, or mid-pack, and earning a Best Condition award. Karen arranged to try him out during a fall endurance ride, riding him by herself and trail riding with a friend, and he never got excited or worried, nor spooked from anything.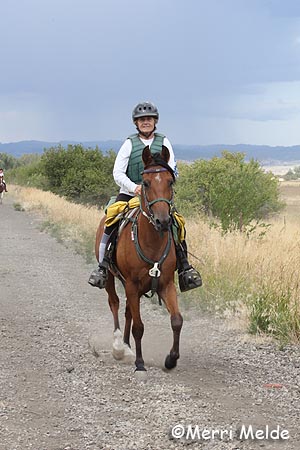 So it was Riley who brought Karen back to the endurance trails in 2016. The pair got to know each other, as they established a strong base together of 12 LDs and 3 50 mile rides, in Idaho, Oregon, and Utah, finishing top ten, or mid-pack, and earning a Best Condition award.
And Karen timed it just right to earn her 18,005th endurance mile in her Idaho back yard with a 6th place finish in the October Owyhee Hallowed Weenies, the last ride of the season.
She looks like she's found her "safe, sane, short" endurance horse - as Julie Suhr has put it - for the older rider, because, as Karen said with a laugh, "I'm 63, and my body's falling apart!"
Karen can look out her back window and see both her past in endurance and her future: she still has 4 of her endurance horses. Simon is 28, Gil is 20, Rusty is 17, and Riley is 9. (Thorn died in 2012 at age 31.)
"I seem to get roughly 1000 miles every 2 years, and it would be fun to get to 20,000 miles, but I don't know if my body will hold up. And now my whole thing is to go to different rides that I've never been to. I really want to do that."
During the 2016 season, she and Riley competed in 3 new rides for Karen: the Pacific Crest in Oregon, and Strawberry Fields and the Outlaw and the Virgin in Utah.
The future trails look bright and inviting, as Karen and Riley have a good start on their way to accomplishing her new endurance goals.
Top photo: Karen and Riley finish 3rd in the 2016 Old Selam, their first 50 miler together