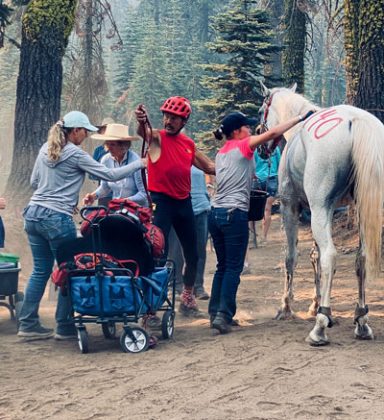 HorseIllustrated.com - Full Article
By Heather Wallace
December 2, 2021
Preparing for a 100-mile horse ride is no small feat. I've trekked across Mongolia as an official for an endurance horse race, but that seems like a warm-up for The Tevis Cup, which spans across the Sierra Nevada mountains in Northern California. This is a true test of horse-and-rider athleticism and mental endurance. Recently, I attended my first Tevis, also known as the Western States Trail Ride, as a crew member for a friend's first attempt.
Held annually during a full moon in late July or early August since 1955, the longest North American trail ride starts at Robie Park in Truckee, Calif., and runs 24 hours over mountains and through canyons to finish at McCann Stadium in Auburn.
The trail winds through canyons and a popular Western States Trail, which travels through a few small towns. For example, the town of Forest Hill, which is a one-hour hold, is lined with volunteers, crew, and the locals all cheering on riders as they pass through the neighborhoods on their journey. The annual event is celebrated, and it is hard work to coordinate 100 miles of public and private lands for this adventure...
Read more at:
https://www.horseillustrated.com/the-tevis-cup-a-100-mile-endurance-ride-like-no-other