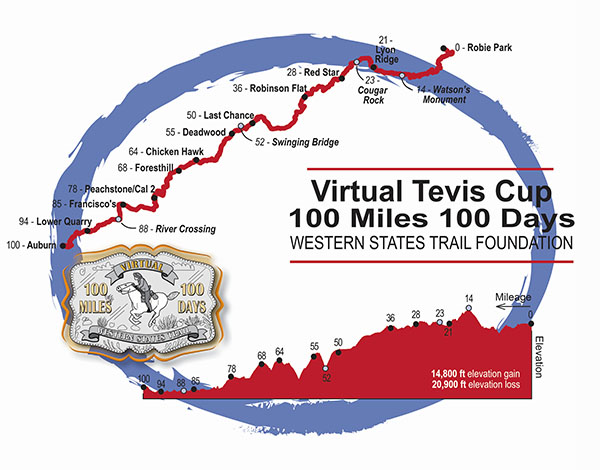 Teviscup.org
Virtually travel along the Tevis Cup (Western States) Trail – Robie Park (Truckee, CA) to Auburn, CA – Your Trails, Your Location.
This year's Virtual Event starts on Wednesday, April 6 – and will run for 100 days until Sunday, July 17, 2022* – as the riders of the Traditional Tevis Cup are finishing their own physical journeys under the Tevis Moon!
(*natural disasters-permitting)
Once again, there will be both Riding and Non-Riding Divisions so everyone can enjoy the fun.
You can complete the 100-miles in as many smaller excursions as you choose to finish the goal. As you log your completed miles, you will receive updates of where you now are on the historic Western States Trail.
*
How to submit your miles
*
Our FAQs
Please note – mileage tracking should not start until the trail is "open" at 5:15 am (Pacific) on Wednesday April 6th.
Click to signup
And once again, as in 2021, we will be outsourcing our fulfillment and shipping for this year's event to ensure that awards get sent out in a timely manner 🙂
To reduce the load on our volunteers, awards will be sent out in batches on a monthly basis...
Find out more at:
https://teviscup.org/virtual-tevis-cup-2022/