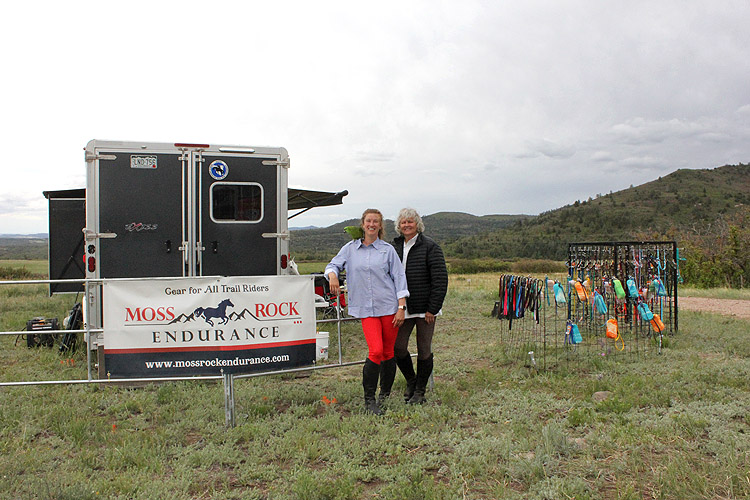 "This just fell into my lap at the right time."

by Merri Melde-Endurance.net
August 4 2022

It was a most unlikely career pivot.
"I had been doing accounting for 16 years," Amanda Johnson, of Moss Rock Endurance, said. "But I was always too loud to be an accountant. I was always too in-your-face. I love numbers. I'm such a nerd, but none of us are exciting."
And then her husband asked if she wanted to move from Black Forest, Colorado, to Penrose. "All of a sudden I had an opportunity to start a business."
Lisa Douglass, Amanda's neighbor in Black Forest, had owned Moss Rock Endurance, creating custom tack products for distance and trail riders. "I had bought tack from her for the last 6 years, which is how long I've been riding. She's all I knew. She's the best tack I've ever known, and she retired last year.
"Suddenly I had an opportunity to buy myself a job. And because I haven't been in horses my whole life like some of these other riders, I knew that if I wanted to get into this, I couldn't go be a vet. I couldn't go be a farrier. I couldn't do anything specialized that requires that knowledge.
"But saddles and tack - something that I believe whole-heartedly in is saddle fit. It's one of the most important things as a rider to me. And this Beta Biothane (TM) tack, I think, is just bang for your buck. I just love it. It's all I know because of Lisa. And before she retired, she taught me everything she knew.
"I had never sewn a thing my life. My mom finished laughing when I said 'I'm going to sew tack!' And she was like, 'Yea, good luck.' And I'm unstoppable now."
That "in-your-face" quality Amanda describes is really pure enthusiasm and passion for her products and for people and their horses.
"I. Love. It. Horse people are great, because we're all crazy about the same thing. And you always want to try to make it better. We changed a couple things. We added a lot of things to the lineup. Before, there were no horse head collars. There were no little knickknacks - padded nosebands and things. We added sponge leashes. And I like bling. It makes me extremely happy, so I try to add bling to a lot of things. I try to see what everyone needs and try to fill in those blanks."
Amanda would not be Moss Rock Endurance without her mom, Sue, who helps with the sewing and creating, and accompanies her daughter and her business to Endurance rides. "Thank God for my mother! I couldn't do this without my mom! She helps me in every way possible. My mom is my rock. She helps me with everything.
"When I cry over sponge leashes, she picks up the hardware and she makes them for me. She'll cut pieces for me so that I can sew. She will set me up an assembly line so that I can crank it out and we can get orders in. She's fantastic."
Saddle fit is also something Amanda loves, though originally, she had no plans to actually carry and sell saddles.
"After I bought the business from Lisa, Marlene calls me." Marlene was the original creator of Moss Rock in 2003. "Marlene says, 'I am so excited you're going to be doing saddles!' I said, 'I'm not doing saddles! I don't like treeless saddles!' And Marlene said, 'Great! I'm sending one! It'll be to you in 3 days!' I said, 'Marlene, no,' and she hangs up!"
Amanda received the Ghost treeless saddle she didn't ask for, and she was sold. "I love the Ghost and Cavallin treeless saddles. They changed my world. I now have 34 on order. They're handmade in Italy in a small shop.
"I stand behind them 100%. There's no such thing as one-size-fits-all in any world, but man, has it solved some really tough-to-fit saddle problems for me."
Moss Rock is primarily a business dedicated to designing and making custom Beta Biothane (TM) tack for all sizes and shapes, and it now includes the Ghost treeless saddles. Amanda's long term plan is to expand the business to not only meet the growing needs of Endurance, Competitive Trail and those who simply enjoy riding trail, but to also encompass those in the sports of Dressage, Hunter Jumper, Grand Prix and Eventing.
Watching Amanda interact with customers-turned-friends with her genuine, unstoppable enthusiasm, despite the hard work it's obvious she has found her true calling in life.
"This has been the hardest thing I've ever done. I thought I knew what busy was. I was really good at staying busy. This is like nothing I've ever experienced. I'm exhausted all the time.
"But I love it! I love horse people. This just fell into my lap at the right time."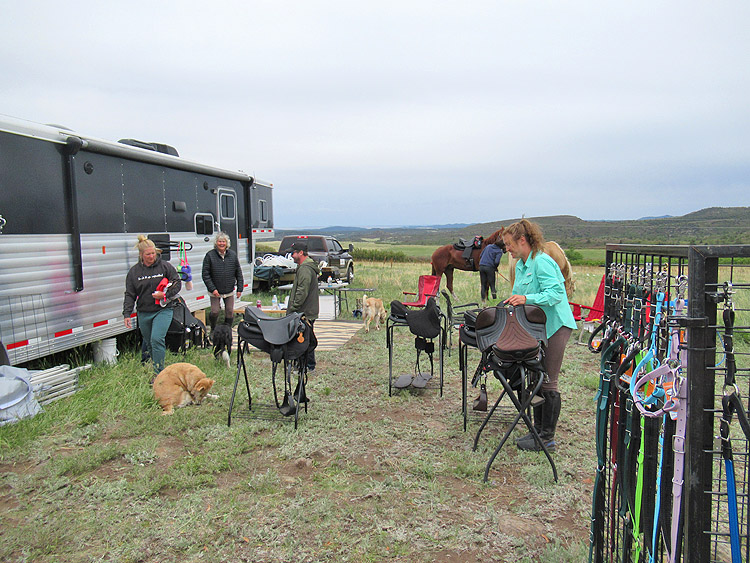 Endurance.net is happy to have Moss Rock Endurance as a long-time advertiser!