Gulfnews.com - Full Story and Photos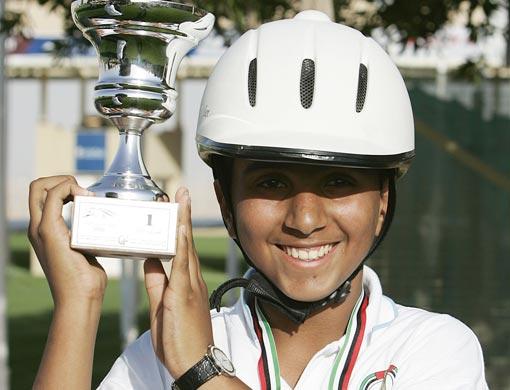 Photo: Ravindranath/Gulf News.
Waleed Al Hammadi who finished first in the race is seen with his trophy .
By M. Satya Narayan, Senior Reporter
Published: February 14, 2008, 20:55
Abu Dhabi: Fifteen-year-old Waleed Hassan Al Hammadi riding Sharqi created history when he became the first winner of an long-distance horse race for persons with special needs at the Emirates International Endurance Village in Al Wathba on Thursday.
The long-distance ride, being held for the first time in the Middle East region, was held under the patronage of Shaikh Mansour Bin Zayed Al Nahyan, Minister of Presidential Affairs, and was organised by the Zayed Higher Organisation for Humanitarian Care, Special Needs and Minors' Affairs.
Overwhelmed
It certainly was a red-letter day in UAE sport when 13 youngsters proved that nothing can come in the way of their determined effort and in a pacey finish, Waleed finished ahead of Matar Al Rumaithy on Silverstar while Sultan Al Khaily on Hattaf was third.
But the biggest cheers were reserved for Sara Al Qubaisi, the only lady participant. Sara, riding Bosh, revealed exemplary courage as she trotted her horse to the finish line and Shaikh Mansour accompanied her on the final furlong, much to the delight of the large number of supporters and families of the riders.
Speaking to the media Shaikh Mansour said he was overwhelmed by the display of the riders. "This only goes to show that nothing is impossible. It was a great sight to see these riders display their enthusiasm and willingness to compete."
"The riders showed that if one works hard the desired results will come," said Shaikh Mansour, who had been solely responsible for the organisation of this unique event.
"Today's success has been very encouraging and this event will in future become an international ride," Shaikh Mansour said after distributing the trophies and medals to the riders.
Meanwhile the winning rider's father, Khalid Hassan Al Hammadi, was equally elated and posed proudly with the trophy that the eldest of his five children had just won. "I am here with my family and we just wanted to cheer and give our support to all the riders. With Waleed winning the ride it is a special moment and we never imagined that this day would come," said Khalid, who is an employee in the UAE defence.