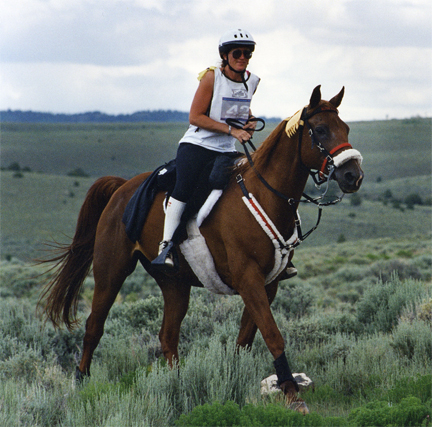 photo: Kooter and Suzie Hayes
I wanted to let you all know that my friend and one of the greatest
endurance horses ever passed away this morning. Kooter (Kootenai Zizzero,
AERC #5081) started his life with me in 1982 and we spent his entire time
together traveling all over the world, experiencing everything the endurance
world had to offer. He is now in a place where he can go as fast and as far
as he wants, running down the trails with many of the endurance greats that
have passed before him. I will miss seeing him in the pasture making all
the other horses and mules play with him, his exuberance when it came time
to feed, and his many tricks to try and angle a way to "go just a little bit
faster" when going down the trail. He was a once in a lifetime horse and I
feel very fortunate to have shared it with him.
Lest we all forget, his record in endurance was one that hasn't been seen
often and is a testament to his joy in doing a job he loved.
Career Miles 6340
Top 10 5290
1st place 28
Best Condition 35
100 mile completions 33
75 mile completions 14
15 consecutive years in endurance competition
National Champion AERC Best Condition 1990 (15 BC's)
National Champion AERC Co-winner 100 mile 1990
National Champion AHA Half Arabian Competitive Trail 1990
Best Condition Race of Champions 1991
Team Bronze 1991 North American Championships
Team Silver 1992 World Championships Barcelona, Spain
National Champion AHA Half Arabian 100 mile Endurance 1995
3rd on Tevis 1996 and 1997
AERC Partners Award 1997
"Don't cry for the horses that life has set free, they are ours as a gift,
but never to keep. Don't cry for the horses, they will be back someday, when
our time has come, they will show us the way".
Suzanne Hayes