Ramona Home Journal - original article
By Teri Merry
Blayne Chenoweth, owner of Rocking Horse Arabians in Ramona, is a special woman with a special stallion. She is not your typical ranch owner. Appearing to be all of five feet tall and weighing 90 pounds, she is tough as nails and has a heart bigger than she is.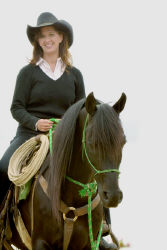 Photo: Blayne Chenoweth and Corinthian relax after reining at the Ranch.
Chenoweth began rescuing animals at age 10. She has rescued dogs, cats, horses, birds and many other animals. She often nurses them to physical and social health, and then helps to find them suitable homes. Any income she earns from the stallions on her ranch goes towards supporting the rescue animals.
Chenoweth has been riding horses since she was four years old. She dislikes arena riding and has a passion to be out on a trail. When she learned about endurance riding, it seemed to be a perfect fit. She said that endurance riding is a way for her to relieve stress. Her profession is as an accountant; the balance in life for her is to be with the horses and the animals.
If you are not familiar with endurance riding, it is a demanding equestrian sport in which horses and their riders compete over a trail that is typically 50 to 100 miles long. Endurance riding has its roots in the training of cavalry horses, which were often required to travel long distances over highly varied and dangerous terrain. During an endurance ride, horse and rider follow a mapped trail which alerts the rider to hazardous trail conditions. The competition is timed, so riders must complete it as quickly as possible, with consideration that the strength and condition of the horse are also being judged. Competitors have 12 hours to complete a 50 mile ride, and 24 hours to complete 100 miles.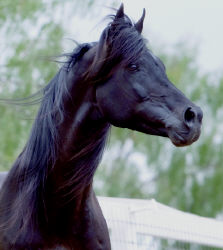 photo: Corinthian has a spectacular view from Rocking Horse Arabians Ranch.
Because of the physical demands of the race, the physical fitness of the horse (and rider) is extremely important. Horses are examined by a veterinarian at the start of the race and are periodically checked throughout the race. The veterinarian checks soundness/lameness, pulse, respiration and conducts other tests to make sure the horse is in good health and "fit to continue." If the veterinarian is in doubt about the condition of the horse, the horse is withdrawn from the competition to avoid the risk of injury. Chenoweth stays in shape for the races by doing power boxing, walking with her dogs and leading her horses for jogs on the trails.
After being in the saddle for hours, endurance riders cross the finish line. The winning horse is the horse completing the ride in the shortest time. Many endurance rides award prizes simply for completing the race. Additional awards are usually given to the best-conditioned horses who finish in the top 10.
Most recently Chenoweth has completed several successful endurance rides on her Arabian stallion, Corinthian DV. She prefers riding stallions because they teach her "how to live in the moment." Corinthian is a charismatic, black stallion who is an incredible athlete. She says all of his offspring inherit his athleticism and are great performace animals. He has a quiet disposition, beautiful head and neck, and is light and balanced.
When Chenoweth first got Corinthian four years ago, she said he was angry. Using her abilities to heal animals, they now have developed an incredible, loving bond. She says he takes care of her on the trail, and he would lay down his life for her. She never worries when riding him, and he has never let her down, no matter how difficult the trail conditions. She says he is always quiet, calm, and polite while camping and riding around all the other horses at competitions.
Chenoweth and Corinthian began their endurance career together in 2007. He won the 2007 American Endurance Ride Conference's coveted Jim Jones Stallion Award, a national award given to the stallion who has successfully completed the most competition miles for the year. What is even more incredible, is that he was only started under saddle three years ago as a 9-year-old after Chenoweth acquired him.
Just a brief description of their many endurance rides together includes 105 miles in February at the Eastern Mojave Endurance 3-day ride, 105 miles in March in New Mexico, and several hundred more miles in Utah during late Spring. Starting in September, they went to Bryce Canyon National park to ride 105 miles of trails along the rim of the Pink Cliffs. Chenoweth said these trails provide some of the most spectacular views of the Grand Canyon region in southern Utah. Only two weeks later, they went on to do 50 miles at the Tejon Ranch north of Los Angeles. It is an extremely difficult ride with lots of steep climbs.
In October, they went to one of the most incredible rides ever at The Grand Canyon Pioneer 5-Day Ride. At the north rim of the Grand Canyon, they experienced freezing temperatures and breathtaking scenery with brilliant golden aspen leaves falling as they trotted along the North Rim trails. They saw deer and a gray wolf crossing the trail. Chenoweth and Corinthian completed all five days and 250 miles, and also won the most coveted award given at a multi-day event. They won the Overall Best Condition Award, presented to the horse that completes all 250 miles and is judged by the head veterinarian to be the "most fit to continue." In November, Chenoweth and Corinthian finished the year by completing a 2-day, 100-mile ride in Moab, Utah riding through the Arches National Park.
Chenoweth travels with her best friend, Elfta Hilzman, who also successfully competes with her Arabian geldings. Many Ramona residents may know Hilzman as one of our local, successful farriers.
Corinthian DV (Wierz x Cosmopollytan by Bask) is a pure polish Arabian stallion who is 12 years old and 15 hands high. Chenoweth states that he is a proven sire of performance winners. If you are interested in inquiring about this stallion, or other stallions that she owns, she may be contacted at contact@rockinghorsearabians.com, or 858-759-6818. Great stories and information about Chenoweth, her horses and her rescues can be found on her website at www.rockinghorsearabians.com.