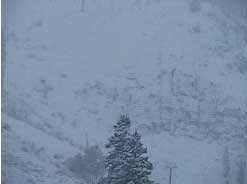 Thursday October 6 2011
The first winter snowfall brought 8 inches of snow to the Sierra Nevada mountains around Robie Park and Squaw Valley through which the 56th annual Tevis Cup traverses. Starting time for the ride is scheduled for 5:15 AM Saturday October 8th.
The chance of snow drops to 40% today at Robie with a predicted high of 41*. Overnight temperature will be 23*; Friday calls for mostly sunny with a high of 53*, and ride day sunny and 64*.
A message from the Ride Director on the
Teviscup.org
website says, "Ride management is aware of the cold front preceding this weekend's ride. We are working to ensure that the ride camp and trails are ready regardless. We are staying informed with weather updates and the weather will not stop the event."