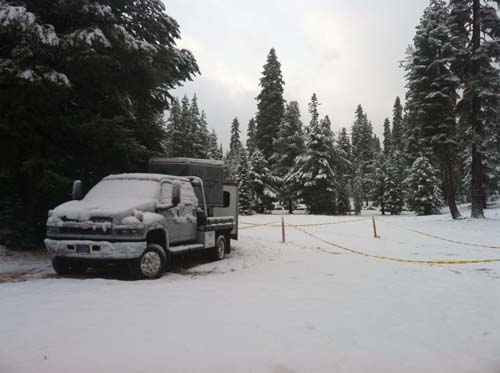 October 5 2011
With a winter storm warning in effect, snow has begun to fall in Robie Park in the Sierra Nevadas - the starting line of Saturday's Tevis Cup.
Wednesday's forecast for the Robie area is total daytime snow accumulation of 3-5 inches possible, with a west wind between 15 and 25 mph, gusting as high as 35 mph. Overnight the temperature will be around 27*F, with wind between 10-15 mph and new snow accumulation of less than one inch possible. By Thursday the chance of snow showers will decrease to 40%, with a daytime high of 36*. Friday should be mostly sunny and 50*F, while ride day, Saturday, should be sunny with a high of 58*F.
As of October 4, 190 horses and riders are pre-entered in the ride.
For updated entry list, more news, stories, and photos, see
http://www.endurance.net/international/USA/2011Tevis/