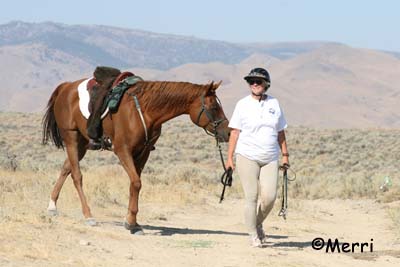 January 7 2013
After completing Day 3 of the Death Valley Encounter Pioneer in California on December 30 2012, Carla Richardson and her 12-year-old gelding SS Kharady Khid +/ both reached the 9000-mile AERC mileage mark, in just 5 years of competing together.
Carla and Khid were featured in my article in June of 2011 when they hit the 5000-mile mark:
http://merritravels.endurance.net/2011/06/carla-and-khid.htm
Kharady Khid +/ is now currently 24th in the AERC Lifetime Miles rank, and Khid and Carla show no signs of slowing down yet.
"Onward to 10,000 miles for 2013!" Carla said.