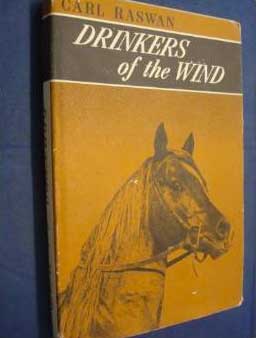 http://www.endurance.net/market/bookstore/
Orginally published in the 1930's or 1942,
Drinkers of the Wind
is a delightful story of Raswan's travels in bedouin Arabia in search of the perfect horse.
Carl Reinhard Raswan, born Carl Reinhard Schmidt, was one of the greatest connoisseurs and patrons of the purebred Arabian horse. He authored numerous books on Arabian horses and the Bedouin people who raised them. A scholar of Arabian bloodlines, he also published the Raswan Index, an extensive compilation of Arabian horse pedigree and strain information. He advocated tolerance and understanding of Bedouin ways of life and culture in Arabia.