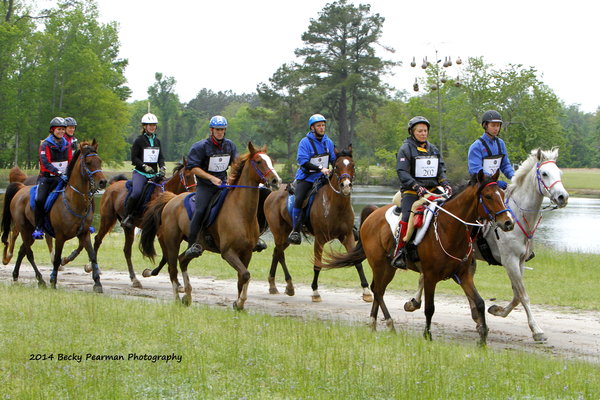 April 30 2014
by Merri Melde
It seemed so straightforward: a CEI2* 120-km 2014 Alltech FEI World Equestrian Games Endurance Team Selection Trial at Broxton Bridge Planation in Ehrhardt, South Carolina, April 18-19, for U.S. riders and horses vying for a spot on the team for the August championship in Normandy, France.
Endurance rides have been held over grounds of the historic Broxton Bridge Plantation (built in the late 1700's) the past several years, and it made sense to hold a 120-km event here over the somewhat flat and fast course. The horses' fitness would be determined by the trial; there would be detailed veterinary inspections pre- and post-ride; riders would hone their skills with their GPS units to judge pace; team play, crewing, trotting the horses in the vet lanes, and other things would be discussed; all "to accomplish our mission, which is to win a team medal at the 2014 World Equestrian Games," said U.S. Chef d'Equipe Emmett Ross.
That was until Mother Nature had a few things to say on Friday the 17th, the day before the ride. "We were significantly disrupted by bad weather," Ross put it mildly. "When I got there on the 15th, the trails were in bad shape anyway because of the weather they'd had there all winter, followed by a big freeze. The owner of the property was very cooperative, putting some bulldozers on the trail to remove all the fallen trees. There was still some work that needed to be done, so I immediately decided to create one loop and run it several times to make up the 120 kilometers."
The one-loop plan seemed a good fallback solution and all was set for the start of the trial Saturday morning - until it started raining Friday afternoon, and it didn't stop for 12 hours.
The pre-ride vetting had been squeezed in Friday morning - right before the rain began, but as the day continued wet and dismal, (some 4 inches fell in the 12 hours), Friday night Ross called his 17 riders (14 rider applicants, with 3 proxy riders) for a meeting. Since the idea of the qualifying trial was not just to race 120 kilometers to determine the fastest horses and riders - particularly over a sloppy course, thereby risking losing a few to serious lameness - Ross suggested they reduce the trial distance further, and postpone the official event until Sunday morning (hoping the rain would indeed stop); and Ross would come up with another alternative trail. The riders were all in good spirits despite the pressure they all felt; and after comments and questions, they all agreed at 10 PM that night to wait till Sunday to ride.
By 3:00 Saturday afternoon, Ross was able to squeeze out a safe trail of about 15 miles which the riders would do 3 times. Besides assessing performances in the trial ride itself, significant pre-ride inspections were done on Thursday, and post-ride evaluations would take place early Monday morning, for an over-all picture of the contestants. (Additionally, Ross had all 17 horses take a formal drug panel test after the post-ride evaluation on Monday. "This was done in part to demonstrate to the FEI and other countries we run clean - always have and always will," Ross declared.)
"Everybody made significant changes to their schedules," Ross said, "and they hung around, and we ended up having a very good event."
What was supposed to be the Saturday night post-ride southern dinner became the pre-ride dinner for close to a hundred people - staff, riders, crews, and helpers. Everybody dressed up for a real unique southern meal; and finishing awards - crystal vases - were given out. "I think that's the first time anybody's had a finishing award before they even finished the ride!" Ross said. "People were in good spirits; it was just fantastic."
The trial began at 9 AM on Sunday. The weather turned out to be clear and cool - mid-50's to mid-60's during the day - and beautiful, with the trails drying out. "It was pretty much a canter all day." Ross divided the riders into two groups, and gave each group a speed range to achieve. "When we go overseas, we're always racing in big groups of people, which we don't do here in the States. So on each of the three loops, I gave them a speed range so they could learn how to use their GPS units better. The second loop I gave them a higher speed range, and the third loop was even higher than the prior two." The course wasn't a "technical" course, though riders did have to watch their footing on some boggy areas, while still maintaining the rhythm and speed Ross set for them. "'Technical' wasn't the goal. I know we can ride technical."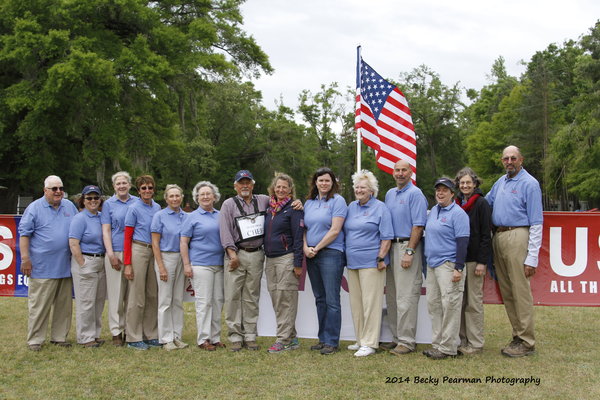 It turned out to be a highly successful trial despite the weather; and while the horses and riders can now rest a while, the selection process continues for Ross and the Team Selectors (Susan Kasemeyer of Tennessee, Linda Howard of Utah, and Carol Giles of Oregon), and the Veterinarians (Dr Ann Stuart of North Carolina, Dr Ken Marcella of Georgia, Dr Catherine Kohn of Ohio, and Team Vet Dr Dwight Hooton of Colorado). They will look at their notes, analyze performances, and review interviews with each rider, and will then rank the riders. By June 24th, the Nominated List of the top 10 horse/rider combinations must be submitted to the Organizing Committee in France, which cannot be changed. The Endurance Championship at the Alltech FEI World Equestrian Games will take place on August 28. Ross will continue to work with the 10 combinations, then ultimately take the top 5 to France on August 12 or 13.
"Prior to the [trial] event," Ross recounts, "we had 1 or 2 people that were unable to continue due to some mild veterinary issues, so that took them out of contention, and that kind of disappointed me; but we're going to have a strong group to pick from. Everybody who will go [to France] will have earned a position on the team. And they will all meet the criteria that I think is necessary to bring back a medal." The USA team finished 4th in the World Endurance Championship in 2012 in England, just missing the bronze medal. "This year we're going to take an even stronger team, and I'm really confident - not hopeful, but
confident
- that we'll be able to regain some of our past notoriety in endurance company."
Ross has been involved in endurance one way or another (beginning with Ride & Tie competitions) since 1982, and he has been U.S. Chef d'Equipe since 2011; and yet he still learned something from the Broxton Bridge Trials. "It isn't just about a horse and a rider being able to do something. I'm certain of this: it's the character, and the way they get along under pressure. [At Broxton Bridge] we were able to look at those things as well, and I was quite pleased, actually. You bring together a lot of highly competitive people, they're all trying to make a team, it's not always easy."
It isn't always easy, but with the depth of talent aiming for the 2014 World Equestrian Games Endurance Championship, the U.S.A. is poised to accomplish their goal of standing on the podium in France in August with a team medal for the first time since 1998.
Photos by
Becky Pearman Photography
Click here for a horse/rider list.
http://www.endurance.net/international/France/2014WEG/