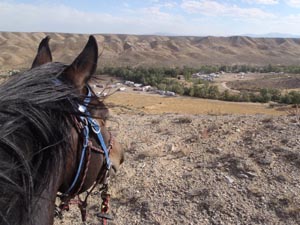 October 1 2014
Merri Melde-Endurance.net
You can define endurance riding success in many ways: starting a horse, overcoming your fears and getting his first completion (as Lynne White so eloquently described
here
); completing your first 50 mile ride as a junior; finishing 4 days in a row of LDs when you're an older rider with a painful old injured knee; winning an AHA Distance National Championship; or finishing a dark, wet, cold 100 miler after about 23 hours.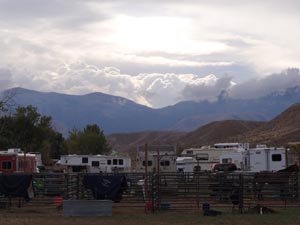 All of that and more transpired over Sept 25-28 in southwest Idaho at the Teeter Ranch. Ride managers Steph Teeter and Regina Rose marked the trails, the AHA people came to run the 2014 Arabian Horse Association Distance Nationals/Owyhee Canyonlands Pioneer CTR/endurance rides. Last year's AHA Distance Endurance and Competitive Trail Ride Championships took place in Illinois. While open to all, this year's rides in Idaho attracted riders from the West, Northwest, and Mountain regions (the USA is a big place, after all, and a long distance to drive for those further east and south).
Cooler weather prevailed - temperatures in the 70's and dropping over the weekend - great for horses. Some rain was predicted for the weekend, but the forecast kept changing, so there was no point worrying about it too soon.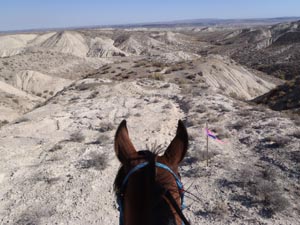 Day 1 you had a choice of a 25 and 50-mile AERC ride, and the first half (40 miles) of the CTR Championship.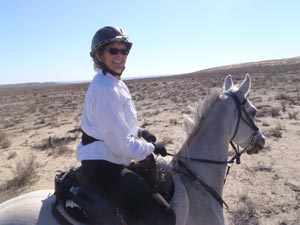 14 started and finished the LD, including the 2013 Haggin Cup winners Sue Hedgecock and LZP Julioslastchance, babysitting me and Sue's horse "D" (afterwards known as "Big D"!) on his first endurance ride.
16 started and finished the 50. Christoph Schork continued his winning ways on GE Starlit Way, coming in first place over an hour ahead of his nearest competitor in 4:24, and winning Best Condition, the horse's 10th BC award.
Day 2's 30 miler had 12 starters and finishers with David Brown and Chip, a first time rider, winning in 3:13 and getting Best Condition.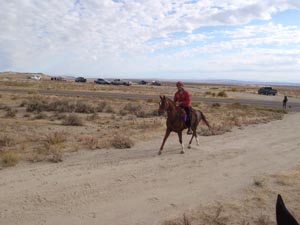 Day 2's 50-miler had 14 starters and finishers, with Christoph and GE Starlit Way repeating their win and Best Condition; they tied for first with Amanda Washington and Truly Majikhal in 5:04.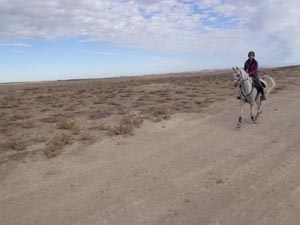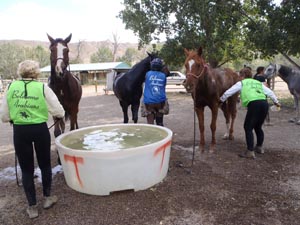 The second half of the CTR, 30 miles, brought a conclusion to the Arabian Horse Association Competitive Trail Ride on Day 3. Only 4 riders total competed in the CTR Open; only 1 rode in the Purebred Arabian division, and only 2 rode in the Half-Arab/Anglo-Arab Championship. Winner of the Purebred Arabian division with 196.5 points out of 200 was Montana rider Julie Muscutt and Satin Image AZ, a 7-year-old gelding experienced in both CTR and endurance. You could see Julie applying a technique at the mandatory pulse stops of getting her gelding to lower his head, which helped drop his pulse right away. He's a horse that likes to go, and since you have a set pace you must ride in the CTR (finishing 15 minutes either side of the finish time deducts points), between 5 and 7 mph, Julie tries to stay in front on him.
Winner of the Half-Arab/Anglo-Arab CTR Championship with 197 out of 200 points was another Montanan, Suzy Hayes and Sanstormm. The 6-year-old 16.3-hand half-Thoroughbred gelding is by Sanskrit out of Alta Snow, and is quite forward, and can be "intimidating," but he's "a very talented horse."
Suzy's been around the endurance and CTR block a time or two: she started CTR in 1966, and endurance in 1972. Her first endurance ride was the Tevis Cup. Almost 40 years later, she has close to 4000 CTR miles, over 21,000 endurance miles, two slots in the AERC Hall of Fame (her Kootenai Zizzero was 2011 Hall of Fame Equine, and they earned the 1997 Pard'ners Award). Suzy doesn't believe in running horses too fast too soon in endurance, particularly such a young horse who's so big. "The CTR ride was just the perfect way to make one little more step up."
Reserve Half Arab/Anglo-Arabian Champion was Lynn Lee and Londonn's Invader. Suzy Hayes won the Open CTR; Julie Muscutt was second; Lynn Lee was third; and Kathryn Lewandowsky was fourth on Majestic Kid. Only a half a point separated first and second, and a half a point separated second and third! These were some very fit and evenly-matched CTR horses.
Day 3's 25 miler had 11 starters and 10 finishers, with Carol Delisi and DJ Restless Wind winning first place and Best Condition. Ride manager Steph Teeter slipped out on the LD and rode her 23-year-old former World Endurance Championship competitor Nature's Khruschev (Trusty Krusty) with husband John Teeter on Sunny. They turtled, but they didn't tell Krusty that.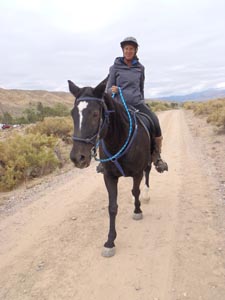 Day 3 was also the AHA 50 Mile Championship. 6 started and finished the Arabian purebred division. Winner of the Purebred Championship was Idaho's Flora Gertsch and Belesema Finalia in a ride time of 4:35. Flora started riding the Belesemo Trad mare in 2012; they most recently won the Old Selam 50 at the end of August.
Reserve Champion Purebred went to Colorado's Kerry Redente and 6-year-old AM Great Othello+. Kerry was a busy gal over the weekend. The AHA US Sporthorse Nationals were going on the same weekend in Nampa, Idaho, an hour away. Kerry stopped there first on Thursday and Friday with AM Great Othello+, and rode away with a Top Ten placing in the Purebred Sporthorse Under Saddle Amateur Owner to Ride out of 36 horses. Amanda Washington and Eternel Indian Summer scored a double Best Condition award, in the Purebred Arabian and the open AERC division.
Winner of the Half Arab/Anglo-Arabian Championship was Colorado's Pete Hommertzheim and his 8-year-old mare Classy Investment. "Jessi" and Pete won last year's 100-mile AHA Distance Nationals Championship in Illinois. Elizabeth Dagnall and Roses April Rain were the Reserve Champions; there were 3 starters and 2 finishers in this division.
26 starters were in the open AERC 50 with 22 finishers. Pete and Jessi won the overall ride by a galloping length over Boise's Errol Fife and Joker (yes, he has been called Errol Flynn many times). Another standout finisher in the open 50 on Day 3 was just-turned-12-yr-old Junior Greta Berner, completing her first 50-mile ride ride on the sometimes-naughty, always-cute pony Benjamin. Greta and her Junior sister Clara rode the LD the first day with their mom, who was, at times, she admitted, a nervous wreck. Riding with your kids in endurance is rewarding, but it can be stressful!
Day 4 featured the 100-mile AHA Championship, in addition to a 30 and 50 mile ride. 10 started and completed the 30-mile ride, with Sally Tarbet and Jassen's Legacy Stone winning first place in 3:07, and Best Condition. Carol Delisi finished 3rd; she was one of the 3 riders completing all 4 days of LDs on the same horse. Chris Cane did the same on her eye-catching Paso Fino Phaetana Del Padre, as did Carolyn Roberts on Manhattanincident - the older rider with the wrecked knee, which just goes to show, the definition of "endurance" is different to all people, but can be just as challenging and rewarding!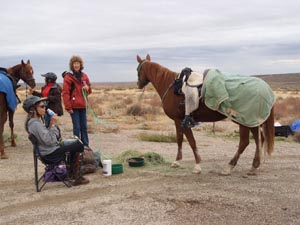 California's Ann Kratochvil won the 50 on GF Brazil's Envy in 5:58. Envy has won the AERC War Mare award the last 2 years (based on the most overall placing points accrued by the same mare/rider team during one season). She has over 8300 miles; Ann has over 23,000. Best Condition went to second place Lynne Mahoney and WCF Summ Cyte. 8 of 9 starters finished the 50.
Some of the country's best horses and riders showed up for the AHA 100-Mile Championship (well, those from the western half of the US, anyway!). The competitors signed up for the purebred AHA division were 22,000+ mile Joyce Sousa and 21-year-old, 8800+ mile LV Integrity; 2013 Haggin Cup winners Sue Hedgecock and LZP Julioslastchance from Utah; 16,000+ mile Suzanne Ford Huff and SD Expressa (second in last year's 100-mile AERC Championship) from Nevada; Idaho's Layne Simmons and Beauty's Harley; Californian Tom Johnson and AM Lady Liberty Wins; and 2012 Haggin Cup and 2013 Tevis Cup winner Rusty Toth of Colorado riding FV Aul Mystery.
Competing in the Half-Arab/Anglo-Arab division were 29,000+ mile Connie Creech and LS Steele Breeze from Nevada; AERC Hall of Famer Suzy Hayes riding Greenbriar Al Jabal from Montana; Washington's Carla Eigenauer and NEH Annie Oakley; Nevada's 12,000+ mile Beth Kauffmann and Pal-Ara Durango; and AERC's winningest rider Christoph Schork from Utah riding GE CMS Oso Elegant.
8 more open 100-mile riders rounded out the 18 starters, including 2 Juniors from BC, Canada - Katya and Anya Levermann - riding with a trio of Idaho girls, Carrie Johnson, Jodie Lucas, and Nance Worman as their sponsors.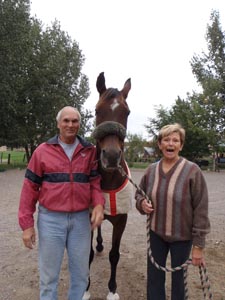 Sadly, after driving all the way from California, LV Integrity was off in his trot-out at the vet in, and did not pass the starting inspection, so the Sousas loaded up Saturday and headed back home. While it dimmed the luster of the event a bit, it didn't diminish Joyce's gratefulness with her horse and the sport. "I'm just thrilled to be here," she said when they arrived. "I know Ritzy doesn't have too many rides left in his career, so I enjoy every one of them." This year's AHA Championship would turn out not to be one, but there will still be others.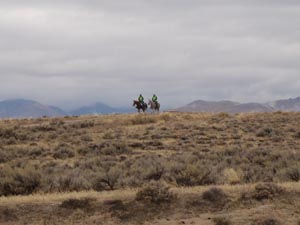 Right about starting time, 7 AM, under heavy gray skies and about 65*F, the rain began. What had been weeks of dusty trails became slick clay in places for the first two loops. Rain held off the rest of the day until the next phase of the storm came in that night.
Six riders came in to the first vet check together off the first 15 mile loop: Huff, Hedgecock, Toth, Eigenauer, Hayes, and Tom Johnson. After a 15 minute hold in camp, they headed out on a big loop into the desert.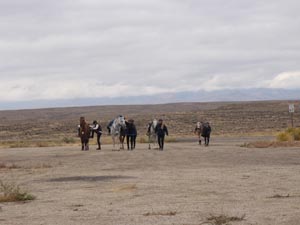 After 19 more miles, the field was separated into 3 definite groups. Front runners Huff, Eigenauer, Hedgecock, Toth, Tom Johnson, and Hayes were within 3 minutes of each other. The last group of Worman, Carrie Johnson, Lucas and the Levermann juniors were over an hour back already, walking in the last several miles because Johnson's horse was lame. The girls were all in good spirits, though Katya was riding with a bad cold, and mother Katrin was a nervous wreck. Notice this theme with mothers and endurance riding daughters?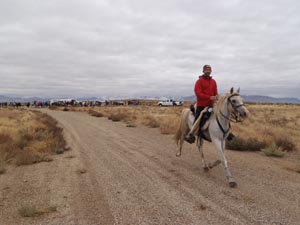 After another 19 mile stretch around Wild Horse Butte along the Snake River, the same front runners again arrived within minutes of each other, and Toth's horse was pulled for lameness.
Another 12 miles back into basecamp for Vet check 4 completed the big loop. Three riders pulled Rider Option here: Eigenauer, and open riders Kaci Monroe and Sherrie Calaway.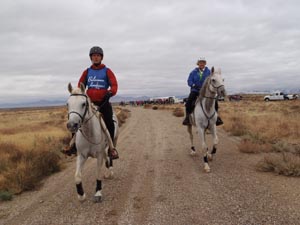 After the 5th loop of 20 miles, at a total of 85 miles, Huff and Johnson led out on the final 15-mile trail, followed by Hedgecock a minute behind, and Hayes a few minutes after that. Tom Johnson earlier predicted he'd finish the ride in about 10 hours' ride time. And in 8 minutes short of 10 hours, just before dark, Johnson aboard AM Lady Liberty Wins came galloping in two lengths ahead of Sue Hedgecock and LZP Julioslastchance, the Champion and Reserve Champion, respectively, in the AHA Purebred division. Twelve minutes later, Suzanne Ford Huff and SD Expressa crossed the finish line.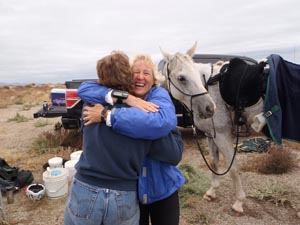 37 minutes later, Suzy Hayes and Greenbriar Al Jabal crossed the finish line as the Half-Arab/Anglo-Arab Champions.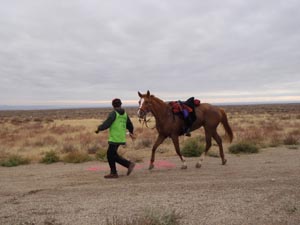 Just as Christoph Schork stepped off GE CMS Oso Elegant at the finish line over an hour later as the Reserve Half-Arab/Anglo-Arab Champion, the first drop of rain fell.
And it never stopped. All night. Kauffmann and Creech finished in the rain 2 1/2 hours later, followed by Simmons, and Swiss gal Marina Huber riding Schork's horse RR Jazz Dancer.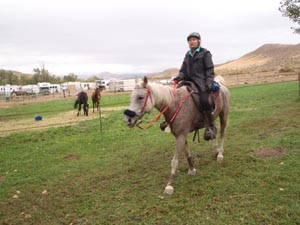 Jodie Lucas was pulled at the last vet check - 85 miles - which left Worman and the two Levermann juniors to ride the last 15 miles in the very dark, very wet, and very cold night. Nance Worman is a hero to most of the northwest endurance riders: an "Owyhee Tough Sucker" who has often ridden 50 miles, 50 miles, and 100 miles at our 3-day Fandango rides, with 9500+ AERC miles and an always-cheerful personality even when she's worn out. She's had some extreme endurance rides this year. Caught out on trail in a lightning storm at City of Rocks in September, she said "That was the most frightened I've ever been!"
Schork had said that on the way in on his last loop, he couldn't see his hand in front of his face, and that was before the rain started. Oreana must have gotten half its annual rainfall that night, during which Worman and the Levermann girls continued marching along in the wet, foggy, cold, dark night, where they could only walk over the snot-slick trails. After finishing near 6 AM in more than 12 hours of rain Worman commented (not complained), "I was soooooo cold!"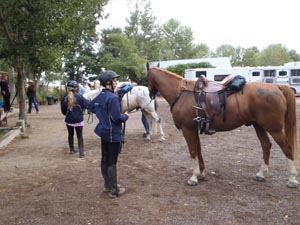 The girls were bleary-eyed late the next morning (Katya was still sick and had lost her voice; Anya was grinning as usual) but Anya had finished her 4th 100-mile ride, and Katya had finished her second. It would help make their 850-mile drive back home a little less tiring - and a bit shorter than their 100-mile time in the saddle!
Next morning, with basecamp looking like Malaysia during the monsoon season, 3 horses showed for Best Condition. Suzy Hayes and Green Briar Al Jabal won the Half Arabian/Anglo-Arabian BC award, and Suzanne Ford Huff and SD Expressa won the Purebred Arabian, and the AERC Open BC.
Attendance was down at the ride - as it has been in general around the country, and AHA was probably disappointed with the turnout for the championship rides (no juniors participated), though they did provide lovely prizes donated by excellent and supportive sponsors**.
And can I say enough about the volunteers who help put on a big ride like this? Endurance rider Clarissa Hale in particular drove all the way from Redding California, without a horse, just to help all 4 days. Sometimes when you have high stakes rides held simultaneously with local competitions, tensions among those with different endurance goals can flare tempers. However, the AHA people who came for the ride were a fun and helpful presence all week and they slid smoothly into the ride management team: eastern Canadian veterinarian Art King; Devon Smith from the AHA office in Colorado; Rusty Cook, the Region 8 director from New Mexico; and Distance Nationals Commission chairman, ride secretary, and volunteer extraordinaire Eric Reuter from Tennessee. AHA President Cynthia Richardson - whose first endurance ride was in 1996 in the Tevis Cup - dropped in for the 100-mile ride, all day and night, not only watching but helping out by pulsing riders. Head veterinarian Mike Foss and his fellow vets King, Robert Washington, and Dick Root kept the rides rolling smoothly.
And can I say enough about the horses, who carry us over the endurance trails? From the multi-thousand-mile horses to the first-time LD horses, carrying Haggin Cup winners to first-time junior riders, through the wind and rain, 25 miles, 50 miles, or 100 miles, they got us down the trail, through the dark and daylight and dark, helping us accomplish our very disparate goals of winning Championships or completing rides.
Now
that's
endurance.
Photos and complete results can be seen here:
www.endurance.net/international/USA/2014AHA
**If you get a chance to thank the sponsors, please do so! Without them, these events can't take place: Corporate Sponsors WeatherBeeta and Wintec and Adequan; Regional Sponsors from Region 7, 8, 10 11, 12, 13, and 17; Private Sponsors Platinum, Al-Marah Arabians, Belesemo Arabians, Ms Cynthia Richardson, Distance Depot, Donovan Rubley, EasyCare, FlexSleeve, Global Equine Training Center, Mandolynn Hill Farm, Margo Shallcross, Schneider's Saddlery, Southeast Endurance Riders Association, Texas Arabian Distance Riders Association, Triangle Farms, Troxel, and Troy Nelson DVM.