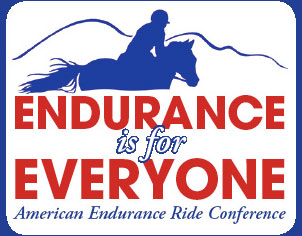 March 8 2015
At the annual AERC Convention last night in Reno, Nevada, the new AERC Hall of Fame recipients were announced in front of a festive dinner crowd.
Pat Oliva from Maryland in the Northeast region was named the 2014 Hall of Fame Person. Pat has well over 21,000 endurance miles and is known for her good humor and for helping people along the way. "If you can't take the time to stop and help somebody. you don't belong in this sport," she said in her acceptance speech.
MRR Pyro, owned and ridden by Karen Fredrickson from the West region was named the 2014 Hall of Fame Horse. With over 10,400 miles, "Murph" and Karen won the 2011 Pard'ners Award. Endurance isn't his only career, said Dr Dave Nicholson who presented the award. He's also "just an ol' ranch horse," who's put on plenty of miles over the years in that aspect.
2014 Pard'ners Award went to Ron Barrett from the Southwest region and Rafuro HCC. With over 7400 miles on his record, "Raff" is 35 years old now and "he could still outrun me," Barrett said in his acceptance speech.
Gail Williams from the Northwest region was surprised with the Ann Parr Trails Preservation Award. Aarene Storms presented the award.
More National Awards will be found on the
AERC website
.
More updates from the weekend convention can be found here:
http://www.endurance.net/international/USA/2015AERC/