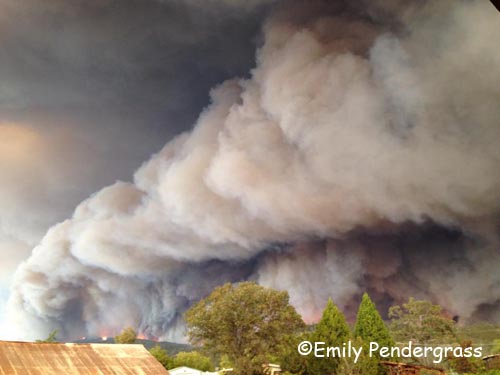 I have honestly never felt such impending doom.
- Emily Pendergrass
September 16 2015
by Merri Melde-Endurance.net
Sometimes it takes a raging catastrophe to put things in perspective.
It all started with another one of those LD/Endurance discussion-turned-arguments on Facebook. Emily Pendergrass, a new member of AERC and an endurance riding "prospect", chirped up in the discussion with what she thought was a humorous reply. "I jokingly posted that I lost all my horse tack," Emily says, "and can I do a ride without tack?"
That eye-popping statement caught the instant attention of endurance rider Aurora Grohman of Oroville, California. As the two began corresponding, Aurora learned the full extent of Emily's traumatic situation: living in Middletown, California, she'd just lost her barn and all her tack in the devastating, ongoing Valley Fire in Lake County, California, just hours after the blaze started.
Though she saved her horses and her house was damaged but still standing, Emily says pragmatically, with a sense of humor, "I finally had all the tack I wanted, a lot of brand new tack I had just bought; I was finally ready to go on my first endurance ride. It was just bad timing basically!"
Emily recounts the terrible day: "I was home all day Saturday (September 12). It was a 100 degree day; it was really windy, strangely windy, and it was overcast. I started seeing some brown smoke against the overcast. I wasn't sure if it was a fire, but I kept an eye on it.
"It started growing, so I started listening to the scanner, looking on Facebook. And it started getting bigger, and I knew it wasn't going to be good, because the wind was blowing in our direction. This was such an isolated place up on the mountain. I just started preparing my house, putting halters on my horses, putting my cats in kennels…
"We didn't have any time at all. I think the fire started around 2:00; Middletown got a mandatory evacuation at 6:30, and I threw my horses in the trailer and we headed out of town. We had to stop at another ranch to pick up horses, and we got out of town by around 7:30. So there was not a lot of time for people to prepare for this.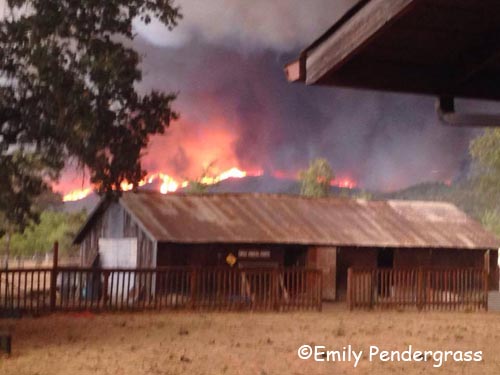 "It moved so quickly. I could see flames coming down the hill, and it was dark by the time we left town because the smoke was so dark. But you could see the fire really well, it was just a half mile away from where we were loading horses. I have honestly never felt such impending doom. It was a pretty intense situation, for sure. I'm not surprised people had trouble getting everything out, there just wasn't time."
Aurora felt an immediate kinship with Emily and those affected by the Valley Fire, because she knows herself exactly what the threat of fire is like. "There's literally an 800 acre fire that's 4 miles from my house right now," Aurora says. "And that's the
fifth
fire that's been within 5 miles of us this year. When it's close it's terrifying."
And when Aurora heard that Emily had lost her barn and all her tack, she knew she had to do something. "I knew I had stuff to give," Aurora says, "so I asked her what I could do, what I could give her. Emily said, 'Anything! From a hoof pick on up! And, i'm not the only one.'
"I thought, well, shoot, many folks just lost everything. So there's a lot to be done, but I figure I know horse people who have spare gear, and I'm in a huge horse area over here, so let's see what we can put together."
What Aurora quickly organized was a network of fellow endurance riders and other horse people, setting up tack collection spots. "We've got a box happening at Virginia City 100 (September 19, in Virginia City, Nevada). We've got a collection happening at Cuneo Creek ride (September 19 and 20 at the Humboldt State Redwoods Cuneo Creek Horse Camp, California). I've got boxes happening from pretty much Sacramento up to the Redding area."
And despite her losses, now that Emily is out of danger, she's also turned her attention to helping others affected by the fire. The disaster is not over: Tuesday evening, 3 days after the fire started (the cause is still under investigation), the fire had burned 67,200 acres with only 30% containment, with 585 homes and hundreds of other structures destroyed, with 9000 more structures under immediate threat.
After the collections, Aurora will drive up to meet Emily with the donated tack, and when Emily is allowed back into her town, she'll connect with her neighbors.
"I know personally a lot of barns that were burned down," Emily says. "There's this awesome woman who does a lot of lessons for kids. She couldn't even get most of her horses out. They grabbed a couple dogs, and a couple horses, and they had to leave, and she lost everything - so I really wanted to help her out. And I have a lot of contacts already of people who lost their barns, so I'll be able to call them all and say, 'What do you need!?'"
When dreadful disasters like these pull the endurance and horse communities together, it suddenly doesn't matter if you are a 100-mile rider, or an LD rider, or someone who has yet to begin her endurance career, or a trail rider, or a rodeo queen.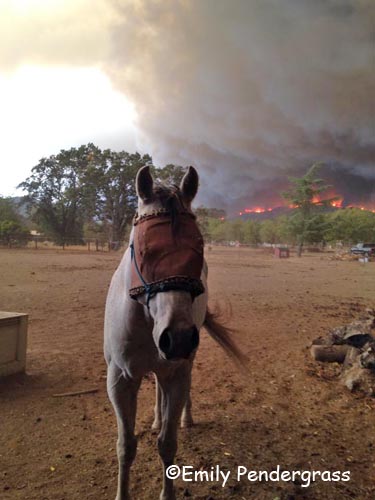 "It's rough…" Emily admits, "but I'm not even worried. Look, we're the lucky ones. We have our house. So many people i know - like my neighbor right across the street, her daughter is the current California high school rodeo queen, and all their trailers melted or were completely destroyed. They lost
everything
. It's sad. and I know plenty of other people that are in the same boat."
Aurora rather shrugs off her quick and benevolent efforts to help Emily and other fire-ravaged equestrians. It's just common sense.
"I'm not even sure I've met Emily in person," Aurora says, "but endurance is that kind of community. I know others would do it for me, so I'm doing it for them."