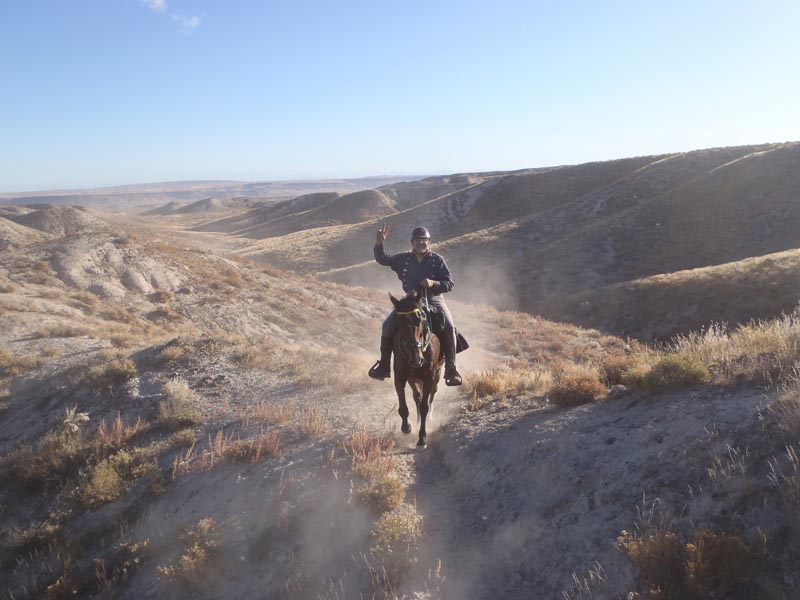 www.endurance.net/international/USA/2017AHAOwyheeCanyonlands
October 8 2017
by Merri Melde-Endurance.net
The 50-mile Arabian Horse Association Distance National 50-mile ride was held Saturday October 7 at the Teeter Ranch in Oreana, Idaho.
Winner of the Purebred Arabian division was John Stevens, of Lincoln, California, aboard Rabbalad in a time of 5:08. Second place went to Christoph Schork, of Moab, Utah and GE Haat Rod Express in 5:33. Jeff Stuart, from Ogden, Utah, was third aboard JV Remington in 6:27. GE Haat Rod Express won Best Condition. 14 started the ride with 12 completing.
In the Half-Arabian/Anglo Arabian division, Jeff Loe from Trail, Oregon, and Hillcreek Pyra won in a time of 6:27. Auburn, California's Denise Obray and TM Dunit in Gold finished second in 7:06, and Junior rider Sarah Holloway from Maple Valley, Washington, finished 3rd aboard Phinneas in 8:28. Phinneas won the Best Condition award. 7 started and 5 finished the ride.
Held in conjunction with the Arabian Distance National were the ANCER (Appaloosa National Championship Endurance Ride) and PFHA (Paso Fino Horse Association) 50 mile championships.
6 started and 4 completed the ANCER Championship. Siri Olson from The Dalles, Oregon, and EZ To B Perfect won first place and Best Condition in a ride time of 7:52. Jessica Cobbley, from Blackfoot, Idaho, and The Big Brass finished second in 7:58. Third place went to Kathleen Jepson, from Independence, Oregon, aboard Spotted Wap in a ride time of 8:21.
3 started and finished the PFHA Championship, with Chris Cane, from Olympia, Washington, and Marco del Padre finishing first and winning Best Condition in a ride time of 8:59. Lindsay Campbell, from Lake City, Florida, finished second aboard Cane's horse Magico del Padre in 9:00. Paul Latiolais, current AERC President, from Milwaukie, Oregon, finished 3rd aboard Francisco Adan CuGR in 10:13.
The 100 Mile Championship is being held Sunday October 8.
More information at:
www.endurance.net/international/USA/2017AHAOwyheeCanyonlands