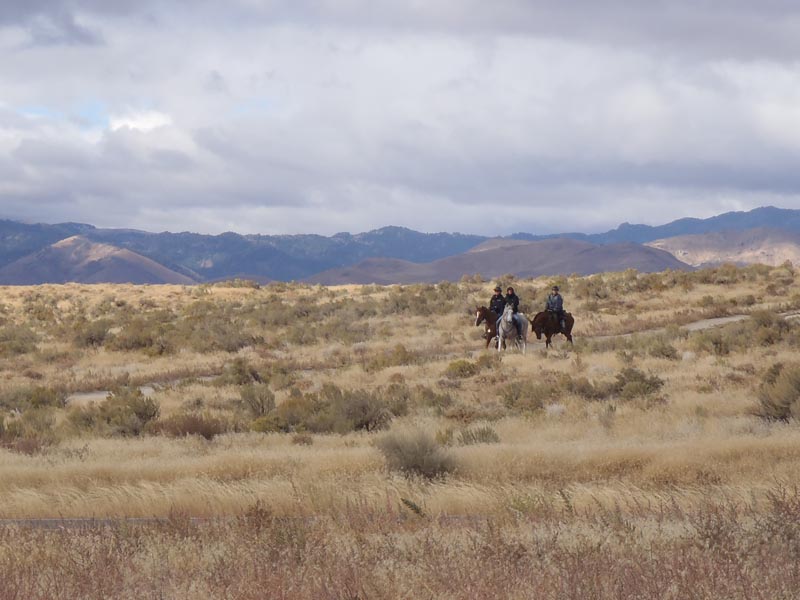 October 11 2017
by Merri Melde-Endurance.net
Endurance riders, Arabian Horse Association people,
Two Trees
catering by the fabulous Wynne Teeter, evening jams, an even better band,
Country Club
(classic country, honky tonk, old time, and bluegrass, starring Steph's fiddle teacher), the local Radio Club (who came in very handy when a rider was injured out on trail), and the stars of the show, the endurance horses, merged and mingled at the Teeter Ranch the weekend of October 6-8 for the 3-day Owyhee Canyonlands/AHA Distance Nationals.
Not only did the Arabian Horse Association hold their 50-mile and 100-mile Purebred Arabian, and Half-Arabian/Anglo Arabian Championships, but they also hosted the Appaloosa 50-mile Championship (ANCER) and the Paso Fino National Championship. The Teeter Ridecamp looked like Days of Old, when trailers squeezed into every conceivable space both in front and in back.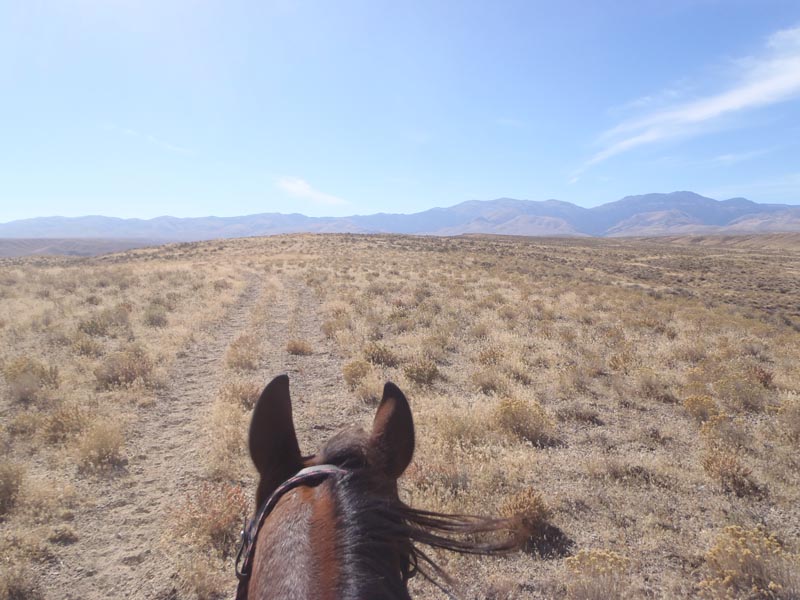 While more horse trailers continued to pull into camp on Friday, the Day 1 25-mile ride and the AERC 50-mile ride took riders into the Owyhee desert, down to the Snake River and around Wild Horse Butte.
39 riders started the 50, with 36 finishing. Winner was Christoph Schork, riding RR Jazz Dancer in 5:13. Daneila Lambeck was second (also 5:13) aboard Christoph's GE Berry Haat Salza. Karen Steenhof and WMA Proclaim came in third in 5:50. GE Jazz Dancer won Best Condition.
20 started the LD, with 15 finishing. Vonnie Brown aboard Chipikiri won the ride in 4:04, a minute over Leonard Bottleman and APP Taylor La Esplendida Mirada. Bill Miller, riding Tezeros Annie Sue, and David Brown, riding Tezeros Hot Shot, finished third and fourth in 4:10. Tezeros Hot Shot got Best Condition.
Day 2 was a busy ride day, with a 25-mile LD, an open 50-mile ride, and the 4 50-mile Championship rides: Purebred Arabian, Half-Arabian/Anglo-Arabian, Appaloosa, and Paso Fino.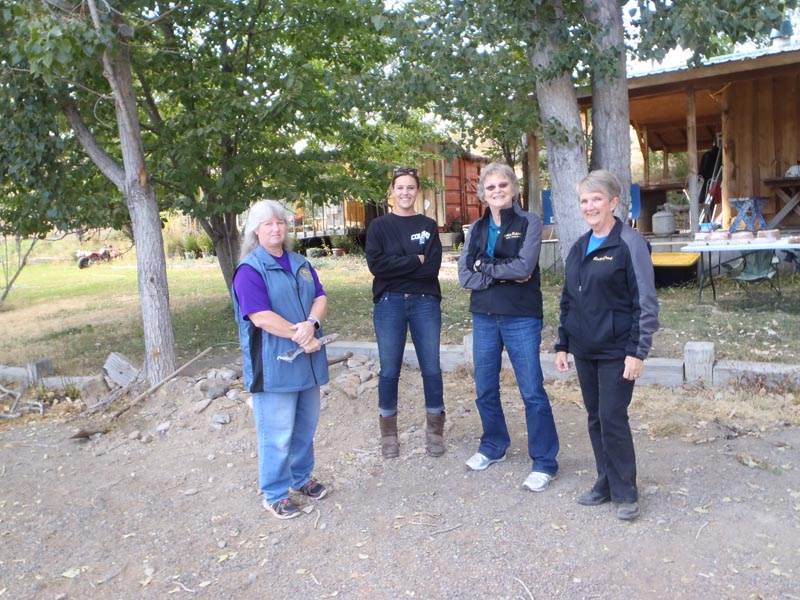 14 riders started the AHA Purebred Arabian Championship, with 12 finishing. John Stevens, from Lincoln, California, took the Championship honors with his 9-year-old gelding Rabbalad (FV Classic Farwa x FV Farabba, by Haji Rabba) in 5:08. Reserve Champion went to Christoph Schork, from Moab, Utah, aboard GE Haat Rod Express (DWA Express x Pico Stardust +/, by Pico Haat Shaat) in 5:33. Jeff Stuart, from Ogden, Utah, took third with JV Remington (JV Shadow Dancer x Sugar is Fine, by *Patriark) in 6:27. GE Haat Rod Express won Best Condition.
7 riders started the Half-Arabian/Anglo Arabian division, with 5 finishing. Jeff Loe from Trail, Oregon, and Hillcreek Pyra (SFF Pyro x Zephyr) won in a time of 6:27. Denise Obray, from Auburn, California, and TM Dunit in Gold (Ima Dun Kid x Faireshine Padron, by *Padron) finished second in 7:06. Junior rider Sarah Holloway from Maple Valley, Washington, finished third aboard Phinneas (Grandson of the Black Stallion) in 8:28. Phinneas won the Best Condition award, much to his approval.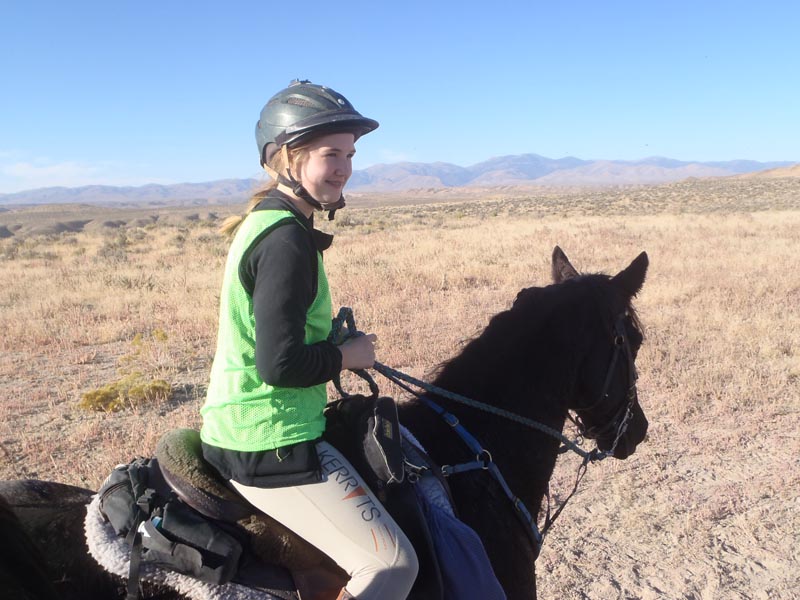 Top honors in the Appaloosa Championship went to Siri Olson from The Dalles, Oregon, and EZ To B Perfect, in a ride time of 7:52. Jessica Cobbley, from Blackfoot, Idaho, and The Big Brass finished second in 7:58. Third place went to Kathleen Jepson, from Independence, Oregon, aboard Spotted Wap in a ride time of 8:21. EZ To B Perfect also won Best Condition. 6 started and 4 completed the ride.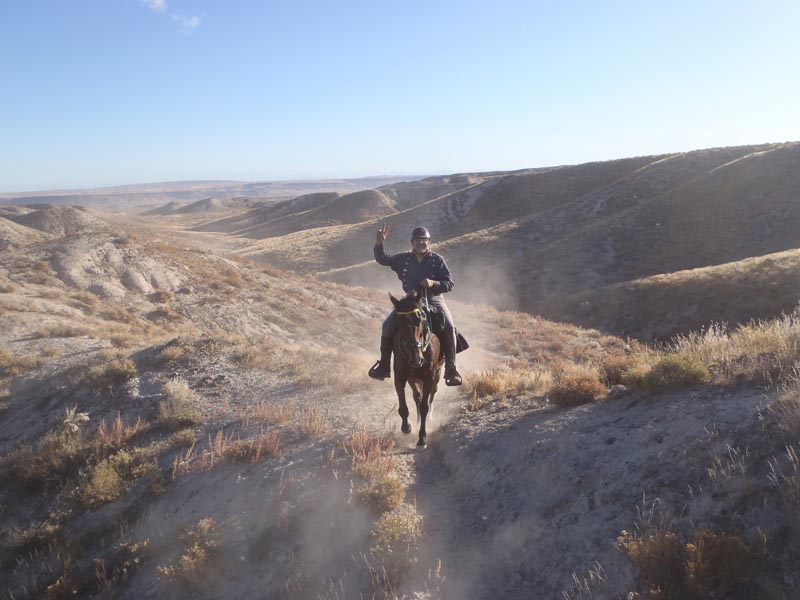 The Paso Fino Championship had 3 starters and finishers. Chris Cane, from Olympia, Washington, and Marco del Padre finished first in 8:59, and earned the Best Condition award. Lindsay Campbell, visiting from Lake City, Florida, finished second aboard Cane's horse Magico del Padre in 9:00. The current AERC President, Paul Latiolais, from Milwaukie, Oregon, finished third aboard Francisco Adan CuGR in 10:13.
50 riders started the Open 50 mile ride, with 41 finishing. John Stevens and Rabbalad were first in 5:08. Christoph Schork and GE Haat Rod Express were second in 5:33, and Dean Hoalst and Redwing Ofcourage finished third in 5:56. GE Haat Rod Express won the open AERC Best Condition award.
The Racing Mules put on their fun and excellent show in the LD (3 of them carrying Juniors). They took the top 4 spots, with Junior Parker Eversole and out of Idaho winning in 3:10, with sponsor Trinity Jackson aboard Gracie second (also in 3:10). Junior Sidney Jackson was third on Bear in 3:11, and Junior Lucy Martin was fourth on Irish in 3:12. 8th place Stace Moss aboard Top Hat Frost won Best Condition. 20 started and 18 finished the ride.
Day 3 saw a 25-mile ride, an open 55-mile ride, and the 100-mile open, Purebred Arabian, and Half-Arabian/Anglo Arabian Championships. The 100-milers got to visit Wild Horse Butte, the Snake River, and one of the more scenic canyons in the area, Sinker Creek, which runs through the historic 150+-year-old Joyce Ranch.
All participants this day, horses, riders, and volunteers, got the added bonus of cold gale winds, which were actually acceptable, because they blew the gnats into the next county. It was fine 100-mile horse weather, reflected by the most excellent high completion rates, particularly in the 100.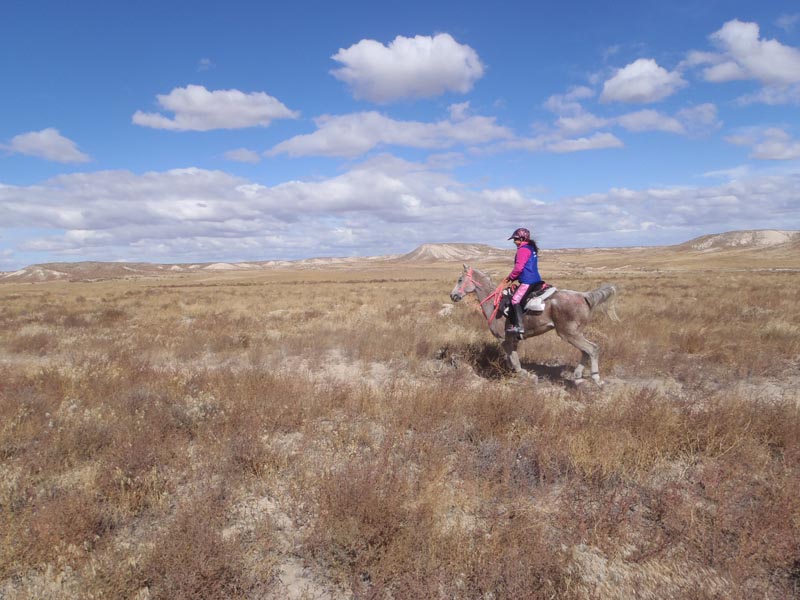 "Team Stevens," from Lincoln, California, and their sleek Purebred Arabians were the stars of that 100-mile division. Crossing the finish line in 8:57 were Diane (first place) aboard the 15-year-old gelding Banderaz LC7 (Jazzman DGL x Zordosa, by *Bandos PASB), and John (second place) aboard the 9-year-old gelding Justin SF (Sir Fames HBV x NNL Just a Heat, by Don El Chall). Justin SF won the Best Condition award. Third place went to Jeanette Mero, of Mariposa, California, and Jet Setting Sandrita (Djet Set De Falgas x Tiki Destiny, by Sambors Destiny) in 10:40. Jeanette rode and finished with her 16-year-old Junior daughter Reyna, aboard Triomphe. This made the Team Mero weekend a complete success (they also finished the AHA 50 the day before), after 2 breakdowns on the way to Idaho and arriving at camp in the middle of the night. The AHA finish made 4 100-mile completions for both horses for the year.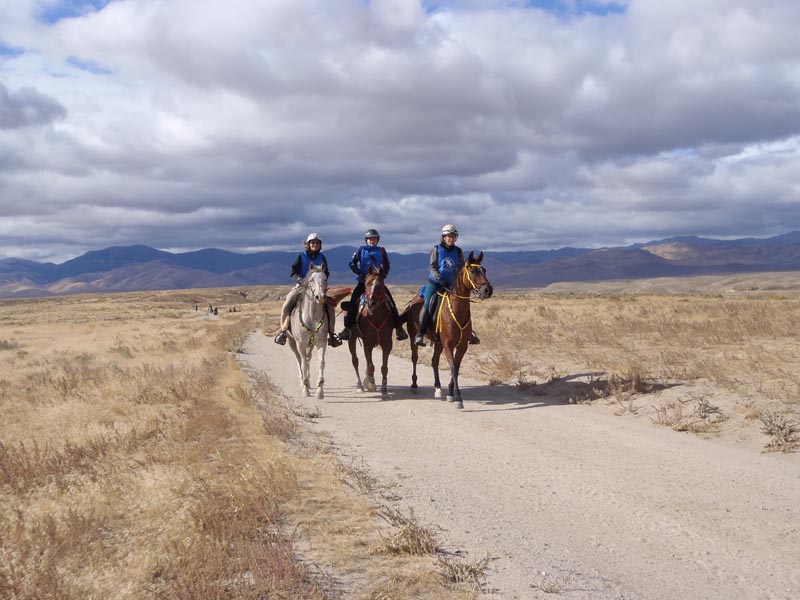 The only other Junior in the AHA Purebred ride was 14-year-old Sarah Holloway, of Maple Valley, Washington, riding with her aunt Connie Holloway aboard DWA Saruq. Sarah and her 14-year-old gelding Noble Desperado finished in 13th place in a ride time of 15:40 in their first 100-mile ride. 15 started and 14 finished the ride.
A literal coin toss determined the winner of the Half-Arabian/Anglo Arabian 100-mile Championship, because they could not be separated by a nostril wrinkle or a tail hair at the finish. Winner was Suzanne Hayes, of Arlee, Montana, riding her 9-year-old half-Thoroughbred gelding Sanstormm (Sanskrit x Alta Snow), in a time of 9:45. Reserve Champion was Christoph Schork aboard the half Quarter horse mare GE Pistol Annie (Sulte x Sissy). Annie won the Best Condition award. Third place out of 3 starters went to Carson City, Nevada's Connie Creech aboard LS Steele Breeze (Remington Steele x LS Shareem, by Luzero), in a ride time of 15:07. This was Breezy's 16th 100-mile completion. Her previous ride was a finish in the tough Virginia City 100 three weeks earlier.
The open AERC 100-mile ride had 26 starters and 23 finishers. Diane and John Stevens tied for first, and Christoph Schork and Suzy Hayes tied for third place along with Meridian, Idaho's Lynn Rigney, aboard Predictable. That pair also finished the Virginia City 100 three weeks earlier, in 6th place. Justin SF won the open Best Condition award.
10 riders started the 50-mile ride, with 8 completing. First place went to Jeff Stuart and DWA Malik in a ride time of 6:30. Tani Bates and CR Marjan Roars were second in 6:35, and Beth Nicholes and DWA Zifhaffir were third in 7:08. Best Condition went to DWA Zifhaffir.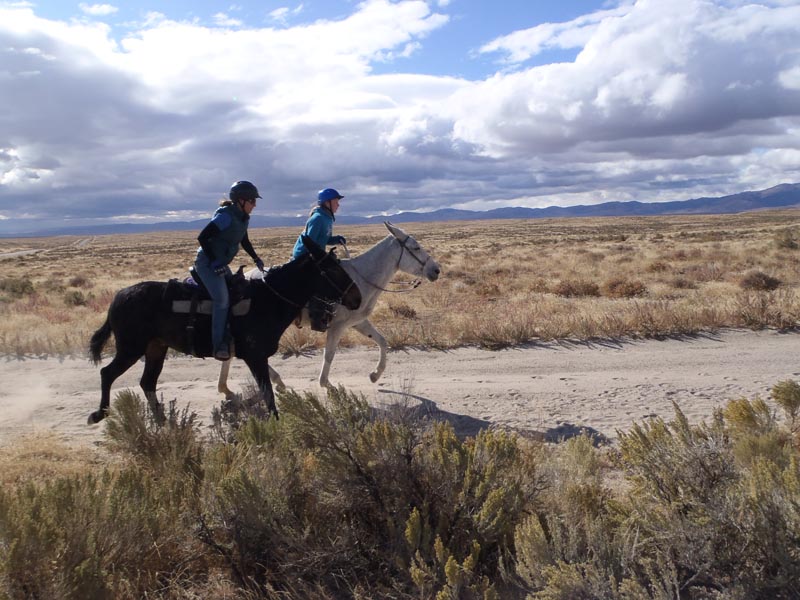 All 19 starters finished the LD ride (5 mules again!), with Bill Miller finishing first in 2:41 aboard Raffons Noble Dancer. Second was David Brown aboard Tezeros Hot Shot. The 5 mules were next, carrying 3 Juniors. Tezeros Hot Shot won Best Condition.
For more photos and stories on the ride, see:
www.endurance.net/international/USA/2017AHAOwyheeCanyonlands