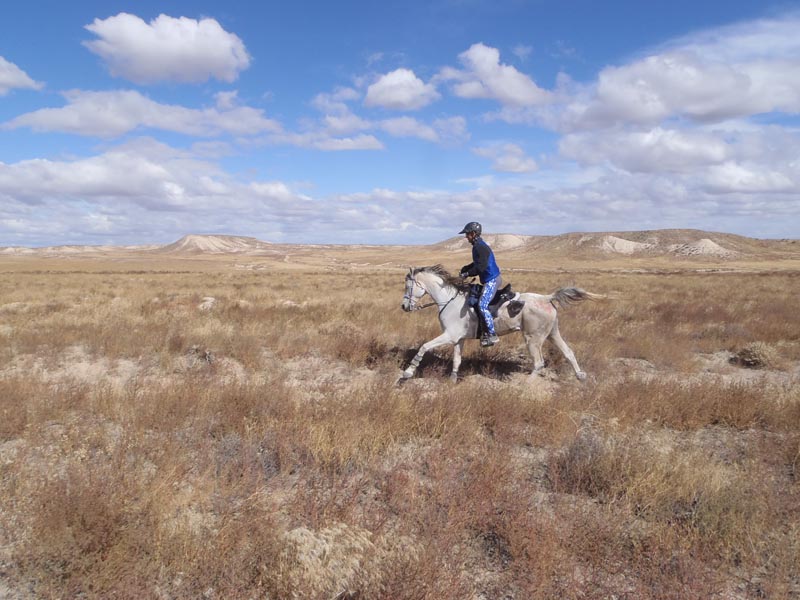 by Merri Melde-Endurance.net
October 9 2017
The wife and husband team of Diane and John Stevens, from Lincoln, California, took top honors in the AHA Distance Nationals Purebred Arabian 100 Mile ride in Oreana, Idaho on Sunday October 8th.
Diane and her gelding Banderas LC7 took first place in a ride time of 8:57. John and his gelding Justin SF took second place (also ride time of 8:57), and, next morning, the Purebred Best Condition award. 15 started the division with 14 finishing.
Winner of the AHA 100-mile Half Arabian/Anglo Arabian division was literally determined on a coin toss. Suzanne Hayes, from Arlee, Montana, aboard Sanstormm tied with Christoph Schork, from Moab, Utah, aboard GE Pistol Annie right on the finish line with a ride time of 9:45. A coin toss gave the win to Suzy Hayes. Christoph's GE Pistol Annie won the Best Condition award the next morning. Connie Creech and LS Steele Breeze finished third in a ride time of 15:07, making 3 starters and 3 finishers in this division.
More to come at:
www.endurance.net/international/USA/2017AHAOwyheeCanyonlands