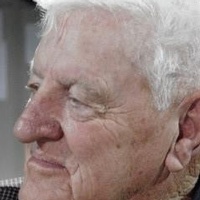 Atwoodfamilyfh.com
Thomas VanGelder
July 01, 1925 - March 19, 2018
Thomas Van Gelder died peacefully on Monday morning, March 19, 2018 at Heritage Specialty Care in Cedar Rapids, Iowa while under their care and Unity Point Hospice. A memorial 'chat' will be held on Saturday, April 21, 2018 at the Elk's Lodge at 4 PM, in Greybull, Wyoming. He will be inurned in Rock Rapids, Iowa on Saturday, April 28th next to his beloved wife, Arlene, following a service at Jurren Funeral Home. As Tom wished, memorials should be made to benefit the children at St. Jude's Hospital.
Thomas Van Gelder was born on July 1, 1925 in rural Lyon County, Iowa near Rock Rapids to John & Johanna (Van Houten-Koelman) Van Gelder.
He attended one room schools and graduated from the 8th grade. When he was 13 he first saw Arlene Bessie Baustian in Rock Rapids and said that was who he was going to marry. They were wed on October 9, 1944.
Thomas was inducted into the US Army in October 1945 and served until March 1947. He served with the Occupation Forces in Germany from March 1946 until January 1947. He was decorated with the Victory Medal and Army of Occupation Medal. He told of the starving people of Europe, the misery of the displaced persons camps, and his run-ins with the ornery Russians. One of those incidents with the Russians nearly led to an American withdrawal from West Berlin. These provocations eventually led to the Berlin Airlift in 1948. In 2015 he went on the Eastern Iowa Honor Flight to Washington DC.
He and Arlene settled into farming upon his return. If something could go wrong, sooner or later it would. More often, it was sooner rather than later. He tried his hand at trucking and then selling insurance. In 1954 he moved his family to Grundy Center, Iowa, and followed his star into farm equipment sales. First, with Farmhand for a short while and then with Fox River Tractor Company until 1970. These were very good years for Tom and his family. Tom was active with the United Methodist Church, served on the Grundy Center Recreation Commission, and was Scout Master for Boy Scout Troop #38.
In 1970, he uprooted Arlene and two youngest children, Cindi and David, and moved to Greybull, Wyoming, where he lived until 2014. He and Arlene bought the Greybull Elevator Co. In 1990, son David and wife Jeanne took over the business. Tom's signature accomplishment while owner of the elevator was to bring Anheuser Busch into the Big Horn Basin as a malting barley contractor. While living in Greybull, Tom was a member of Rotary International, Elks Lodge BPOE 1431, and Legion Post #32.
Tom's lifelong love of horses flourished in Wyoming. He and Arlene joined the Canyon Cavaliers shortly after moving to Greybull. This was a group of horse enthusiasts. The club was pursuing sponsorship of an endurance ride. This effort grew into the Big Horn 100. This is a one person, one horse, 24 hour ride; Tom completed six of these rides himself. Tom was dedicated to this ride until the day he left Wyoming in 2014. He worked tirelessly in promoting, and organizing this event, and others added later, with the considerable help of many friends, and of course, his wife Arlene who kept the paperwork and the money straight for many years. All together he had a total of 2400 miles of completed rides. In 2015 he was inducted into the Mountain Region Endurance Riders' Hall of Fame.
Tom had an unquenchable thirst for adventure. You could not be close to him without being pulled along. There were camping trips with the Boy Scouts, fishing in northern Manitoba, hunting elk in the Wyoming Big Horns and many smaller ones. He was an excellent raconteur and loved telling and retelling his stories to all who would listen.
Tom was preceded in death by his wife, Arlene in 1994; his great-grandson, Ian Felton, his son-in-law, Randall Ohrt; his brothers, Melvin Van Gelder and Jake Koelman; his sisters, Gertrude Van Dyke and Joann Elbers.
Tom is survived by a sister, Jennie Hanson of Rock Rapids, Iowa; his children Thomas (Karlyn) Van Gelder of East Dubuque, Illinois; Douglas (Ruth) Van Gelder of Cedar Falls, Iowa; Cynthia Ohrt of Cedar Rapids, Iowa; David (Jeanne) Van Gelder of Greybull, Wyoming and his Swedish 'son' Nils (Monica Anster) Pettersson of Stockholm. Also surviving are eleven grandchildren and ten great-grandchildren. Annika (Jamie) Bankston, Fred & Jacob of Mounds View, Minnesota; Joshua (Abigail) of Portland, Oregon; Nathan and Jonas of Chicago, Illinois; Jom (Stephanie), Olive & Veda of Lincoln, Nebraska; Seth (Abby) of Waterloo, Iowa; Beau (Kelley) & Cael of West Des Moines, Iowa; Charlotte (Eric) Butikofer, Aaron & Andrew; Suzanne (Dale) Felton & McKenna all from Cedar Rapids, Iowa; Angela (Chris) Snyder & Carter of Davenport, Iowa; Heather (Chadd Steffes) of Sidney, Montana; and Caleb (Camila Meza) of Brooklyn, New York.
"When I die lead my pony from her stall. Take down my saddle that's hangin' on the wall. Tie my bones to her back, turn our faces to the West, and we'll ride the mountains that we love the best."
Adios, Pop.
Arrangements have been entrusted to Atwood Family Funeral Directors.