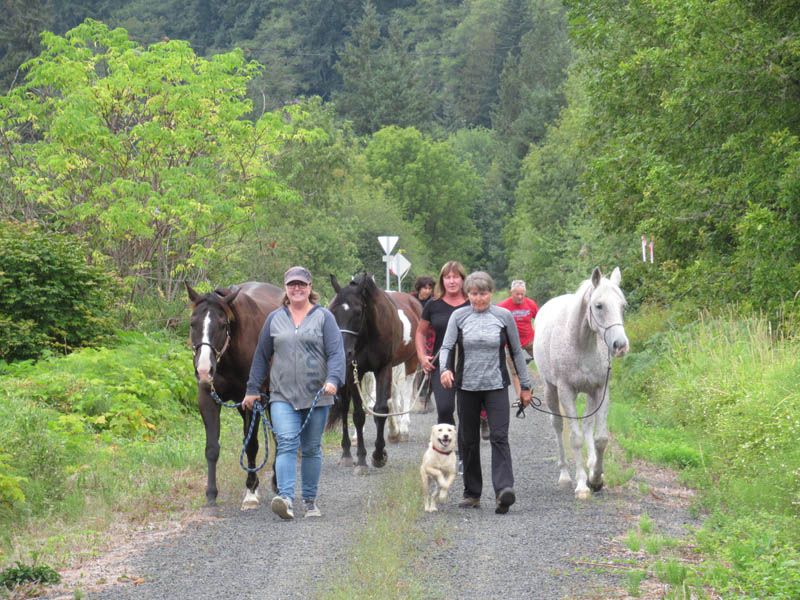 by Merri Melde-Endurance.net
August 19 2019
The Northwest region's Bobbi Walker put on the Midnight Rider endurance ride outside of Chehalis, Washington this past weekend.
The previous two years Bobbi put on an unofficial 25-miler and a trail ride to work out the kinks; this year the Midnight Rider was PNER-endorsed and AERC-sanctioned. Bobbi is an avid endurance rider who loves riding in the dark, and wants to help acquaint and encourage inexperienced night-riding endurance riders to dip their toes into the magic of night riding, to help them with long-range goals of attempting 100-mile rides. Starting times - from afternoon to evening - were arranged so that each distance would ride at least part of their second loop in the dark.
It was a bit of a blow when, during the summer, Tevis was rescheduled to the same weekend as Midnight Rider (due to concern over late snowpack in the High Sierra trails), but it was fitting (and certainly exciting!) that the Northwest Region's Sanoma Blakeley won Tevis right around the same time the first riders were crossing Bobbi's finish line at Midnight Rider.
Supported by PNER - Pacific Northwest Endurance Riders - Saturday morning, a night riding clinic was held, designed to give first-time night riders an idea of what to expect, tools to use, and tips on being brave and staying confident. Conducted by Northwest rider Merri Melde, she led a lecture and demonstration and discussion session on riding in the dark, and related experiences of her rides and tips from other highly experienced international endurance riders.
An after-ride session on Sunday morning indicated that the first-time night riders (who numbered around 20, including an 11-year-old Junior who also rode her first 50) had very good experiences, and an eagerness to try night riding again.
Taking place on the Willapa Hills State Park trail - one of five long-distance routes managed by Washington State Parks - this relatively flat, multi-use 56-mile trail is a key segment in the cross-state network spanning from the Idaho border to the shores of Willapa Bay. It was originally acquired by State Parks from the Burlington Northern Railroad in 1993. 
Here's the history of the trail:
"In the late 1800s, the Northern Pacific Railway used the line as a spur track for logging. Train tracks once crossed more than 2,000 miles from Willapa Bay to Lake Superior, but freight traffic declined in the late 1950s, and the Willapa Hills route was abandoned in 1990. State Parks acquired the railroad right-of-way for use as a trail in 1993.
The railroad brought rapid change to the land around Willapa Bay. Small communities, many with sawmills, rose up to process lumber. Newly cleared acreage was converted into farmland. Crops were loaded onto railroad cars and carried to markets throughout the American West. Railroad bridges and trestles were also added, spanning big and small waterways along the route.
With the rise of automobiles, passenger service along the route ended in 1954. Freight traffic declined during this period as well, and the route was abandoned in 1990. The Washington State Parks and Recreation Commission acquired the railroad right-of-way for use as a trail in 1993."
The Willapa Hills trail is in Bobbi's back yard, and one day while riding the trail, she passed the Willapa Hills Farm and pegged it as a great place for a Ridecamp. She rode in, introduced herself and her idea, and the owners were all in, offering the fields for parking and their gorgeous restored 1938 barn as a meeting spot for ride meetings. Willapa Hills Farm is a working family farm nestled on the banks of the Chehalis river, with a committed goal of natural farming, sustainability and environmental Stewardship.
The successful turnout for the trail rides, 25-miler and 50-miler, and the great night-riding experience for the majority of riders gives Bobbi hope that she can continue to put on this ride, and continue to provide a safe and fun environment and trail experience of riding in the dark, with a long-range goal of elevating more endurance riders to 100-mile endurance riders.