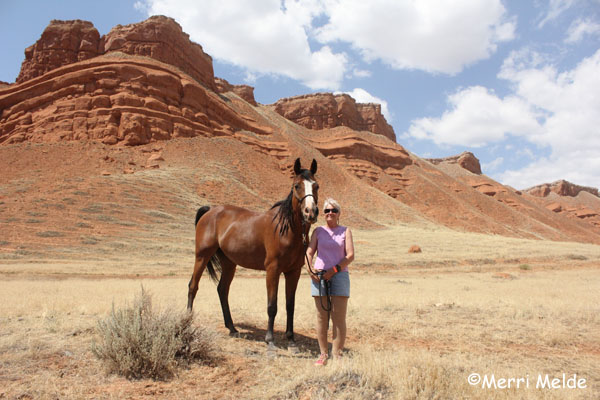 by Merri Melde-Endurance.net
August 3 2020
In a phenomenal comeback to the saddle, Montana's Suzanne Hayes, 66, won the 50th anniversary of the Big Horn 100 aboard her half-Arabian Sanstormm in a ride time of 15:15. It was less than 7 weeks ago that Suzy was bucked off a green horse and broke 10 ribs (some in multiple places), punctured a lung, fractured a vertebra, and lacerated her liver. She rode with a protective vest, a crash vest (attached to her saddle so it would inflate if she came off), and a Spot locator.
Suzie was actually second over the finish line by 10 minutes, but the first over the line, Oregon's Gabriela Blakeley and LLC Pyros Choice, didn't pulse down to 64 within 30 minutes. This was Sanstormm's first Big Horn 100 finish.
Rounding out the Top Ten were:
2nd Cameron Holzer and Kong (15:15.02)
3rd Ann Hall on Suzie Hayes' horse Greenbriar Al Jabal "Atlas" (2012 Big Horn 100 winner)(15:19)
4th Sami Browneller and Annapurna (15:19.02)
5th Vicki Holzer and SW Majestica (15:19.03) (BEST CONDITION)
6th Sanoma Blakeley and OMR Quicksan (15:26)
7th Jeanette Mero and Ozark Kaolena SWA (17:08)
8th Reyna Mero and Vaz Djets On (17:087.01)
9th Heather Reynolds and ASuddenGift MHF (18:10)
10th Melissa Montgomery and Masterful (18:35)
80 started the 100 miler, with 39 finishing.
Hannah Pruss, from South Dakota, and the phenomenal one-eyed Kourageus Hope won the 50-miler in a ride time of 8:00. "Stuart" is a Big Horn fixture, having won the 100-miler three times (2015, 2017, 2018, and Best Condition twice).
20 started the 50 miler, with 15 finishing.
More stories and photos to come at:
http://www.endurance.net/international/USA/2020BigHorn/