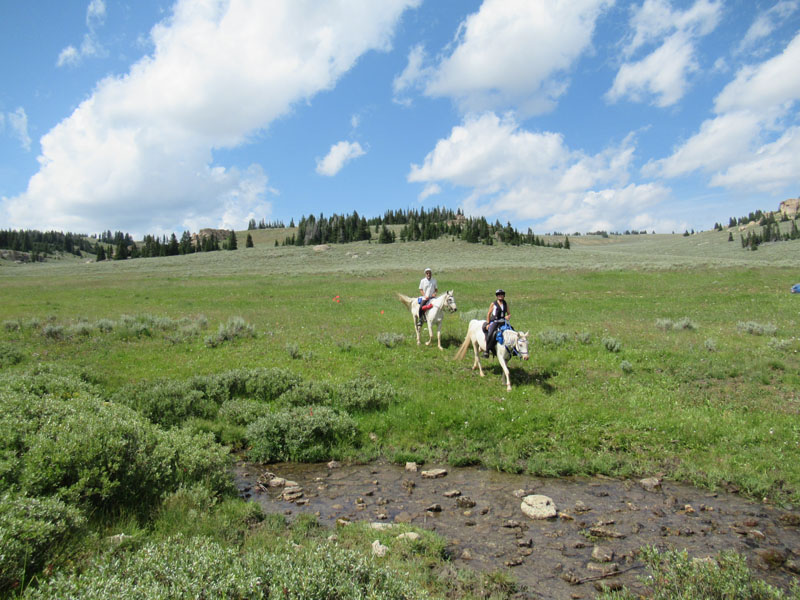 by Merri Melde-Endurance.net
August 6 2020 

As if the Big Horn 100 weren't hard enough when everything goes fairly right, this year's edition (the 50th anniversary by most counts) got the double whammy of happening during a COVID-19 year, which stopped AERC endurance rides cold from the end of March through the beginning of June, leaving many riders with little to no endurance rides in which to prep their horses. Usually, most entrants have several rides under their girths halfway through a normal season, so some had to rely on just conditioning rides at home to prepare their mounts.  

And this year, since Tevis was cancelled, many riders flocked to Shell, Wyoming, to tackle the west's other epic 100-miler in the mountains, setting a record for entries (for a non-Race of Champions Big Horn ride). 

And this is no pansy endurance ride. It's one of the "real old school" endurance rides, as finisher Jeanette Mero called it. It's one big loop, starting from hot base camp in the dark, up into the Big Horn mountains for a hundred miles, where the weather can be anything, back down to hot base camp arriving in the dark for the finish (and if you're not in the top ten, you'll be negotiating many mountain miles in the dark). The other hard 100 in the West, Tevis, has some 800 volunteers on the trail. Big Horn has less than a hundred, scattered in base camp and vet checks. If you or your horse get into trouble up there, you may be waiting a long time for help, as there's mostly zero cell service (including base camp, even if you can call out to someone there for help), and little access to trails. Come prepared, or don't come. 

You want to get your ducks in a row for this ride. You bring a fit horse, or you've already cut your finish chances by half. Bring yourself fit, also, and prepare for anything, (bad weather, nausea, bugs, etc) because you're not doing your horse any favor if you get sick up on the mountain (it happens… the altitude and the often brutal heat down below). And don't even consider starting without a 100% sound horse, because he's not going to improve miles on down this trail. It's good to also have a decent sense of direction, or to be able to pay attention well to trail markings and have common sense, because you don't want to waste time getting lost off trail. 

Some riders got hit with the usual summer Big Horn thunderstorms; a severe one dumped hail and cold rain, making the trails on the descents muddy and slick, some of that in the dark for many people. 

"Big Horn was everything its reputation was reported to be - incredibly tough, rugged, and remote trail. Climbing up to 9000 plus foot elevations. It's forest service roads, single tracks, rocks, sand and relentless, literally relentless, up and down climbing from the start all the way to the finish," Jeanette said afterwards. "…at the end we had to come down a piece they called the 'slick rock' at about 95 plus miles into the ride. It was an impressive couple miles of downhill, large sheets of white, ice skating rink, type rock. And that was after finishing the last couple hours in the dark trying to avoid all kinds of trail hazards like deep washes, cattle guards, and ruts that would swallow you and your horse whole."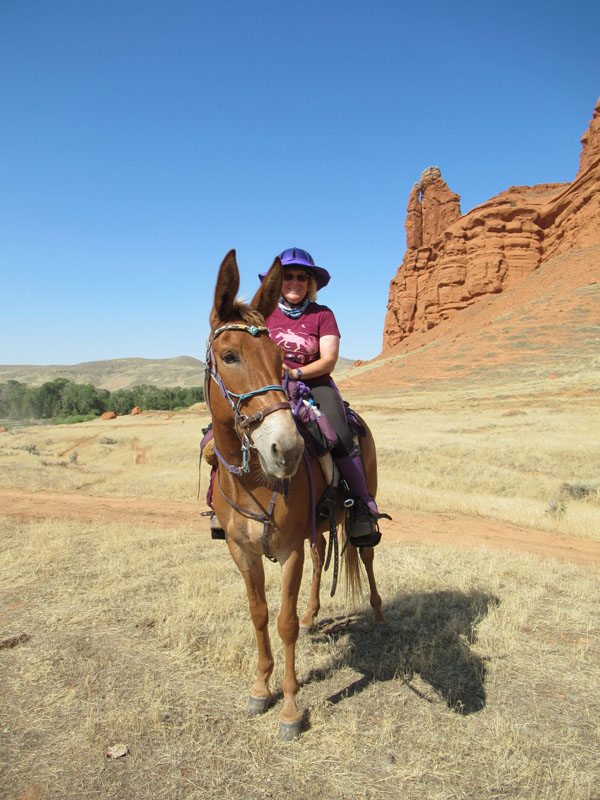 Riders came from 23 states: Texas, Utah, Colorado, Wyoming, Virginia, South Dakota, California, Minnesota, Montana, Wisconsin, Idaho, Oregon, North Dakota, New Jersey, Nevada, Florida, Washington, Alabama, Pennsylvania, Arizona, Oklahoma, Maryland, North Carolina. 

We saw some of the top riders from around the country: the Blakeleys (they've won the Tevis Cup or Haggin Cup more than once), the Reynolds (they've won the Tevis Cup or Haggin Cup many more than once), Suzie Hayes (has one horse in the AERC Hall of Fame, Kootenai Zizzero, 2011), Hannah Johnson and Kourageus Hope (the one-eyed Stuart, winner of the Big Horn 100 three times - entered in this year's 50 miler), and more.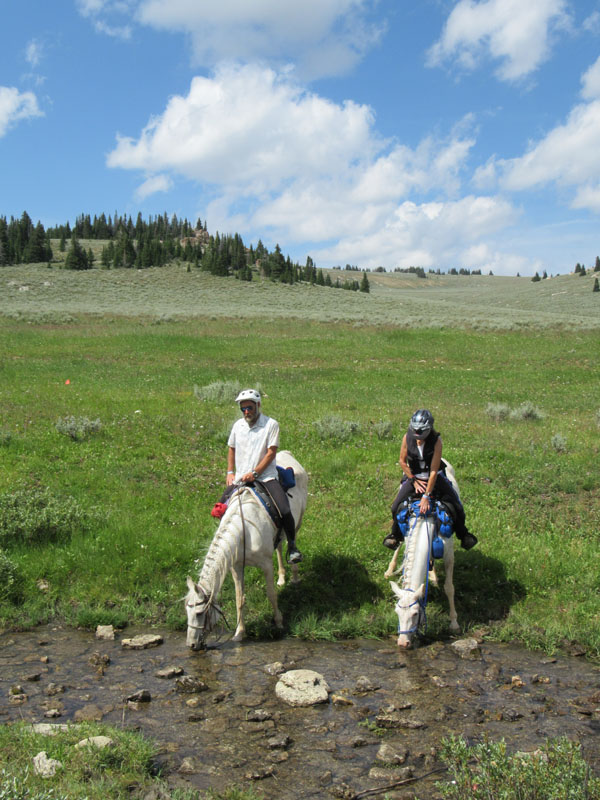 20 started the 50 miler with 15 finishing. Hannah and Stuart crossed the finish line first in a ride time of 8:00. Stuart won the Best Condition award. The 50 milers rode the first half of the 100-mile loop, finishing at the highway crossing, and getting a trailer ride (eventually) back to camp.
80 started the 100 mile ride with 42 finishing. Gabriela Blakeley and LLC Pyros Choice crossed the finish line first in the 100, just after dark, but her horse didn't pulse down in the required 30 minutes, hanging just above the criteria.  

Which left the second horse to cross the line, Sanstormm and Suzanne Hayes the winners of the 100 miler in a ride time of 15:15. Most of you know that Suzie is an amazing horsewoman and human being. Some of you may not know that just 7 weeks earlier, Suzie had a terrible horse wreck where she broke 10 ribs (some in multiple places - Suzie said, "Go and google 'flail chest'" (!!!!) ), punctured a lung, cracked a vertebra, and lacerated her liver. It was only Tuesday before the ride that her doctor approved her riding. Of course, she probably did not tell him what kind of riding she would be doing. She rode with a protective vest, a crash vest tethered to her saddle so that if she came off, the vest would inflate before she hit, and a Spot locator in case of emergency. And she looked better than I did on Sunday morning! 

Ann Hall rode Suzie's other horse Greenbriar Al Jabar (Atlas) to a third place finish, just 4 minutes behind Suzie. 

Second place went to Cameron Holzer (in 15:15.02) a top rider from Texas who's got over 11,000 AERC miles and 25 100-mile finishes, and Lily Creek Kong, who has over 1800 miles, with 9 50-mile wins, 1 75-mile win, and 4 100-mile wins over an 8-season career. 

Colorado's Sami Browneller and Annapurna finished 4th in 15:19.02. Fifth place went to Vicki Holzer - Cameron's mom - and SW Majestica in 15:19.03. They also got the Best Condition award.  

Sixth place was Sanoma Blakeley and OMR Quicksan (15:26), 7th place went to Jeanette Mero and Ozark Kaolena SWA in 17:08, 8th place was Jeanette's daughter Reyna Mero and Vaz Djets On in 17:08.01, 9th was Heather Reynolds and ASuddenGift MHF in 18:10, and 10th place was Melissa Montgomery and Masterful. Of the top ten finishers, only Suzie Hayes and Sami Browneller had ridden the Big Horn trail before.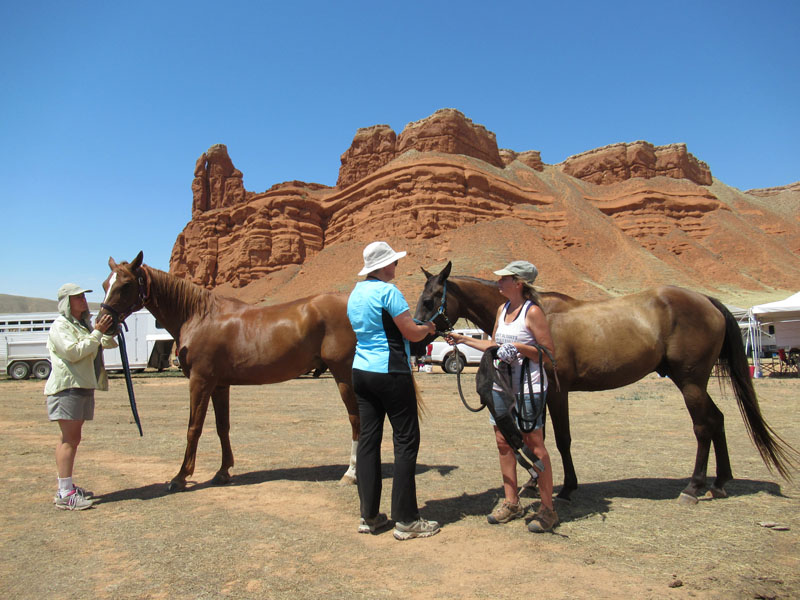 A few take-aways from this year's event:
My heroes are: 
10-year-old rider Cassidy Miller, from Colorado, was going for her third 100-mile completion (she finished the Big Horn last year, and the Vermont 100 in 2018!). Cassidy and her mom pulled at a vet check up on the mountain, "due to some mistakes I made preparing the horses (this sport is so humbling but they both are happy and doing great now)," said Cassidy's mom, Kelly Stoneburner. "Cassidy was such a trooper and good sport about being pulled and I think sometimes learning to accept a different outcome is excellent character building!"
And Suzie Hayes, the winner. She was my hero anyway, but just the fact that she rode this Big Horn, not to mention winning it after being in ICU 7 weeks earlier, made her my super hero. As Connie Holloway said, "Suzie set the bar WAY HIGH!" Unattainable, for most of us! 

At least 2 riders got their decade team status with this year's Big Horn 100: Kristen Grace and HCC Elessar (aka Monster), and Michelle Seaman and Me Encanta Dinero (this was Dinero's first ride of the season!). 

The one mule entered on Saturday finished the 100 (completion only). Jet's Danny Herlong and Nancy Sluys had never ridden the Big Horn before; Danny had never attempted a 100 before. This Arab-mule's dam is Joni Burden's mare's half sister - Joni and Jambor be Petit Jet finished the Big Horn 100 in a ride time of 20:03.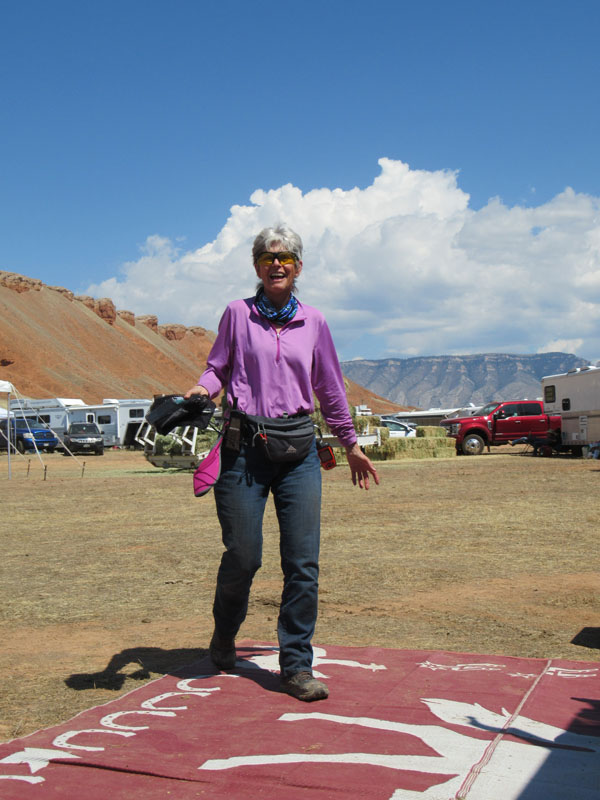 And if you think riding the Big Horn 100 is hard, putting on the ride itself is not for the faint-hearted ride manager. Any endurance ride can knock the stuffing out of a ride manager, but adding the stress of COVID, a record number of riders on a remote trail, and taking over from the previous Big Horn 100 group that put it on, makes a big-loop 100-miler the stress test of the century. And that doesn't count for the usual trail sabotage (though so many riders said the trail was excellently marked; Kristen Grace, who finished the 100, commented, "It was so well marked that parts of it were lit up like Christmas trees!"), the unpredictable weather (some riders got caught in a hail storm and were left with treacherously slick trails to contend with up on the mountain), and various other things that always come up. 

Cindy Collins did a great job of putting the whole shebang together this year, and the veterinarians and the volunteers were stellar and tireless. Days after the ride Cindy and volunteers are still pulling trail markers. 

And so ends another epic Big Horn 100 ride adventure. Jeanette Mero summed it up best: "The memories we made over the last couple days will keep us laughing and crying for years."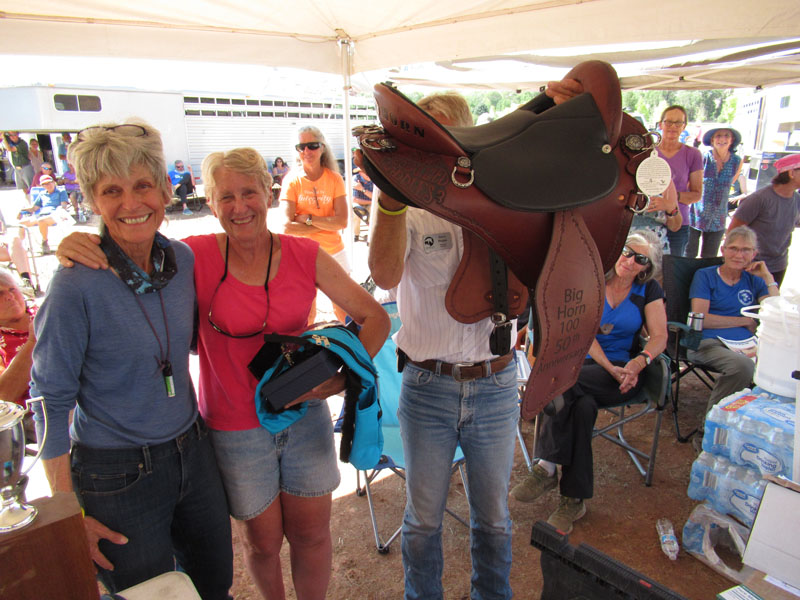 For more stories and photos from the Big Horn, see http://www.endurance.net/international/USA/2020BigHorn/