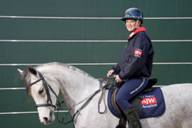 PRESS RELEASE
FOR IMMEDIATE RELEASE: March 2008
A J Walter Aviation to Sponsor British
Endurance Rider, Fiona Hamilton
A J Walter Aviation, the aircraft support specialist, is sponsoring the twenty year old champion British Endurance rider Fiona Hamilton throughout the 2008 international season and beyond.
Christopher Whiteside, Managing Director of A J Walter, explains his Company's decision to provide funding and support. "It might seem unusual for an aviation company to support an equine athlete but, for us, the decision was quite easy. Endurance riders and their horses have to be at the absolute peak of physical stamina to maintain performance in arduous conditions. Riding for 100km with regular vet-gates to monitor super-fast recovery rates is a bit like maintaining and flying aircraft with minimum turn-around. You need the best team around you to ensure success and maximum efficiency.
"Unlike other countries, the British Team do not get any financial support from the Government, the responsibility for funding participation in events and the care and maintenance of their horses lies firmly with the riders and their families. It's tough for athletes like Fiona, they work extremely hard and it takes an incredible amount of discipline and talent to reach the top in this demanding equine sport. We are proud to be able to help this young rider achieve her goals of winning medals in international and national competitions."
Having just returned from H.H. President's Cup in Abu Dhabi, Fiona will be attending Harling Down on 16th March and will be travelling to Italy in June to compete in an arduous 120km race undertaken by Endurance specialists from all over the world. She is aiming for a medal at the World and European Championships in Italy 2009 and Kentucky 2010, where she will be 'flying the flag' for Great Britain and A J Walter Aviation.
COMPANY CONTACT:
Christopher Whiteside, Managing Director
A J Walter Aviation
Tel: +44 (0)1403 711777
e-mail: enquiries@ajw-aviation.com
-end-
MEDIA CONTACT:
Jane Goring , Inter Relations & Company
Tel: +44 (0) 1403 218588
e-mail: jane@inter-relations.co.uk
A J Walter Aviation, London, was established in 1932 and awarded the Queen's Award for Enterprise in 2002. The Company specialises in the supply, repair and lease of commercial aircraft spare parts; aircraft inventory management; power-by-the-hour; consignment stock; global 24 hour AOG; aviation component maintenance and overhaul; logistics and cost-effective freight management. Further information is available at
www.ajw-aviation.com