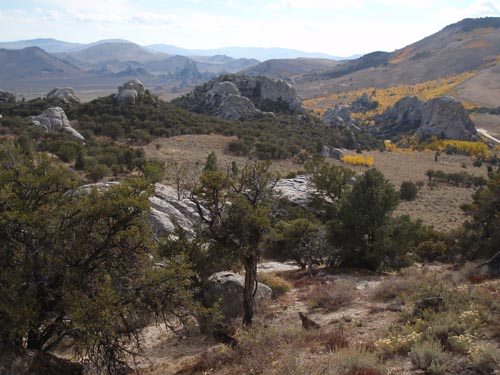 [More ...]
The 2013 AERC National Championship will be held at Almo, Idaho, near City of Rocks National Reserve on September 20 (50 miles) and September 22 (100 miles).
Rides will be held over varied terrain from 5300 to 8500 feet, traversing Bureau of Land Manageent (BLM) high sagebrush desert, City of Rocks National Reserve trails, City of Rocks State Park and alpine trails through aspen and fir forests in the Albion Mountains in the Sawtooth National Forest.
Besides stunning views, competitors will share the trails with the historic past, riding over old emigrant trails and stage routes, past old stage stops, historic school houses and cemeteries, and older Native American sites.
The town of Almo provides many amenities including restaurants, lodging, general stores and hot springs. City of Rocks offers some of the best rock climbing in the country, plus hiking and sight-seeing and fishing at nearby Independence Lakes.
For a video preview of one of the trails through the National Reserve, see:
http://www.youtube.com/watch?v=ZHckkzcbHbQ
Ride managers Steph Teeter and Regina Rose will host the event. The various land agencies and community of Almo Idaho are all highly supportive of equestrian events and welcome the AERC National Championship to Idaho in 2013.