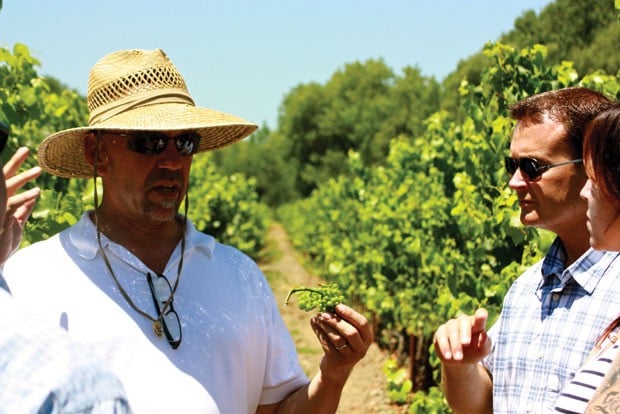 Napavalleyregister.com - Full Article
L. PIERCE CARSON
For a substantial chunk of his business career, Barry Waitte "played with the big boys" in the worlds of high technology and venture capital.
When he wasn't moving money around or investigating a tech breakthrough, Waitte and his fianceé — now wife — Jennifer, spent days on the backs of Arabian horses, taking part in single day endurance races that stretched for either 50 or 100 miles.
But the lure of the grapevine got to Waitte, and he decided he'd rather grow grapes than pound stakes in high finance.
Not only was he familiar with Napa Valley but he felt Napa was the best place to make the type of wine he likes to drink.
"My parents used to vacation in St. Helena ... I've been coming here since I was 2 years old," he recalled over a glass of a lush merlot enjoyed on the veranda of his Yountville wine estate.
"I love wine," Waitte said, "and I looked into all aspects of the business before I chose the role of a grower."
Just about a dozen years ago, Waitte purchased a choice 60-acre vineyard at the northern end of the Yountville appellation, containing cabernet sauvignon, merlot and smaller tracts of red Bordeaux varieties. When he brought a couple of horses to the property, he named the property Deux Chevaux...
Read more here:
http://napavalleyregister.com/lifestyles/food-and-cooking/wine/horses-and-wine-blend-among-the-vines-on-tamber-bey/article_546eeb62-f881-11e1-98a5-001a4bcf887a.html