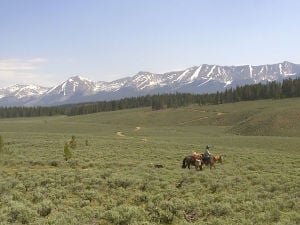 Frontiersman.com - Full Article
Posted: Saturday, June 15, 2013 10:46 pm
By Alys Culhane Off the Grid
Yesterday, June 15, my husband Pete Praetorius and I embarked on a four-month horse trek that will take us from northern Colorado to (at least) northern Montana. We'll ride our two Icelandic horses (named Raudhetta and Siggi) and pack a third (named Signy). We'll be accompanied by Rainbow, our 12-year old Montana cattle dog/husky mix.
This trip is the second part of an ongoing adventure. I determined that I wanted to do long-distance horse trekking in August 2003, shortly after bicycling solo from northern Montana to southern New Mexico. Afterward, I told Pete that it would be equally fun to do this route on horseback.
I began working toward this goal shortly after we moved back to Alaska from Butte, Mont. I took on a job cleaning horse pens at Bill and Katie Long's Moose Creek Ranch, and a year later purchased Raudi, a young Icelandic filly, with the intent of training her to do this trek. I chose to go with this particular breed because I'd heard that they're hardy, trail savvy and easy to get along with...
Read more here:
http://www.frontiersman.com/valley_life/couple-undertakes-long-distance-horse-trek/article_722c5434-d650-11e2-bf97-001a4bcf887a.html